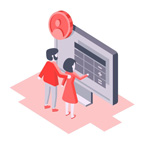 Online and On-site
Free Estimates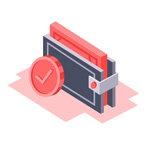 Affordable Rates
and Discounts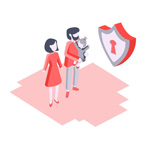 Fully Licensed
and Insured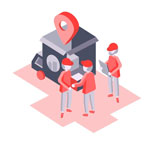 Professional Moving
Crew
The serene and beautiful appearance of Los Angeles can also be likened to that of San Bernardino. Undoubtedly, the two cities will make the most comfortable homes and thrilling workspaces for people who are interested in relocating. A good number of people often relocate between these two locations for various reasons, hence the need for movers. Moving companies seek to make life easy for anyone considering relocation.
Relocation is no joke, and it is often seen as a stressful activity. This is one of the major reasons people need movers. Moving from Los Angeles to San Bernardino is an important decision, and relocating is one of the biggest choices any of us have to make. The movers engaged in this must make the process as easy as possible.
Finalizing your relocation to LA or San Bernardino doesn't have to follow the trend of stress. You can enjoy easy and stress-free moving from one location to another with the help of Born to Move.
Are you ready to change location to San Bernardino, or are you headed to LA? – Our company can help you!
Born to Move is the best choice for your moving project. Our company staff is trained to provide the best moving services for both short and long distances. Our well-experienced movers ensure your belongings are safe and in the best hands, from offering disassembling, wrapping, and packing assistance to carefully unwrapping, unpacking, and reassembling your possessions. Also, we help with loading and unloading the truck. Our movers offer help from start to finish.
Born to Move: Who We Are
No matter how far or near your relocation plan is, Born to Move is a tried and tested company committed to delivering quality service for you. You do not need to worry about stress or calculations. We are a team of movers dedicated to fulfilling your plans without you moving an inch.
The best part of our company is that you do the calling, and our movers do the moving with the utmost care and in good time. Some of the services we are engaged in are:
Moving businesses and office equipment
Careful delivery of home appliances to San Bernardino, no matter how many.
Moving heavy materials at no extra cost.
Our clients are our priority and whatever pleases them is what we look out for. With the presence of our highly skilled and well-trained movers, you can watch us perform the magic of successfully moving your things from LA to wherever you want them.
No to Intermediaries
You must have heard stories about intermediaries and their dubious activities in the moving industry. This might have contributed to your fears and trust. Born to Move is here to assure you that there are no intermediaries at all in our services. We are right by your side from start to finish.
We will stay with you from the moment you request our service. We do not involve any intermediaries or subcontractors. Our capable movers will be on standby with you until you are satisfied. We are all in for a premium experience, and that's what you will get.
Cost Rate for Movers from Los Angeles to San Bernardino
We long to satisfy our clients with our price rate when moving from LA to San Bernardino or moving from San Bernardino to LA. Movers from LA to San Bernardino can be certain that there is no additional price to moving their belongings in either direction. Born to Move offers a transparent service that ensures that not only are the possessions safe, but the cost is reasonable.
Unlike other moving companies in LA, we take pride in our professionalism and our excellent delivery of the best service you could imagine. Irrespective of the type of property you want to move, our movers do not add an extra charge, especially for things like tolls, gas, or miles.
Property Safety Policy for Movers from San Bernardino to Los Angeles
Born to Move is a long-standing reputable company that is versatile in the moving industry. We are well known for providing excellent movers from San Bernardino to Los Angeles. This boils down to our fully insured policy that protects all property and equipment while in transit.
Our movers do not only take charge of your property but also take caution with every hindrance that might be encountered along the way. This includes our complete paperwork for easy moving from LA to San Bernardino and from San Bernardino to LA. We have complete license and insurance coverage in these two cities. A comprehensive safety policy is in place. Our movers know their onions!
Are You Ready to Get a Quotation from Us?
It's time to take a seat and watch our movers moving from LA to San Bernardino and moving from San Bernardino to LA. All doubts will be sent away when you see the professionalism in all we do. Your call is all we have been waiting for. Our trained movers are born ready to be at your service. Get your instant quotation from us by dialing – (617) 903-2609 now!
You are in safe hands.
Our hourly rates include all other charges:
Labor & Equipment
Floor Protection
Wrapped Furniture
Tolls
Taxes
No Additional Fees
Fuel Charge
Safe Delivery
Guaranteed Price
San Bernardo Movers
Our Moving Company is fully licensed and insured!