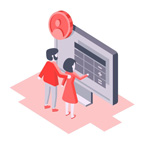 Online and On-site
Free Estimates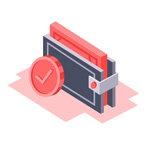 Affordable Rates
and Discounts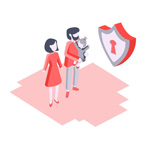 Fully Licensed
and Insured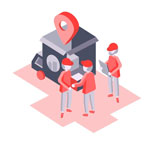 Professional Moving
Crew
Are you planning on moving to a new place in Hamptonor out of Hampton NH? We understand how challenging it is to arrange everything on your own. Even if your new home is less than 30 minutes away from your house, it can be overwhelming to arrange the move by yourself. We suggest that you don't bother and simply hire our professional movers in Hampton, NH, to assist you in the process.
Movers' Most Common Concerns
While planning a relocation to a new place, no matter how close it is to their current one, people often have very similar questions. Here are some of them:
What if my glass and china get broken?
What happens if I leave my rented apartment with scratched floors after I move my furniture?
Should I wrap my things by myself?
Will the movers intentionally drive during rush hour to me charge more for the trip?
Do you recognize any of these concerns? Born to Move has got all the answers.
A Company That Provides a Full Moving Service
At the Born to Move company, we take all your moving concerns upon ourselves. Our Hampton, NH moving company will be at your side from the day you get a quote, which is an approximate price for the relocation, to the moment you make yourself comfortable in your new place in NH. Here is a detailed plan for you:
The Movers Take a Look at Your Home
In order to make your NH move as quick and safe as possible, our movers will need a little time to prepare. Set the date when you need the movers to help you and contact our Hampton, NH, office a week in advance. Then provide them with an estimate of which items and furniture you would like to take with you to your new Hampton home. The team will come to give you a quote, which will depend on the number of belongings you want to relocate. They will also check if they need any specific tools for your furniture and will judge which packing materials they will need for the job.
Movers Disassemble and Wrap Your Belongings
The team that you hire with our company in NH will disassemble all the large furniture for you and wrap everything to make it safe for the road. You don't have to worry about the pieces getting scratched or broken. What is also important is that the movers are careful with the floors. Although you are moving into a new Hampton, NH, apartment, you don't want to leave your current one damaged.
Movers Furnish Your New Hampton Home
Finally, when all your things are delivered to your new place, the movers unwrap the furniture and reassemble it for you. And just like that, you are enjoying your new cozy Hampton apartment while our movers finish their work in a timely and secure manner.
Prices for Moving in Hampton NH
You might think that a service like this will cost you a fortune. At Born to Move, we make it affordable. The moving time periods and costs start at 3 hours and $420 for a studio apartment. In this case, the move would take two movers and one truck, but this can go up to five workers and two trucks, depending on the number of belongings and the size of your current home. A job of that size would take up to 12 hours and will cost around $5,000. Note that this applies to moving destinations that are no more than a 30-minute drive away from your current Hampton home.
You don't pay for the fuel, time spent in a traffic jam, or any emergency vehicle expenses. You should also know that the prices change with the seasons. Most people prefer to move in a warmer time of the year; therefore, movers' rates are lower in winter. Contact our NH office, and the team will give you an estimated price for your move. You only pay once and can sit back until the moving work is done.
Additional Services from Our Movers
You might require some extra services for your Hampton move, and we are willing to provide them for you. Many people are afraid that some of their valuable or fragile pieces will be damaged along the way. With Born to Move, you can insure all the belongings our movers work with. This insurance will be added to your overall quote, just like the parking permits, if you need help with them.
Our Company's Security Guarantees
The Born to Move company is fully licensed and insured. Our movers have been performing moves of all kinds for almost a decade now. They can even move your piano to a new location in Hampton. Just contact our Hampton, NH, office in advance and leave it to the experts.
Hampton HN Moving
Our Moving Company is fully licensed and insured!