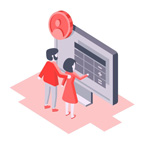 Online and On-site
Free Estimates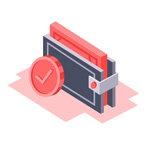 Affordable Rates
and Discounts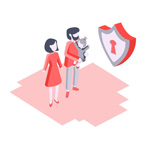 Fully Licensed
and Insured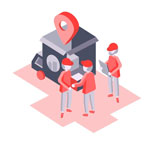 Professional Moving
Crew
Boston is a city steeped in history and brimming with culture. It is full of charm and personality, from the famous red brick buildings of Harvard University to the winding cobblestone streets of the North End. It's no wonder people are drawn to this vibrant and lively city where scientific dreams come true. And when it comes to moving lab items within and outside of Boston, no one does it better than the Born to Move company.
Moving can be a daunting and overwhelming task, especially when it comes to transporting delicate and valuable laboratory equipment. When moving laboratory equipment, fragile and often expensive lab items require special care and attention during transport to ensure their safe arrival at their destination and good working condition.
This is where trusted lab movers in Boston, like Born to Move, come in. With operations in Boston, we are dedicated to safely and efficiently moving lab equipment within the city and beyond.
Transferring laboratory equipment isn't the only thing that Born to Move does; we are experts at:
Residential relocation services
Furniture wrapping and transport
Safe storage for valuable items
Commercial equipment relocation
Industrial machinery relocation
Transport of heavy tools and equipment
But what sets us apart from other laboratory movers in Boston and across the United States? In the next few paragraphs, we will delve into the unique qualities that make Born to Move the best choice for those needing reliable lab movers in Boston.
Here are the most important qualities that set the Born to Move company light years ahead of the pack when it comes to lab relocation:
Full License and Insurance in Boston
When it comes to transporting your valuable laboratory equipment within Boston, it's important to choose a company that is fully licensed and insured. This gives you peace of mind because you know your lab equipment is in good hands. The FMCSA has stamped our company with permission to operate. We also have a USDOT license that lets us transport goods, like lab equipment, outside of Boston across state lines. This means you can trust Born to Move to handle all your laboratory relocation needs within and outside Boston.
Our company also sells insurance if you need that added protection for your lab items. Just get in touch with us online or come to our office to get that as part of the price.
Full-Service Movers in Boston
One of the key benefits of choosing Born to Move as your laboratory transport partner in Boston is that we offer a complete service experience. This means our movers will handle every aspect of your laboratory move from start to finish at an affordable cost. Our team of experienced movers will help you pack, disassemble, wrap, and load your lab equipment in Boston onto their trucks. These movers will also handle the transportation of your lab equipment, ensuring that your lab items are transported safely and securely. And upon arrival at your new location within or outside Boston, the team will unload, unwrap, and reassemble your lab equipment, making sure it is ready for use in your new space. This comprehensive approach to laboratory transfer sets Born to Move apart from others that may only offer transportation services in Boston.
No Hidden Cost for Laboratory Moving in Boston
One of the biggest concerns when hiring a moving company in Boston is the fear of unexpected fees. This is understandable, as many companies have a reputation for adding extra charges for various services or expenses. Our company, however, has a transparent pricing policy and will cover any additional cost, such as gas or mileage, that may arise while moving your lab items within or outside Boston. We also have trustworthy movers who won't charge you extra for any laboratory support rendered. This means that you can confidently plan your lab move, knowing that the quoted price is what you will pay. You can also get a winter moving discount of up to 20% to save money between September and April 1st.
Experts in Long-Distance Laboratory Moves
Born to Move has a long history in the moving business within and outside Boston and has established a solid reputation as a dependable and trustworthy option for long-distance lab moves. The firm's team of movers has thousands of hours of experience managing long-distance moves, including those involving laboratory equipment. This expertise means that our movers can handle the logistical challenges that come with transporting lab equipment around Boston or even across state lines, ensuring a smooth and stress-free process for you. Whether you are moving your laboratory equipment a few blocks away or across the country, Born to Move has the experience and expertise to get the job done right.
Lab Equipment Wrapping and Unwrapping
Properly wrapping and securing laboratory equipment is crucial to ensuring its safe transport. Born to Move understands this, and our movers take extra precautions to wrap and cushion your lab equipment properly. Our movers use only high-quality materials to wrap and secure your lab equipment, ensuring that it stays safe and secure during the move. This includes using padded blankets and bubble wrap to protect delicate items and securing larger laboratory equipment with straps and other protective measures. And upon delivery, the group of movers will carefully unwrap and reassemble your laboratory equipment, ensuring it is ready for use in your new location. With this unmatched level of care and attention for lab items, we at Born to Move set ourselves apart from others in Boston.
Laboratory Moving: Great Customer Support
At the Born to Move group, customer satisfaction is a priority. The company's team of movers is dedicated to providing a seamless and stress-free lab moving experience for its customers. This includes offering personalized services to meet your specific needs and being available to answer any questions or concerns you may have throughout the lab moving process.
Get Your Free Quote Today!
If you're all in for ease and affordability while moving your laboratory equipment in Boston, look no further than Born to Move!
Let us take the burden off your shoulders with our comprehensive laboratory moving services. Ready to get started on your stress-free laboratory move? Call us at (617) 903-2609 or email [email protected] to request a quote and start the process today.
Trust us – your lab equipment (and your peace of mind) will thank you.
Our hourly rates include all other charges:
Labor & Equipment
Floor Protection
Wrapped Furniture
Tolls
Taxes
No Additional Fees
Fuel Charge
Safe Delivery
Guaranteed Price
Laboratory Movers
Our Moving Company is fully licensed and insured!