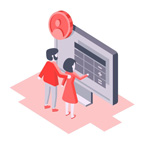 Online and On-site
Free Estimates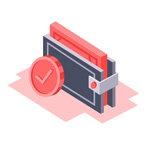 Affordable Rates
and Discounts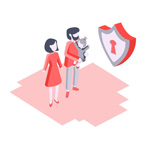 Fully Licensed
and Insured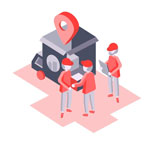 Professional Moving
Crew
If the day of your move is getting closer, it is likely that you are already feeling stressed about it. Even if you schedule specific blocks of time to dedicate to packing and getting your things ready for the move, it can be stressful to try to organize a move while also keeping up with your other commitments.
As a direct consequence of this, you might be thinking about using the services of a full service moving company with professional movers rather than moving everything by yourself. Check out these seven compelling arguments in favor of hiring our Born to Move moving company and our proficient Haverhill MA movers to assist you with your upcoming relocation if you are still on the fence about whether or not you should do so.
Reasons to hire Born to Move moving company experts
There are multiple reasons why individuals are highly recommended to opt for a fully licensed and insured relocation provider to organize their local moving. Why should you hire our skilled and many-year experienced movers near me in Haverhill MA to help you hit the road?
If you decide to hire our locally based moving company, you will be able to complete your relocation in a timelier manner while also being assisted by skilled movers.
The moving company chosen among other moving companies near me will use specialized equipment to move and safeguard all of your belongings safely and on the same day.
If you hire our professional moving crew from our Born to Move moving company, you won't have to worry about getting hurt while moving your belongings because of how the movers do all the work.
The relocation process is a step-by-step task that involves many things required to be performed neatly and simultaneously. Our Haverhill MA movers have taken into consideration all those factors thus they are capable of delivering an extensive range of relocation services.
Tasks our Born to Move movers perform when handling your move
As stated above, relocating within the same state is a time-consuming process that requires a wide range of different activities to be carried out. Our skilled movers make it a point to complete all of the tasks simultaneously, as there are a number of things that need to be done prior to hitting the road. The movers do this by working in a group that is comprised of a few highly proficient and competent movers in Haverhill MA. When it comes to the maintenance of your move, what can you expect from our reliable and insured professional moving service in Haverhill MA?
We'll help you pack up your belongings. You can rely on the trustworthy packing services for you available at our Born to Move moving company, which makes use of a wide variety of free packing material. Boxes of the appropriate size, sealed with high-quality heavy-duty tape, will be used to transport and store your items to ensure their safety and protection.
Disassemble large pieces of furniture. Do you also need to relocate any items that are particularly cumbersome? The skilled movers employed by our company will disassemble large pieces of furniture and wrap fragile items in blankets before transporting them. They will carefully put the furniture back together once they have arrived at your new location.
Make sure that the moving truck contains all of your valuable belongings. We will ensure that all of your valuable belongings are moved to their new location within the same day in a safe and secure manner, using a moving truck of the appropriate size to accommodate them safely.
Carry out on-site cost estimations. You can request our competent movers in Haverhill MA to provide you with an on-site estimate, or you can get a free estimate online by visiting the website of our moving service conducting local moves within the Massachusetts area. Keep in mind that our moving experts are paid on an hourly basis for all local moves, with the minimum charge beginning at $140 per hour for a two-member moving team and $190 per hour for three moving experts.
After the moving process has been completed, you won't be surprised by any unexpected costs that weren't brought up at the beginning of the process. This will be the case even if costs weren't discussed beforehand. Because our prominent movers in Haverhill MA are well aware that the only way to fully satisfy the expectations of our clients is to work together in an open and friendly manner, they have a strong commitment to ensuring that our customers are happy with the service that they receive from us.
Haverhill MA Movers
Our Moving Company is fully licensed and insured!