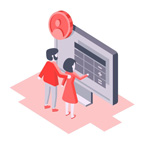 Online and On-site
Free Estimates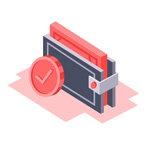 Affordable Rates
and Discounts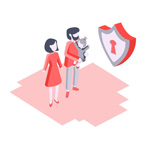 Fully Licensed
and Insured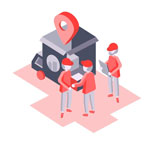 Professional Moving
Crew
Merrimack is a quiet and peaceful town in New Hampshire – a state that can boast advantages that include no income tax, no sales tax, a low rate of poverty as well as beaches, forests, lakes, and mountains. Even when they're not leaving the state, there's a lot of work to be done when people relocate their homes.
And though the moving distance might seem short, the procedure requires much attention and energy. Have you already decided how to pack and what to leave behind yet? There's another crucial component to a successful move – it involves finding a reliable Merrimack moving company.
Born to Move Professionals Are Right Here
If you're looking for first-class Merrimack movers – well done, you've found them! The Born to Move company is happy to announce that it operates within Merrimack, NH. As a fully licensed and insured Merrimack NH moving company, we have a wide range of services for our clients.
Our experience is the key to a stress-free local move within Merrimack. We think of everything: from clean and spacious trucks to professional staff, from tolls to packaging materials. Being passionate about our work, we're not afraid of moving thunderclaps or last-minute decisions. We do well with heavy furniture of non-standard size as well as musical instruments. We have highly experienced movers Merrimack NH in our team, ready and willing to perform unusual tasks or requests.
A change of scenery might feel distressing at times, even if you're not leaving your hometown. Experienced movers advise you to take your time and keep a positive mindset – it is an adventure rather than a "no way back" sort of challenge.
And with the Born to Move company, this is a true statement. Relocating with us is always a two-way ticket – so if you feel that your new place is not what you expected, we can move you back to where you came from within Merrimack!
What to Expect on Moving Day
For all our future clients in Merrimack, NH, who don't have a clue how to move from one place to another, we have prepared step-by-step guidance. The stages may differ depending on conditions and services, but the standard procedure is as follows:
Book a move, and get a free quote;
Pack your belongings beforehand or get our employees to do it for you;
On the arranged date, provide access for our movers;
Once the movers are at your place, appreciate the way they pack your furniture with ease;
Wait for the movers to load the truck, and head off to your new address;
Wait for our movers to carry in your belongings, unpack and unwrap them, and then reassemble your furniture.
Take a moment to appreciate how easy it was to move! Connect with our manager to discuss the arrival and departure times.
Services for Moving Within Merrimack
Although Born to Move can be described as a Merrimack NH moving company, it can do much more. As you know, NH's motto is Live Free or Die. Born to Move isn't that radical, but we tend to take our responsibilities very seriously. "Move in comfort or don't call yourself a moving company" – that's more like us.
Here's a list of what we can do for your smooth move within Merrimack:
We arrive fully equipped with packing materials;
Our movers can help with packing and unpacking;
Our movers load and unload the boxes;
Our movers wrap and unwrap the items, being extra careful with fragile ones;
Our movers can hoist furniture through a window/balcony;
We offer a special moving solution for Merrimack clients who decided to move their piano/works of art/antique items.
This is an example of what our Merrimack, NH, company can do for you. You also can expect floor protection, waste disposal services, and overnight/long-term items storage.
As passionate movers, we know that many requests are made during the actual move. Don't hesitate to make a request – it may be that the service you're looking for already exists on our list.
Budget Moving in Merrimack
With an upcoming move in your mind, you may already have researched NH moving companies. We bet one of your questions was about the financial part of the moving services in Merrimack.
It is true that professional movers' help includes expenses such as fuel for trucks, manpower, packing materials, and more. Understanding that, we put together a special system where you pay for the time and not for the services. This makes our prices much more attractive for Merrimack clients!
We believe that giving a client a fixed price is a fair solution. Isn't it cool to have important things like time and money under your control? With Born to Move Merrimack NH movers, you can plan not only your time but also your budget! There'll be no unexpected bills at the end of your move.
Here's a reference of the costs:
If your home is about the size of a studio, it will take 3 hours of work, and the approximate rate will be $420. This includes 2 movers and one truck;
If you are moving from a three-bedroom apt, it might take up to 7 hours of work. The rate will be around $1,330, and this includes 3 movers and one truck;
If you're moving from a four-bedroom house, it might take up to 10 hours. In that case, the price will be around $2,400, and it includes 4 movers and one truck.
All the standard expenses for a local move are included in the price we give you: fuel, tolls, going the extra mile with manpower, and packing materials.
We ask you many questions before the move to make sure our quote is as accurate as possible. As we apply an hourly rate system, we have a fixed cost for one hour of work. The minimum working time you can hire us for starts at 3 hours and goes up to 12 hours.
A Few Words to Help You Make Your Decision
In Merrimack and its surroundings, it's easy to fulfill your life ambitions, whether it's family, career, sports, or everything at once. We totally understand why people decide to move within a city rather than go elsewhere. NH offers a lucrative tax system along with various opportunities for an active lifestyle. This is a valid reason for many to settle down here for a lifetime. Bear in mind, though, that our movers can always help you to move back to where you came from if you decide to do so. With our affordable rates and efficient staff, we are sure you will anticipate your next NH move with excitement rather than dismay.
Merrimack NH Movers
Our Moving Company is fully licensed and insured!