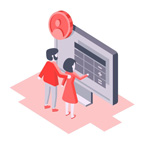 Online and On-site
Free Estimates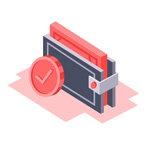 Affordable Rates
and Discounts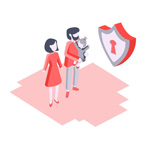 Fully Licensed
and Insured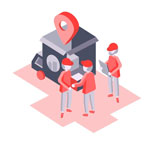 Professional Moving
Crew
Most people consider relocation as something that is time and energy-consuming. They especially don't like moving their belongings from one place to another, and it's rarely possible to transport everything in one go.
There are two options for going about a move. The first one: you could do everything on your own and spend a lot of time and energy in the process. The second one: call our movers and ask for help.
Here at the Born to Move company, we provide relocation services. With us, any kind of moving will be much easier. Let's take a closer look at what we do, based on the example of movers from Los Angeles to San Diego.
The Born to Move Company: A Valuable Moving Team
The Born to Move company has been providing moving services for almost a decade. Company movers know everything there is to know when it comes to fast and quality moving. They are experienced in transporting, loading, storing, and protecting belongings.
The Born to Move company has all the necessary documentation. This list includes insurance and a USDOT license. Not only will you be protected as a customer, but your belongings will be safe when moving to San Diego.
Many people think that booking a moving company is really expensive. But this isn't the case, we assure you, especially for short trips like from San Diego to Los Angeles (or in the opposite direction, from LA to San Diego). The movers' prices start from $140 per hour. Value your time and energy these things are worth much more. As a bonus: there will be no extra cost for gas, tolls or additional miles.
With our moving company, your relocation from LA to San Diego will be easy. No stress — just the detailed and meticulous service of our movers.
List of Moving Services
Movers from San Diego have a wide range of moving functions they can provide to clients. Let's check everything to get familiar with what the Born to Move company has to offer:
Loading and Unloading
Loading is one of the least pleasant things you need to do while moving. Let the professionals do it for you. Movers will come to your place in LA or San Diego and load the cargo onto special moving trucks.
If something appears to be too large for the San Diego vehicle, our movers will disassemble it. For example, sofas, armchairs, and other furniture items are often disassembled in order to achieve maximum loading capacities on the way to San Diego.
Transporting
The most important part of the moving journey is getting your things to your place in San Diego. Our movers have special moving trucks with high capacities and loading space. These factors allow them to transport belongings to San Diego with fewer resources.
Protection
All your things will be protected during the trip from LA to San Diego. Movers will wrap everything in a shrink wrap that keeps everything safe from physical impact.
White Glove Moving
This is an additional high-level service. It is suitable for the transportation of things that are considered valuable and highly fragile. Our movers will keep your antique vase safe during the trip to San Diego or LA!
Storing
This is the best option when you need some time to get things right in your relocating process. Movers from San Diego to Los Angeles will unload the trucks with furniture, clothes, and other things at the nearest company storage. There, your things will be waiting for you at the end of your relocation. Your time and energy are more valuable than everything. All of this is done at an affordable cost.
Moving Is Scheduled
On your trip to LA or San Diego, you will be able to stay up to date with everything concerning the active moving process. Actually, it is not that difficult — you will be provided with a detailed schedule by our movers. Relocation runs in several steps:
Ordering
Loading
Moving
Optional Storing
Unloading
First, you order the moving service. Speak to our team and tell them everything you need to make your trip to LA or San Diego possible. Communicate freely — our movers are open to all requests.
On the appointed date, the movers from San Diego to Los Angeles will arrive with everything you need for your relocation. As was mentioned before — large furniture will be disassembled, and other things will be wrapped in a protective film.
During the trip to San Diego or LA, the movers can store the cargo for a specified period of time (discuss it with our managers when ordering). When the time comes, the movers will continue their voyage to San Diego.
The last part of relocation is here at last. The movers will unload everything from the trucks in San Diego, unwrap your belongings and reassemble your furniture. You are free to start a new life in a new place in San Diego, congratulations!
Conclusion
Now you know more about moving processes by the Born to Move company in San Diego. Contact us if you have any questions — our movers will help you however they can it will cost much less than you'd think. Remember — relocating to San Diego is a great opportunity to spice up your life, do not throw this chance away!
Our hourly rates include all other charges:
Labor & Equipment
Floor Protection
Wrapped Furniture
Tolls
Taxes
No Additional Fees
Fuel Charge
Safe Delivery
Guaranteed Price
Movers from Los Angeles to San Diego
Our Moving Company is fully licensed and insured!