| Size of the move | flat price range |
| --- | --- |
| studio | $3,700 - $4,200 |
| small 1 bedroom | $3,700 - $4,200 |
| large 1 bedroom | $4,000 - $5,000 |
| small 2 bedroom | $4,000 - $5,000 |
| large 2 bedroom | $4,500 - $5,200 |
| 3 bedroom apt | $4,800 - $5,500 |
| 2 bedroom townhouse/house | $4,800 - $5,500 |
| 3 bedroom townhouse/house | $5,500 - $6,500 |
| 4 bedroom townhouse/house | $6,500 - $7,500 |
| 5+ bedroom townhouse/house | starting from $7,000 |
delivery time range
next day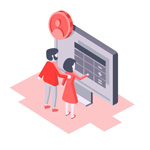 Online and On-site
Free Estimates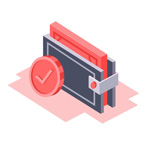 Affordable Rates
and Discounts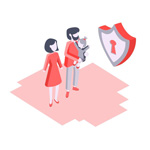 Fully Licensed
and Insured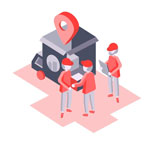 Professional Moving
Crew
If you are in the process of planning a move to Utah or Los Angeles, perhaps you have recently done some research on the most reputable moving providers operating in the proximity, striving to discover a truly reliable full service moving company among them. This could be because you are thinking about moving to Utah or Los Angeles. It is true that moving on your own can be a bit of a risky endeavor, regardless of whether or not you have previous experience with moving or are completely inexperienced in this area. However, our movers from Los Angeles to Utah operating at our fully licensed and insured moving company deliver all-inclusive moving services at prices that are easy on the wallet. The best experts working in a professional moving crew are able to efficiently complete moves of any level of complexity, including both local and long-distance moves while maintaining a neat and organized working environment. When moving to either Utah or Los Angeles, it is strongly suggested that you hire someone with a many-year experience in the field in order to ensure a smooth transition. All this ought to be accompanied by Born to Move movers skills and the company's reputation among customers. In our opinion, reliable moving service is usually distinguished by the following qualities:
There is a diverse selection of services available at our Born to Move moving company. A good provider of relocation services, in the opinion of our movers from Utah to Los Angeles and experienced coordinators, should be able to provide a list of comprehensive relocation services that cover all of the important aspects of relocating to any location in the United States or internationally. The services are usually delivered by an experienced crew of proficient movers that work simultaneously while striving to provide a client with a stress-free moving experience to either Utah or Los Angeles.
Taken on an individual basis. Our movers in Los Angeles may encounter both predictable and unexpected circumstances during the course of a relocation; consequently, an individualized strategy is an absolute necessity when it comes to planning and carrying out a client's scheduled move to either Utah or Los Angeles.
Free quotes. Reliable relocation companies always offer prospective customers free estimates associated with their relocation, and all prices should be made public. You are welcome to get in touch with Los Angeles movers at any time to obtain free estimates that will be of assistance to you when formulating a moving budget and estimating the final cost of your upcoming relocation.
Prices that are not prohibitive. Relocation services should be offered by a reliable fully licensed and insured moving service at prices that are competitive, and there should be no additional fees or charges hidden. In most cases, individuals who are relocating within the same state or locally are charged on an hourly basis, whereas individuals who are relocating to a different state or across long distances are given a final quote based on the relocation services they select as well as the number of items that need to be packed and transported.
Our locally-based moving company with its best skilled movers from Utah to Los Angeles is pleased to share the news that our provider possesses each and every one of the aforementioned characteristics. This enables us to provide our customers with effective, all-encompassing services that are capable of meeting the requirements of even the most particular individuals traveling to either Utah or Los Angeles.
Why hire a prominent Born to Move moving company
In case this is your first time relocating with the help of our moving service, our experts and movers from Los Angeles to Utah are here to enlist a few crucial reasons why you should opt for the professional assistance of our safe and insured provider:
It is much more reasonable in price. A move that you handle on your own, whether it is to Utah or anywhere else in the United States, could end up costing you unexpected and unneeded money for there will be unnecessary expenses. On the other hand, the experienced moving specialists of our professional moving service in Utah are always aware of the tools and supplies that are necessary for them to carry out the tasks associated with relocation. In addition to this, you are always aware of what you are paying for as there are no hidden fees and our full service moving company always provides customers with transparent rates regardless of the way in which they want to receive their final cost.
There is a simultaneous completion of a number of tasks. Preparing your household items for Utah or Los Angeles requires you to complete a variety of tasks, almost all of which can be delegated to moving companies near me that specialize in this line of work. Delivering reliable packing services for you, our experienced movers use free packing materials and know how to pack your belongings to ensure that nothing will be broken while they are in transit, and they will also know how to disassemble your furniture. The latter requires them to be extra careful thus there is a wide range of tools and equipment involved in the process of disassembling and reassembling large and breakable pieces of furniture. Additionally, proficient movers from Los Angeles to Utah always take precautionary measures by wrapping the furniture in blankets.
Your equipment will be relocated in a risk-free manner. If you want to avoid unpleasant circumstances in which your valuable possessions are misplaced or severely damaged while being transported, you should give serious consideration to working with a moving service that offers professional assistance from many-year experienced movers. Relocation companies that employ the most qualified movers are experts in the safe handling of sensitive electronic equipment, as well as all types of furniture and breakable items. They can also move any kind of furniture, as stated above. In addition, the movers will use the appropriate packaging materials and relocation equipment to protect your valuable possessions while they are in transit. This will ensure that your belongings are not damaged. There is no need for concern on your part because they will provide you with various insurance options in the event that any of your belongings are damaged in the process of moving to Utah or any other location. This eliminates any and all causes for concern on your part.
Relocating to a new spot, whether it be Utah, Lost Angeles, or somewhere else entirely, can feel like going through a whirlwind due to all of the excitement that is involved in the process. Being aware of what to anticipate from the relocation company is one of the most important steps toward having a successful move, even though there may be a lot of things to think about. If you want your move to go smoothly, this is one of the most important steps you can take. During the course of your relocation to the previously specified location, our trained and highly experienced Los Angeles movers are prepared to provide you with a moving experience that is free of hassle.
Where to start when hiring skilled Born to Move movers?
Our trained and experienced movers start any relocation process to Los Angeles by providing prospective customers with an estimate of the total cost of their move. The rule is that all the prices should be visible. This is also done while keeping in mind the fact that moving is a process that takes place in stages. You can get a free moving quote from our movers from Utah to Los Angeles in two easy ways: either by requesting an on-site estimate or by using our online calculator. Both of these options are available to you. For the second option, you will need to fill out a form requiring from you the following pieces of information:
The various types of services that you can anticipate receiving from our movers are outlined here.
Date planned for the move.
Destination (Utah, or any other spot in the US or abroad).
Different kinds of entryways that can be found in both your old and new homes.
After you have finished filling out the form, an instant calculation will be performed to determine how much it will cost to move to Utah. Please keep in mind that the final price of your upcoming relocation may also depend on how many items our professional moving crew ought to prepare for the move.
As was mentioned previously, another option is for you to get in touch with our experienced movers. Our professional service will send movers to your location at a time that is most convenient for you in order to carry out an inventory count. This will allow us to determine how much stuff needs to be packed and moved, as well as select the moving truck of the appropriate dimensions exclusively for your relocation.
Our hourly rates include all other charges:
Labor & Equipment
Floor Protection
Wrapped Furniture
Tolls
Taxes
No Additional Fees
Fuel Charge
Safe Delivery
Guaranteed Price
Movers from Los Angeles to Utah
Our Moving Company is fully licensed and insured!