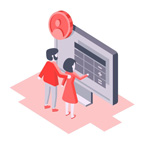 Online and On-site
Free Estimates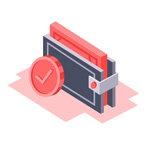 Affordable Rates
and Discounts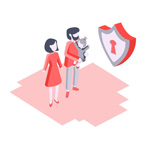 Fully Licensed
and Insured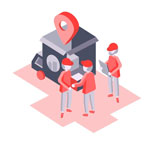 Professional Moving
Crew
New Hampshire, "The Granite State," is known as a wealthy and economically developed part of the United States. This is a place with many cozy towns that host companies such as BAE Systems North America, Capital Regional Health Care, and Fidelity Investments, to name a few.
But the true heart of the state is its natural treasures, such as mountains, oceanside, rivers, and lakes, a top location for various outdoor activities! And Portsmouth is one of those home-like towns that you'd never want to leave.
Born to Move Professional NH Movers
The Born to Move company is a certified and insured mover that has all the necessary approvals for performing these duties. We operate within Portsmouth, NH, and we know how to ensure a smooth relocation – even if it's a 5-bedroom house you want to transfer to a new NH place.
The moving tips we find on the net are pretty much the same: make a checklist, hire local movers, declutter, and start packing ASAP.
Many of those who go through a move insist on hiring professionals. Why, though, if your next home might is not that far from your current one? Hiring movers in Portsmouth, NH, will keep you from many unexpected situations, such as:
The furniture is too heavy to carry;
The furniture is too bulky to carry through the doorway;
There's a lot of packing and wrapping, and you don't have enough time to do it;
You don't know how to move your piano;
There's waste that you have to dispose of, but you haven't done so before the move;
You hate thinking about unpacking.
Benefits of Hiring the Born to Move Certified Movers
What comes as a shock for DIY movers is second nature to certified movers. These companies usually have all the necessary equipment, well-trained employees, and useful contacts. This is what you can expect from Born to Move.
When hiring our company for a local move in Portsmouth, you can count on:
Friendly service in the company;
Free quote;
Highly skilled movers;
A team of movers selected according to your moving conditions;
Help with unpacking.
And this is just the surface! The Born to Move team will answer all your burning questions and help you pick the best dates for your Portsmouth move.
Portsmouth Movers with Exceptional Service
With picturesque beaches located not far from Portsmouth, you'd probably rather go there than pack up your belongings. The good news is that our movers can help you with packing! Moreover, they will wrap all your items and load the truck in a specific order so that your fragile items won't get damaged.
Which other services are offered to help you with your move within Portsmouth?
Free packing materials, such as tape and shrink wrap
Additional packing materials such as boxes and plastic crates rentals;
Blankets for floor protection and safe items transportation;
Professional packing and unpacking of all the items;
Loading the truck and unloading it upon arrival;
We help with furniture disassembling and assembling;
Fine arts and antiques are transported with care.
Our clients don't have to be afraid of narrow doorways – we know how to deal with bulky pieces of furniture. And if you're a promising Portsmouth talent, you can trust your musical instruments, including your piano, to our NH movers. Have your NH plans just changed? We can always assist you in moving back.
Keep Calm and Watch Us Do the Job
New to jumping from place to place with heavy boxes? Here's what our Portsmouth, NH movers will do on the moving date:
Our movers will arrive at your place to wrap and pack your items;
After that, they will carry out the boxes and load them into the truck;
All your items will be delivered to your new place at the arranged time;
Our movers will unload the truck and carry the boxes into your new premises;
Our movers may help you to unpack and unwrap your stuff and assemble your furniture;
If you have rented plastic crates, our movers will collect them later.
Of course, a lot depends on the season when you're moving within Portsmouth as well as your individual requirements. We tend to take more time when dealing with fine arts or fragile items, such as TV/PC monitors. Actually, for cases like that, we will send you NH movers with several years of experience. In general, all our skilled and friendly teams of Portsmouth movers have a ready plan to follow.
Affordable NH Move
Local moving can be a costly venture. As a Portsmouth, NH moving company, we appreciate the financial burden of the average move. This makes us truly special: we charge for time rather than for each service.
So, when you book the Born to Move company, you will pay for the hours worked. That price already includes the fees for the manpower, tolls, fuel, extra miles, and packing materials.
Of course, you can order additional services that will add to the total quote. A solution that will please our Portsmouth clients is that we give you a flat price right in the beginning.
After your free estimation, you will be informed of the total cost, and it will not alter throughout your move.
If you want to get an idea of how much a Portsmouth, NH, move will cost, consider your moving size:
Is it a small one-bedroom apartment? Then it will be around $500;
Is it a three-bedroom apartment? Then it will cost around $1,200;
Maybe it's like a large 5+ bedroom house? Then our movers will charge around $4,080.
In each case, there will be a specified number of employees and trucks. Also, note that you can book us for a minimum of three hours and up to twelve hours.
Don't hesitate to check out our website, goborntomove.com, and get an online estimation for Portsmouth there.
Being just one hour from Boston, Portsmouth is a magnet for those who want to avoid an overly-hectic lifestyle. At the same time, the town offers just enough to feel alive: restaurants, museums, a water park, places of worship, and camping. Portsmouth, and NH, in general, are locations of interest for many dwellers of never-sleeping cities like New York. Magnificent beaches within a short distance are great for family time or parties with friends.
So, entrust your local move to our company, and spend your time on what you really love.
Portsmouth NH Movers
Our Moving Company is fully licensed and insured!