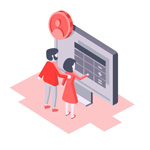 Online and On-site
Free Estimates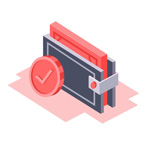 Affordable Rates
and Discounts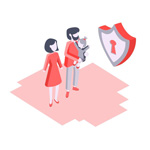 Fully Licensed
and Insured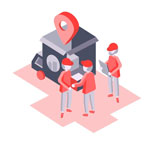 Professional Moving
Crew
Moving from one place to another has always been a complex task. It is tough work that consumes a lot of time and energy.
Problems like traffic jams and convenience issues may occur on the way to Santa Barbara at any time. These troubles are also relevant to the LA environs. Imagine that you do not know the route and are stuck in a traffic jam with all of your belongings. An unpleasant thought, isn't it?
You can avoid this stress simply by booking the services of our moving company. We have professional movers who will deliver your belongings to your new place in full safety.
Here are a few reasons why choosing Born to Move is a wise decision for people moving from LA to Santa Barbara and those moving from Santa Barbara to LA.
Our Company Movers' Services
Our moving company aims to make your moving experience smooth and relaxing. Our movers are experts in handling fragile things, using special equipment, and applying techniques for moving out. We don't just deliver your belongings to Santa Barbara we also provide a wide range of other services. They include:
Careful disassembling of your furniture
Wrapping and packing every single item
Loading and unloading the truck
Unpacking and unwrapping
Reassembling furniture
Our movers from Los Angeles to Santa Barbara and movers from Santa Barbara to Los Angeles can assist you with all your moving needs, including local, commercial, interstate, or residential relocations. It doesn't matter how many items you have we'll be able to cope with a task of any complexity.
Movers and Their Wrapping and Unwrapping Skills
When moving from a place like LA to Santa Barbara, packing your stuff can be very hectic. Fortunately, Born to Move has the perfect packing solution for you. We have brilliant movers who are specialized in handling fragile things. They can carefully wrap all your items, label them and pack them into boxes.
Upon arrival, our movers from Los Angeles to Santa Barbara or movers from Santa Barbara to Los Angeles will unpack the boxes and unwrap all your belongings. Also, they will get rid of all the trash left from the protective materials.
Movers Providing Loading and Unloading
When thinking of moving to Santa Barbara or moving from Santa Barbara to LA, you probably worry about the safe loading of your belongings into the trucks. With Born to Move by your side, it's no longer a problem. We have well-trained movers experienced in carrying, loading, and unloading all categories of items.
Movers Disassembling/Assembling Your Accessories and Appliances
Some large furniture pieces like wardrobes, beds, and cupboards should be disassembled before moving from LA. Our movers are happy to take care of dismantling your belongings. They will pay special attention to all the details and will save everything, down to the smallest fastener.
When your items are delivered to your new destination, you won't have to reassemble them on your own. Our movers will do this instead.
Movers' Special Services
While relocating to Santa Barbara from LA, our additional services can come in handy. For example, the White Glove moving service is great for those who want extra care for their items. With the experience of our elite movers, there is no chance for your items to get damaged.
Another additional service is eco-friendly moving from LA to Santa Barbara and which uses green moving strategies. It eliminates the wastage of boxes, wrapping papers, shrink wrap, and bubble wrap during relocation.
Of course, this isn't the full list of our movers' services: you can find more in the site's footer. Everything you should know is that we always want to help you with whatever needs you may have.
Our Moving Company's License and Insurance
With the Born to Move company, you can rest assured that your belongings will be delivered safe and sound. First off, we hold a USDOT license. This guarantees that our services are fully legal. Second, we always provide insurance. If something gets broken, damaged, or lost during relocation, we will make restitution.
Our Price Policy
We guarantee the most affordable price. Our moving company doesn't charge extra for gas, tolls, mileage, or protective materials. Also, we provide free online and physical estimates. The total cost won't change when you get your things delivered from LA to Santa Barbara.
To Sum Up
Born to Move is a savior for people who'd like to move to Santa Barbara or Los Angeles. We have a team of professional movers who are experts in handling things with proper care and attention. Our services don't cost overly much, so don't waste time reach us right now!
Our hourly rates include all other charges:
Labor & Equipment
Floor Protection
Wrapped Furniture
Tolls
Taxes
No Additional Fees
Fuel Charge
Safe Delivery
Guaranteed Price
Santa Barbara Movers
Our Moving Company is fully licensed and insured!