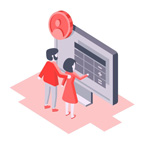 Online and On-site
Free Estimates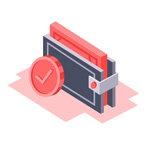 Affordable Rates
and Discounts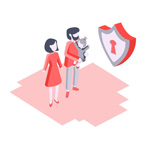 Fully Licensed
and Insured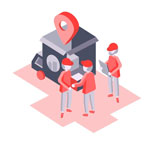 Professional Moving
Crew
Are you tired of searching for ways to relocate to Anaheim from LA without going through a complex moving process? Fear of getting scammed by moving companies that don't carry your valuables with the utmost care and attention is something very real.
The good news is that the Born to Move company offers a stress and worry-free moving service. This includes wrapping and labeling your belongings and unwrapping them when you reach your destination, Anaheim. We also help you get through the stress of packing and unpacking, disassembling and reassembling, loading and unloading, and many other moving tasks.
At Born to Move, we are experienced in moving in both directions. We are movers from Los Angeles to Anaheim and movers from Anaheim to Los Angeles.
Movers from Los Angeles to Anaheim with a Careful Attitude
The Born to Move company has movers who can deliver your belongings to Anaheim safely and on time. They are specially trained and are experts in what they do. Whether long or short distances, our movers can manage anything, and they are always prepared for any difficulties along the way.
Moving from LA to Anaheim or moving from Anaheim to LA can be stressful and tiring. Our movers are cautious and careful when packing your belongings and valuables to avoid damage. They pay special attention to fragile items and do everything possible to deliver them safely.
Movers from Anaheim to Los Angeles
We offer movers from Anaheim to Los Angeles, just like we have movers from Los Angeles to Anaheim. The average distance from Anaheim to LA is 27 miles, which should take 45 minutes to drive. At Born to Move, we have a formidable and committed team that provides a round-the-clock moving service, regardless of the nature of requests, which is why moving from Anaheim to LA or moving from LA to Anaheim won't cause lots of stress.
Licensed and Insured Moving Company
Often, customers do not check if a moving company and its movers are licensed to do their job in LA and other cities. This has increased the anxiety rate among customers. Born to Move is a fully licensed moving company. Moreover, we provide insurance coverage for our customers. Knowing this, you can keep calm and continue preparations for the relocation.
We have the following licenses:
USDOT license
FMCSA license
Extra Fees for Moving Is Not Our Thing
We charge an estimated price collected to pay for service related to the primary product or service being delivered. Once a fixed cost for the moving is set, and the transaction is settled, no extra charge is added to your delivery as long as the roads are navigational. Movers never charge extra fees for your move because a fixed cost has been set for your trip.
Our movers do not charge you extra for:
Miles
Gas
Tolls
The Moving Process: What We Do
We are poised to remove all the stress involved in the relocation process. Anyway, we do not just offer the service of moving your belongings to your new location. There are several steps we take.
The first step our movers take is the disassembly of furniture. They record how they dismantle each item and monitor all the smallest details. After that, our movers wrap all your belongings then, they are labeled for easy identification.
The second step is packing up all your appliances and carefully loading them into the already waiting service truck. Before leaving LA for the new destination, our movers make sure the environment where everything is being packed is tidy.
The third step is moving to your new destination. The driver chooses the best route to deliver your belongings on time.
The fourth step is unloading the truck and unpacking the boxes in Anaheim. After this is done, our movers unwrap the labeled appliances and carefully reassemble your furniture. Once all the arrangements are made, our movers make sure the surroundings are kept clean.
Conclusion
Relocation from LA to Anaheim can be a very complex and exhausting process, but with the help of our movers at Born to Move company, we ensure a stress- and worry-free trip to your destination, and all of these for the perfect price. If you want to go back to LA, you know whom to call because we go in both directions.
Our hourly rates include all other charges:
Labor & Equipment
Floor Protection
Wrapped Furniture
Tolls
Taxes
No Additional Fees
Fuel Charge
Safe Delivery
Guaranteed Price
Anaheim Movers
Our Moving Company is fully licensed and insured!