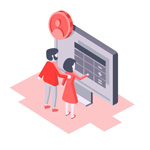 Online and On-site
Free Estimates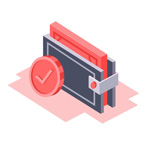 Affordable Rates
and Discounts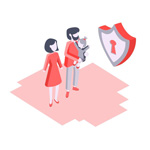 Fully Licensed
and Insured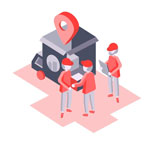 Professional Moving
Crew
The thriving city of Los Angeles is well-known for its famous Hollywood sign, great entertainment sector, and top-notch museums and cultural institutions. With its mild climate and endless opportunities for outdoor recreation, it's no surprise that many people are drawn to call LA home.
On the other hand, Bakersfield CA is a bustling city in the heart of California's agricultural region. It is well-known for its rich cultural history, beautiful natural surroundings, and strong economy, making it an appealing destination for those looking for a more relaxed way of life.
If you're considering moving from LA to Bakersfield CA, or moving from Bakersfield CA to LA, it's important to find a team of movers that can handle the transition smoothly and efficiently.
That's where the Born to Move company comes in. We have experienced movers from Los Angeles to Bakersfield CA, and movers from Bakersfield CA to Los Angeles who deeply understand the process of moving between these two cities. Our movers' goal is to work tirelessly to ensure that your items are safely transported to your new home in LA or Bakersfield CA.
In the last couple of years, our movers have spent thousands of hours moving families, companies, and students between LA and Bakersfield CA.
We've helped them with several moving services, like:
Moving household items
Wrapping and moving furniture
Moving and storing valuable items
Moving commercial goods
Industrial relocation services
Moving heavy equipment
These are just the tip of the iceberg when it comes to what we do.
Exactly Why Our Company Is Not Like the Rest
We at Born to Move believe that moving should be fun and relaxing, so we've designed our services around that ideal. That's why our company and movers do everything they can to guarantee 100% customer satisfaction. From the moment you contact us to request a quote, you'll see that we are different from other moving companies. Our expert movers are committed to exceeding customer expectations and will tailor their services to meet your unique moving needs. Our movers also take great care in handling your items and will do everything they can to ensure a smooth and successful move.
Here's why we are different!
Professional Long-Distance Movers
Our movers from Bakersfield CA to Los Angeles have been assisting customers with their relocations for years, and we at Born to Move are pleased with the reputation we've earned in that time.
In addition to our expertise in moving between LA and Bakersfield CA, our movers also have extensive experience with long-distance moving. This includes moving several hundred miles across the country. We have the resources and skills to handle your relocation with ease, as the distance is never a problem for us.
Complete Moving Packages
The Born to Move company offers a full range of moving services to make moving from LA to Bakersfield CA, as stress-free as possible. Unlike many other movers, we don't just provide transportation for your belongings. We also offer packing, disassembly, wrapping, loading, and unloading services to ensure that your items are handled with care throughout the entire moving process.
Our team of professional movers is ready to handle moves of any size, even those from buildings with more than one floor. We will work with you to ensure that your move between LA and Bakersfield CA is completed quickly and to your satisfaction, and we take pride in our ability to guarantee a great service at a reasonable cost.
Our Movers Are 100% Licensed and Insured
When you're moving from Bakersfield CA to LA, you can trust the movers at Born to Move to handle every aspect of your relocation with care and professionalism. The Born to Move company is 100% insured and licensed, so you can have peace of mind about the safety of your items.
The FMCSA has granted us permission to operate in multiple cities. We have a USDOT license allowing us to move people between LA and Bakersfield CA. Simply put, we're fully licensed and insured and have all the necessary permits and authorizations to make your relocation go off without a hitch.
But we don't just have the paperwork covered – we also prioritize the safety and security of your belongings. Our movers are highly trained in handling and transporting items with care, and in the unlikely event that something goes awry, we have insurance coverage to protect your items against any potential damage or loss.
Don't Delay Your Free Quote Today!
Are you ready to make the exciting move from LA to Bakersfield CA? Our experienced movers are dedicated to helping you move with top-quality service at an affordable price, with a moving cost starting at just $140 per hour. We do not charge extra for our services for any reason, not even for increased mileage or gas. Your price quote is what you pay!
Allow yourself to relax and enjoy the moving process. Contact us today at (617) 903-2609 or send an email to [email protected] to request a quote and get started on your stress-free move between LA and Bakersfield CA.
Our hourly rates include all other charges:
Labor & Equipment
Floor Protection
Wrapped Furniture
Tolls
Taxes
No Additional Fees
Fuel Charge
Safe Delivery
Guaranteed Price
Bakersfield CA Movers
Our Moving Company is fully licensed and insured!