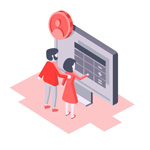 Online and On-site
Free Estimates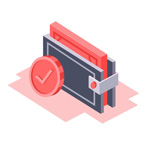 Affordable Rates
and Discounts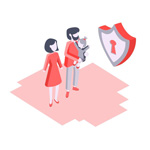 Fully Licensed
and Insured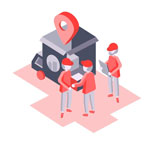 Professional Moving
Crew
Everyone is aware that moving from Chicago, IL to Downers Grove can be a stressful and expensive experience, but only a minority of people who relocate their homes ever realize that the real risk of both residential and commercial move lies in the discomforting unpredictability of the process. This discomfort can be experienced both figuratively and literally.
So there you have it – these are just some reasons why professional movers from Chicago to Downers Grove are an invaluable asset when it comes to relocating! Don't forget that movers provide insured services so you won't have to worry about any unexpected costs or damages along the way. So, hire experienced movers from Chicago to Downers Grove at our Born To Move moving company for your upcoming relocation and enjoy a stress-free moving experience for a good price!
Reasons to engage experienced Chicago to Downers Grove movers
If you choose to disregard safety precautions throughout your move from point A (your existing house in Chicago) to point B (your new home in Downers Grove), you run the risk of having to make an unscheduled trip to Midpoint H to deal with an unanticipated disaster (the nearest hospital). That is why hiring reputable and renowned moving company such as ours is highly recommended and is a safer and most cost-efficient option rather than performing a DIY Chicago to Downers Grove move for you will be able experience the following advantages:
Getting a free quote in no time.
Receiving a professional assistance from experienced team of moving coordinators.
Getting all your valuable possessions carefully packed by trained movers.
Working with high-quality materials that will protect your breakable belongings.
Receiving full assistance for a fair price.
The job of movers from Downers Grove to Chicago is to deliver a stress-free moving experience by doing all the hard work for you. What do Born to Move movers do when maintaining a relocation between Chicago and Downers Grove? Let's find out.
What does our Born to Move moving company do?
The fact that a moving provider is responsible for all relocation processes is probably the most self-evident response to that query. The movers from Downers Grove to Chicago will relocate you, together with all of your stuff and the other items. Movers is a profession that takes a significant amount of strength as well as very high moral standards. But what exactly takes place throughout the process of migration? What should you anticipate from our Born to Move moving company you wisely decide to hire? Although the services offered by each organization are unique, there are three elements that are consistent across the board. Let's have a peek.
Rapid packing
There are two different paths open to you when you engage a moving company. You have the option of packing everything yourself, or you may have the moving company pack all of your possessions for you. When dealing with a corporate move, very few businesses will enable their customers to participate in the pre-packing process.
Before the day of the move, our relocation company will send a moving coordinator to the home or place of business to do a thorough inspection of the belongings that will be relocated. Highly-trained movers with extensive experience and knowledge will make an estimate of the number of boxes that are required, the number of movers that are required, and a financial estimate for the entire cost of the move if you have not previously obtained one. This is often calculated using a formula that takes into account both the total weight of your things and the total distance that has to be transported.
Transporting
When you hire a professional moving company, they will often set aside a moving truck of the suitable size and reserve it just for your move. Our movers from Downers Grove to Chicago will arrange the truck in line with the number of objects that need to be transferred between Chicago and Downers Grove. Keep in mind that all the items are additionally secured, which allows our professional movers to avoid any damage that can occur during transit.
Arriving at final destination
It should not be difficult to remove your belongings from the previous residence. You already know that such objects can fit through the doors because they had to be brought in there in the first place. The movers from Chicago to Downers Grove are experts in their field, and they are aware of all that has to be done in a professional manner, which includes careful unpacking and furniture reassembly upon the arrival at final destination in either Chicago, IL or Downers Grove.
Our hourly rates include all other charges:
Labor & Equipment
Floor Protection
Wrapped Furniture
Tolls
Taxes
No Additional Fees
Fuel Charge
Safe Delivery
Guaranteed Price
Downers Grove Movers
Our Moving Company is fully licensed and insured!