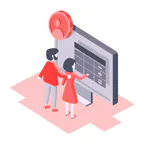 Online and On-site
Free Estimates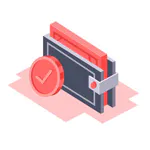 Affordable Rates
and Discounts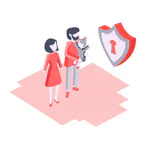 Fully Licensed
and Insured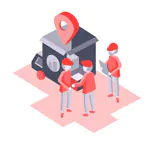 Professional Moving
Crew
Los Angeles is one of the busiest areas for movers. Considering the population density within Los Angeles, it's pretty understandable why there's a lot of activity. Some are merely moving to other cities in California, while others are moving out of the state completely.
But what does this mean for you? Because of the demand for moving services in LA, you'd have no trouble finding a company that can do the job for you. The only real challenge is selecting movers who can do the job well.
Whenever possible, we highly recommend going with a reputable moving company like Born to Move that also offers a flat rate for its services. Not sure if flat rate movers are for you? Find out more about what Born to Move has to offer.
Flat Rate Moving: When Do We Offer It?
Our team offers this pricing type when too many factors, which are beyond your control, can affect the hourly rate. If you're just moving within Los Angeles, California, how long it will take to do the job is easier to predict. In extension, your estimated moving cost won't vary that much either.
That's why we offer a flatrate moving cost for clients moving a long distance. Keep reading to see how this can work for you.
Flat Rate Movers Benefits for Los Angeles Moving
If you're moving from Los Angeles, CA, to a long-distance destination, you'll be able to enjoy these benefits.
Moving Factors Manageability
There are a lot of potential challenges with moving to LA from outside the state. By offering a flat rate for our movers' services, we put one factor under control.
Here's where getting flat rate movers becomes beneficial. When you're relocating, there are so many things that you'd want to manage. And apart from our services, we help ease the burden by making it easy for you to address the service cost.
Moving Rates Predictability
What if the cost of movers suddenly skyrockets? Apart from wanting to save every dollar possible, this is the biggest reason DIY movers are hesitant to hire for their move to or from Los Angeles, California.
But by getting a flat rate, you'll be able to better manage how much you need for your move. You won't need to worry about not setting aside enough.
Company Transparency
We want to tell you everything you want to know about your move. But for some things, the best we can do is a prediction based on experience. Such is the case for quote estimates for hourly moves.
You get a lot more transparency when hiring our Los Angeles flatrate movers. We can be more transparent because the pricing isn't left up to chance. Whether it takes four or five days for our LA movers to complete the job, it will still cost the same for you.
Flatrate Moving Partner in Los Angeles that Delivers: Born to Move
In the end, getting a flat rate on moving services is just another perk you will get. It's still very important to consider the results your choice of flatrate movers can deliver.
That's where Born to Move, a fully insured and licensed company, comes in. When you move to or from Los Angeles, you know you're getting services that are a product of years of learning, developing skills, and satisfying clients. We're confident that no matter where in Los Angeles, CA, you're coming from or moving to, our flatrate movers are always a great choice.
Moving Expertise
We pride ourselves on the quality of moving services we bring to the table. Just check out the glowing reviews our past clients gave us for flat rate moving. These are a testament to how consistent we are in delivering excellent results.
But this doesn't happen by chance. Our flatrate movers in Los Angeles follow a strict process to ensure we do the job as quickly as possible without compromising the condition of your items. This includes:
Delicately disassembling furniture parts for wrapping;
Strategically loading all parts and boxes in our truck to minimize movement on the road;
Carefully unloading all truck contents;
Meticulous unwrapping and reassembly of furniture parts.
We do everything in our power to ensure your satisfaction. We make sure that there's no room for damage to happen by preparing for the move. One of our representatives will ask you questions beforehand so we can bring the necessary equipment and materials for your moving day. We're also happy to answer any questions you may have before or during the job.
Movers' Affordability
Amazing Los Angeles movers at a flat rate don't have to burn a hole in your pocket. We always try to make our rates as affordable as possible. Our flat rate also includes tolls, fuel charges, miles, your moving truck, labor, and other miscellaneous costs.
If you've been looking around, you'd see just how affordable our rates are. This should also help you decide to book professional movers for the job.
Los Angeles Familiarity
Having completed many jobs where Los Angeles is the starting point or the destination, our movers practically know all the roads both in and out of the city.
Do you know how locals in the area use secret routes and parking spots that navigation apps don't show? Our team can easily change routes when needed while guaranteeing that your items will get to you as quickly as possible. This level of familiarity you can only get through actual experience is available to you at an affordable flat rate.
Los Angeles Movers at a Flat Rate? Book Born to Move Today
Flat rate moving in Los Angeles is a great option if you want to eliminate the guesswork in the total costs. This allows you to more easily financially prepare for your move to or from LA.
Have you finalized your move date already? Because of the level of service our movers provide at highly competitive prices, our slots are filling up quickly. Therefore, as much as we'd like to accommodate everyone, we may not be able to.
Our experienced movers are ready to be your moving partner. Call us at (617) 903-2609 for inquiries, price quotes, or bookings.
Flat Rate Moving in Los Angeles CA
Our Moving Company is fully licensed and insured!