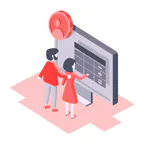 Online and On-site
Free Estimates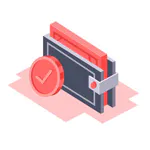 Affordable Rates
and Discounts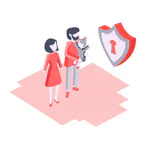 Fully Licensed
and Insured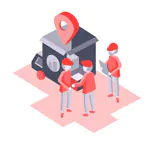 Professional Moving
Crew
Maine Long Distance Movers
Moving is chaotic, demanding, and challenging. Because the safety of the furniture is your utmost priority, you will want to exercise extreme caution when selecting movers for a long-distance, interstate, or out-of-state relocation from Maine.
Best Long-Distance Moving Services We Provide in Maine
Born to Move provides the best moving services, including interstate and long-distance moving, packing, unpacking, transport, disassembly and assembly, and loading and unloading. All your worries will vanish when you hire professional long-distance moving teams like Born to Move.
Our movers well are aware of the concerns our clients have when they want to relocate cross country or interstate with furniture that needs special consideration. Maine cross country movers are highly trained and competent in handling furniture with care. They attentively and accurately follow the client's directions before completing the long-distance move quickly and flawlessly without causing any damage to the furniture.
Let's take a brief look at the advantages of hiring our cross country movers :
Inexpensive and stress-free moving within Maine or cross country;
Storage service for a temporary period;
Long distance, cross country, and out-of-state moving expertise and tools;
Commercial long distance moving services.
A Company Providing Packing and Unpacking Services
The most time-consuming out-of-state moving activity is carefully packing and wrapping furniture and belongings, then unpacking and unwrapping them after the delivery at the new long-distance location. We provide excellent services for packing and unpacking before and after delivery. Moreover, our moving company even provides you with high-quality basic packing supplies and furniture packaging essentials.
Our Movers Take Care of Loading and Unloading
Loading and unloading furniture is a process that requires great care and attention. It increases the risk of accidents that could result in injuries to you or damage to your belongings and furniture. For this reason, our professional Maine movers are highly skilled in lifting furniture, loading it into a particular van, and correctly unloading it at your new place. To make the entire cross country, interstate, or out-of-state moving procedure stress-free and easy, Born to Move offers loading and unloading services.
Convenient Long Distance Moving
Sudden weather changes or difficulties with your transport vehicle, like tire punctures or breakdowns, are challenges you could face when traveling long distance with your furniture, regardless of whether you're moving interstate or going out of state from Maine.
It is our movers' sole responsibility to ensure a seamless long-distance or interstate move for you, and for that, we upgraded our vehicles. We've provided our Maine interstate movers with specialized training that will enable them to handle any difficult circumstances. Our movers' primary objective is to give you the convenience and peace of mind you need during the stressful long-distance and out-of-state relocating process from Maine to any city or from any city to Maine.
Likewise, our Maine long distance movers take every precaution to keep your belongings safe. Our moving company appreciates the value of our customers' possessions, and we take care of your items as if they were our own.
Moving to Maine: Disassembly and Reassembly
Our expert movers are responsible for disassembling your furniture and shifting it to the locations of your choice. With a very responsible approach, hiring our Maine interstate movers will resolve all of your interstate and cross country moving concerns and struggles. Also, our professional Maine interstate movers offer the ideal service for assembling your furniture in one location.
Home decluttering is the best service we offer. Additionally, our team will advise you on what you will need and what won't fit at your long-distance location, allowing you to get rid of unnecessary items right away. Our professional movers will offer you a hauling service.
Long Distance Relocation Pricing Policy
If you know the cost for movers before coming to Maine and properly schedule your long-distance or interstate relocation, it will be pretty simple for you to manage your funds and budget. For example, shifting a one-bedroom apartment might cost $160 to $200 per hour. However, if you choose to relocate during the low season, it will be far less expensive: for a one-bedroom flat, the winter rate is only $99–140 per hour.
From the end of April through September 1, our moving company experiences peak season. Our hourly prices are 20% lower between September 15 and the end of April. From the table below, you may estimate the standard price of your move:
| | | |
| --- | --- | --- |
| Size of Move | Summer Rates | Winter Rates |
| Studio Apartment | $300 -500 | $240 – 400 |
| 1-Bedroom Apartment | $500-1000 | $400-800 |
| 2- Bedroom Apartment | $1000-1800 | $800-1440 |
| 3- Bedroom Apartment | $2500-5000 | $2000-4000 |
You can also purchase insurance from us if you want to feel safe transferring your belongings. The premium prices for local and interstate moving vary. To receive a thorough estimate list of the insurance premium rates that need to be paid, get in touch with the Born to Move office online or in person.
A Moving Company with Fully Licensed and Insured Services in Maine
Born to Move is a fully licensed and insured moving company. Our movers take every precaution to protect your home furnishings and equipment while we move them from one location to another. Our professional movers have extensive training and are familiar with long-distance relocation regulations.
Our skilled movers have received extensive focused training for long-distance moves. We educated them on all the rules and legislation that apply to long-distance and out-of-state relocation.
No Extra Charges for Moving in Maine
Born to Move doesn't charge its clients any additional rates for gas, oil, or tolls when they move. Instead, our moving company ensures that our service is completed successfully at your new location. If there is any doubt or delay, our Maine movers do not charge you additional fees.
Moving long distances is complicated, even for professional movers. They must recognize their enormous responsibility to transport the furniture to the new location safely and within the allotted time.
Conclusion
All in all, Born to Move is an excellent Maine company that offers relocation services from any city to Maine and from Maine to any other location. With the additional long-distance moving services on offer, everything necessary for the move is covered. Our expert movers utilize sturdy cardboard boxes that keep things safe when providing packing services. In addition, our long-distance moving team drives very carefully to the destination.
Our hourly rates include all other charges:
Labor & Equipment
Floor Protection
Wrapped Furniture
Tolls
Taxes
No Additional Fees
Fuel Charge
Safe Delivery
Guaranteed Price
Maine long-distance movers
Our Moving Company is fully licensed and insured!