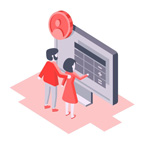 Online and On-site
Free Estimates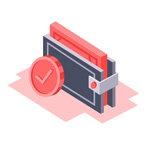 Affordable Rates
and Discounts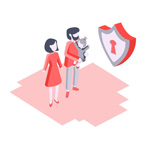 Fully Licensed
and Insured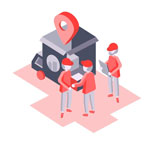 Professional Moving
Crew
Chicago is a world-famous city known for its amazing architecture and scrumptious food selections. Meanwhile, Buffalo is an upstate city in New York that's known for its winter weather and interlinked parks. That's why both places are popular moving destinations.
If you're looking for a different atmosphere and want to move to either place, the Born to Move moving company can help you out. Our professional movers from Buffalo to Chicago are equipped with the skills and experience needed to pull off any long-distance move.
Movers from Buffalo to Chicago IL, from a Reputable Moving Company, Offer Valuable Services
Driving the nearly 450-mile distance between Chicago and Buffalo for seven hours straight is difficult but possible. However, moving is another issue altogether. Going through a relocation means preparing yourself for a long list of tasks to make sure that on the moving day itself, nothing goes wrong. You'll have to do a lot of things like:
Determining what you need before moving to Buffalo based on the move size, walkway width, and non-professional movers available;
Looking for the lowest cost for quality packing materials and other things needed on the day you leave Chicago;
Researching how to wrap your items that are more prone to damage properly;
Coordinating all efforts to improve efficiency.
And on the big day, you'll have to do the hard work that Chicago movers do. Moving is challenging enough as it is. But you don't have to subject yourself to all of this if you hire moving experts.
Moving and Storage
Is your new place in Buffalo not yet ready? Our company has temperature and humidity-controlled storage units where you can safely store your things. These units are available on a nightly and monthly rental basis.
Our Chicago movers can also bring your belongings to or from the units if needed. If you need a different arrangement for the storage, please feel free to ask us about it. We're happy to work out a solution that would work for you.
Buffalo and Chicago Residential Moving
Moving your family to a different state can be difficult, especially with young kids. To help you focus on your family instead, our movers provide residential relocation services.
Whether you have a cozy apartment or a huge house, Born to Move can handle it. We'll also bring the necessary equipment and materials to make sure not to damage your walls or door frame.
Movers' Full-Service Packing Services
Getting from Chicago to Buffalo can be exhausting. So, if you want to save your energy for the trip, our talented movers can take care of packing for you.
Please know that we do more than just put things in boxes. We also make relevant decisions like:
Deciding which stuff to pack together;
Identifying how best to reinforce the boxes so we can safely carry them;
Determining which packing materials to use and how much of them are needed.
For a reasonable rate, we can bring the materials with us on the day. However, you're free to provide them instead.
Moving from Chicago, IL, to Buffalo? Born to Move Is a Great Choice
Since our first moving assignment, we have committed ourselves to doing even better every next time. This is how we have eventually become a highly respected and reputable moving company.
We create the conditions to ensure the satisfaction of our clients, from our professional movers down to the equipment they'll use in going from Buffalo to Chicago or the other way around. Our team looks forward to continuing on this trajectory to excellence to help out even more interstate movers like you.
Company Values Guiding Our Practices
Born to Move doesn't exist just to collect money from movers like you. We're here to provide a service to the communities in Buffalo and Chicago that will make life easier. Fairness, excellence, and dedication are at the heart of our organization.
That's why we make sure to address concerns that you may have before and during the move. We make sure to always meet a certain level of service quality to protect your items from damage along the way by:
Carefully disassembling furniture parts;
Wrapping these parts in the most appropriate materials;
Load your boxes and disassembled furniture into the truck;
Unloading everything at the new location;
Unwrapping and reassembling each furniture part.
In the unlikely event that one of our movers damages anything, don't worry. We're fully licensed and insured, so you'll be reimbursed for it.
Price Accessibility for Professional Moving Services
Born to Move understands that apart from moving, there are a lot of associated costs that you have to worry about. That's why we strive to make the cost of our services as fair as possible to both your and our skilled movers.
If you've been looking around for a while, send us an inquiry. You'll find that our rates are incredibly competitive. For Buffalo to Chicago moving, we charge a fixed rate instead of an hourly one. This already includes the labor of our movers, gas, toll, miles, and other expenses.
If you need additional moving services as well, rest assured that we're going to give you the best prices that we can.
Moving Long Distance Expertise
Just because movers do well with moving shorter distances, it doesn't mean they can perform well in a long-distance one. There are a lot of factors that can affect the movers' efficiency, some of which non-veterans may not be able to handle. This includes:
Last-minute route changes;
Addressing the effects of weather on long storage of items;
Driving safely to prevent damage to items;
Stamina for moving great distances.
Born to Move has seen and gone through it all. That's why we're confident that we can deliver amazing results for your Chicago to Buffalo move as well as anywhere else in the US.
Relocation Doesn't Need to Be Hard. Call Expert Chicago Movers Today
Born to Move's movers from Chicago to Buffalo are consistently good at what they do. Their dedication to delivering great service can take some of the stress off your shoulders.
So, if you want your transition from Buffalo to Chicago (or the other way around) to go well, your best bet is hiring our expert movers. Do you have your moving date set already? Call us at (617) 903-2609 today to get a free price estimate.
Our hourly rates include all other charges:
Labor & Equipment
Floor Protection
Wrapped Furniture
Tolls
Taxes
No Additional Fees
Fuel Charge
Safe Delivery
Guaranteed Price
Movers from Chicago to Buffalo
Our Moving Company is fully licensed and insured!