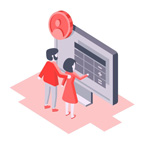 Online and On-site
Free Estimates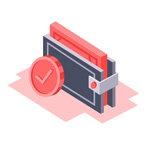 Affordable Rates
and Discounts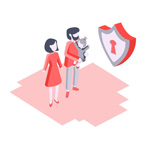 Fully Licensed
and Insured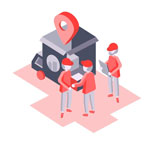 Professional Moving
Crew
Both known for their strong cultural features, California and Chicago are popular moving destinations in the US. That's why California residents looking for a similar vibe normally go to Chicago. Unfortunately, the moving process doesn't make the relocation easy. Movers experience:
Heavy traffic. Both Chicago and California are notorious for heavy traffic, no matter what time it is.
Stress from planning. When moving this far, you only get one chance to do it right. As a result, many people end up spending more time than they thought they would in arranging everything.
Overspending. Sometimes, people underestimate how much they'd need. They'd spend on rentals, gas, tolls, materials, and more. They regret not hiring professional California movers.
As you can see, movers from California to Chicago (or the other way around) face challenges greater than mere distance. A straight 31-hour drive, even for a regular trip, isn't feasible, but it may be downright impossible for a relocation.
But moving doesn't have to be harder than it is. With Born To Move's trustworthy movers from Chicago to California, you'll eliminate all these moving-related stresses and headaches. Our company is one of the most reputable and reliable in the industry, so you know the investment cost is worth it.
How Can Chicago to California Movers Ease the Burden?
If you're moving from California to Chicago, chances are this would be your first time doing so. The same goes if you're moving in the other direction. You'll definitely need more than company for the road. With expert movers in California or Chicago lending their assistance, you'd be able to:
Take a Few Days Off from Moving
We understand that apart from your belongings, you must also attend to other concerns. For example, perhaps you need to sign up the kids to their new school, or you want to be more familiar with your new California city.
By having our movers handle the more tedious parts of moving, you can focus all your energy on the main thing that truly matters: getting settled at your place.
When packing your things for moving to California, how big should the boxes be? And which items should be going together? There's the same concern with loading things up in the truck as well. How do you keep things from moving while you're on the road?
With our California movers helping you out, you don't have to think about these things anymore. More importantly, you won't have to drive a truck through the interstate highway going from California to Chicago.
What many DIY movers realize too late is that there's a lot more to moving than what it looks like. This is even more true for long-distance moves like Chicago to California. Apart from the actual manual labor, you'll have to canvas prices of packing materials, the moving truck, fuel spending, and other expenses.
More importantly, you have to coordinate everything, so there'd be no issue on the day itself. But by hiring a moving company to do the work, all you need to do is pay up. At most, you'll just supply information to their movers so they can better help you out.
Starting anew in a big California city is hard enough as it is. So take the pressure off and let our movers take over your moving day.
Why Trust Born To Move with Moving from California to Chicago?
Born To Move is a fully-insured and fully-licensed moving company that has completed many successful moves in both California and Chicago. And with the talent of movers, we are trained to address any potential moving problem, you won't regret getting the best in the industry. We stand by our core principles as one of the leaders in the moving business:
Full Transparency
We believe that honesty is the foundation of any business relationship. That's why we're always clear about what is included in our prices. For moving out of state from Chicago or California, we employ a fixed rate that covers gas, toll, miles, labor for movers, and other miscellaneous expenses.
But that's not where it ends for Born To Move. Even before our California movers get to your door, we'll be in contact with you to clarify details about the move. This will allow us to better gauge the time needed to do things properly. If we feel you'll benefit from it, we'll also recommend additional services that our movers can do for you.
Integrity
When we say we'll get it done, we won't back down on that promise. Our movers will come to your place equipped with everything necessary to accomplish the move.
We protect our reputation by giving you nothing short of the best. This mutually-beneficial relationship between our company and clients like you is what helps us continue on this momentum.
Commitment to Excellence
As expert movers, we are continuously striving to improve service delivery. We employ a detailed moving process that involves disassembling furniture, wrapping each part, loading everything in the truck, then unwrapping the parts for reassembling. This ensures no damage comes to your things from beginning to end.
And apart from learning from our vast experience, we also look into new equipment, techniques, and even routes to make moving to or from California as organized as possible. This is why past clients are happy with Born To Move. Just see our reviews here and on various review sites!
Let Expert Chicago to California Movers Handle Your Move. Call Us Today!
Our movers from California to Chicago are always at the top of the game. And every day, we're gaining more experience with moving. We use this to further improve our skills. That's why with Born To Move moving company, you're always getting the best service.
With a long-distance move like this, the cost of even the tiniest mistake is high. So, if you want your relocation to go perfectly, our top movers are your best bet.
Don't leave any internal or external factor up to chance. With your cooperation, our company will deliver a successful move to California or Chicago. Contact us for your booking or for a free quote today.
Our hourly rates include all other charges:
Labor & Equipment
Floor Protection
Wrapped Furniture
Tolls
Taxes
No Additional Fees
Fuel Charge
Safe Delivery
Guaranteed Price
Movers from Chicago to California
Our Moving Company is fully licensed and insured!