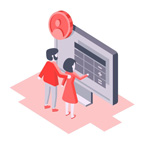 Online and On-site
Free Estimates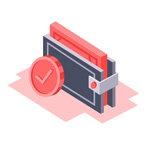 Affordable Rates
and Discounts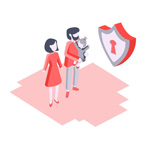 Fully Licensed
and Insured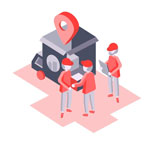 Professional Moving
Crew
Charlottesville is a place to live and call home. Located east of the Blue Ridge Mountains, residents can enjoy endless natural beauty with the amenities and cultural attractions of a large city. Charlottesville is a center of business in Albemarle County. The heart of it features a Downtown Mall, one out of several extended outdoor pedestrian malls in the state, with restaurants, stores, and social attractions.
Usually, moving from Chicago to Charlottesville would seem like a huge change and a real leap outside your comfort zone. However, there's a way to make long-distance moves easy and as stress-free as possible. This is where we can be of assistance. You're sure to have a great moving experience with the Born to Move company.
If you need to move your belongings and valuables for long or short distances and you're seeking reputable and trusted moving services, the Born to Move company is your best bet. We're a team of highly skilled and proficient movers dedicated to providing the best moving experience possible. Are you in need of movers from Chicago to Charlottesville or movers from Charlottesville to Chicago? Born to Move has got you covered!
Moving Long Distances: What We Do
Moving from Chicago to Charlottesville and from Charlottesville to Chicago requires attention to detail. With dedication and precision, the Born to Move company will handle your move. The Born to Move company plans the details of every move with the parties involved, ensuring your relocation is handled without stress. The process of digital documentation, packing up all your belongings, loading and moving them to your new destination, and unpacking them again is simplified with us.
Our company offers a variety of services for relocation, which include:
Moving your apartment, no matter the size and the amount of furniture you have. Movers from Chicago to Charlottesville always do an excellent job;
Dealing with your furniture. Our movers can help you disassemble furniture, wrap it up, deliver it, unwrap it, and reassemble it in your new apartment;
Transporting your properties in the shortest period, with everything in its place in your new home, at an affordable price with no additional tolls or gas fees;
Full-service moving options and property protection;
Moving and storing high-value assets like pianos, furniture, and antiques.
Expert Movers at Your Service
At Born to Move, we've spent years assisting property owners like you with their Chicago to Charlottesville relocations. We take pride in meeting the needs of our customers. You can be assured that your move to Charlottesville will be conducted skillfully and with the highest level of care.
We have a track record of being a trusted and respectable moving company with a great deal of expertise, exceptional logistical proficiency, and professional movers. Also speaking to our effectiveness and accessibility are our numerous customers, all satisfied with the services of the Born to Move company.
A Fully Licensed and Insured Company
To carry household goods from Chicago to Charlottesville, you'll need the services of movers fully trusted in the industry. Because we are licensed and insured to provide you with the specialized services you need, working with our Chicago, IL, to Charlottesville movers will be a pleasant experience.
Safety Insurance
Born to Move is recognized for its excellent delivery services while transporting belongings to Charlottesville. Aside from the expertise of our movers, we also ensure that your items are well-insured in cases of damage. This means our moving company is committed to paying a stipulated amount per pound for any loss or damage to your belongings.
However, our moving team at Born to Move is diligent and very careful in assembling, packaging, and dissembling your things. Hence we ensure we don't cause any form of damage to your belongings.
The Best Packing Supplies and Moving Solutions
Your relocation will be as smooth as possible when you choose reliable long-distance movers from Chicago to Charlottesville or movers from Charlottesville to Chicago. We're the best long-distance movers with the most up-to-date packing supplies and the know-how to resolve any challenges.
Commercial and residential movers, office staff, customer care agents, and excellent drivers are all available from us. With Born to Move, you can relocate from one state to another in the best way possible.
Estimated Cost of Moving from Chicago, IL, to Charlottesville
Relocation costs vary from one company to another. Fortunately, with the Born to Move company, you'll get professional help at an affordable cost when moving from one place to another.
When you hire movers to relocate you from Chicago to Charlottesville or Charlottesville to Chicago, you grant them permission to access your house or workplace, and you must have faith in them to carry out their tasks.
Our happy clients in Charlottesville can relate how we managed to stay within budget moving them from Chicago. Our resident movers across many states are always ready to help you. So, regardless of the distance, properties, or complexities of your move, relax! We can help. Born to Move is ready.
Affordable Pricing Policies
Born to Move offers simple pricing policies, and our quotations remain constant. Whether you're moving from Chicago to Charlottesville or the other way around, you can be sure that our prices are affordable.
The Best Relocation Costs for Moving
Relocating from Chicago does not have to come with a lot of expenses. We specialize in making our movers happy by providing a cost-effective service. This includes a fixed price for moving without adding extra charges for gas, tolls, or miles.
It is certain that your goods will be treated with the utmost care and caution while relocating.
Get a Moving Quotation Today!
With the Born to Move company, you can easily plan your expenses. There are no nasty surprises. Our movers make it easy for you to focus on other important things because we take your move seriously.
So much goes into moving from one location to another, right from the planning to execution. Born to Move keeps you abreast of all that goes along the way, and it won't break the bank. You can rest easy with our movers in your corner.
Our hourly rates include all other charges:
Labor & Equipment
Floor Protection
Wrapped Furniture
Tolls
Taxes
No Additional Fees
Fuel Charge
Safe Delivery
Guaranteed Price
Movers from Chicago to Charlottesville
Our Moving Company is fully licensed and insured!