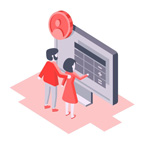 Online and On-site
Free Estimates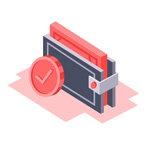 Affordable Rates
and Discounts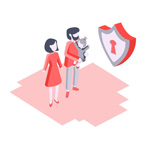 Fully Licensed
and Insured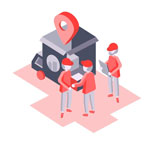 Professional Moving
Crew
Moving from a place with chilly temperatures, like Chicago, to a city with high temperatures and humidity, like Dallas, is quite the adjustment. Are you planning on bringing all your winter clothes with you? The real question, though, is how are you going to do it? This moving process will cover a significant distance across the country and will require some assistance. That's exactly why our moving company and movers are here to help.
Whether you're in need of movers from Chicago to Dallas or movers from Dallas to Chicago, our expert and professional movers are just around the corner to lend you a hand with that pile of tasks.
Getting Started with Moving in Chicago
We can't get started moving without you. As the mover, you have a lot on your hands, so let's take baby steps.
First, make sure your new home in Dallas is ready to be moved into.
Pick an off-season time for moving into Dallas.
Once you have narrowed down possible dates for the relocation, reach out to us, preferably at least a week prior to moving to Dallas. Our Chicago movers will need time to prepare, too.
Create an inventory for moving and organize your belongings as you go.
While at it, discard any stuff you don't need and reduce the amount of luggage you have to carry from Chicago to Dallas.
Update any paperwork from your old Chicago address to your new Dallas one.
Pack a moving bag and a week one bag to keep you sustained until you unpack. Breaking open boxes to find a shirt sounds like a task for a lunatic and not an organized person.
If you have children and or pets, pack separate bags for them too.
Clean your appliances to be packed spick and span into the boxes to be reopened in Dallas.
Are you wondering why this list doesn't ask you to get packing supplies or pack boxes? Well, why do you think that is?
We're Here! The Expert Movers
That's precisely what our movers are here for. Our help begins in Chicago and ends in Dallas.
Hey, we just met you, and this is crazy, but here's our number, so call us, maybe?
You will find our number in the top right corner of our page. It's the same number, irrespective of where you're calling from, Chicago, Dallas, or Los Angeles. Or head over to our moving company homepage and you will find a cost estimate calculator, along with a contact number. Then, call us!
Let us tell you why. Our company movers will show up with the materials required for relocating from Chicago. This includes moving boxes, bubble wrap, packing peanuts and any other small items our movers may need to wrap your belongings. If your furniture does not fit through the door or into the boxes, it will be disassembled, and each part will be wrapped individually.
Our movers will then organize your valuables into boxes and pack them like sardines into our moving truck in Chicago. We provide the same services even when you're moving from Dallas to Chicago.
No, we did not hire our expert movers from the docks; they're simply efficient that way. A win-win situation, if anything!
What Else Do Our Moving Services Include?
Our fully insured and licensed moving company offers top-notch storage services for your belongings. The storage boxes are climate controlled and come in multiple sizes to fit your needs. These boxes keep your belongings safe from whatever curveball the weather between Chicago and Dallas has to throw at us.
Our company services also include unloading, unpacking boxes, and reassembling the furniture. Make sure you're available for this process. Drive or fly down earlier than when we arrive or tag along with us. Whatever you choose to do, unless you're around in Dallas to guide us, our movers won't know what to do. You will come home to a carefully stacked pile of boxes like our movers were playing Jenga with them. In the best-case scenario, we will set them up in their respective rooms.
You don't want that, and our movers don't want that; plus, this service won't cost you extra! It's all included in our services. In fact, with our all-inclusive prices, you won't pay extra for tolls on the way to Dallas, for fuel surcharges, or even for our movers' advice on where your furniture will look best in your new Dallas home!
Expert Tips for Moving
We've seen a lot of movers make minor mistakes and get flustered along the way. Here are some tips you can follow to ensure a calm move.
Don't forget to change your address and update information on documents like your driver's license.
Don't risk losing any vital records while moving to Dallas by not having them on you at all times. All forms of identification, such as your driver's license, passport, birth certificate, social security card, and any other official documents, should be kept nearby.
Call before our moving truck leaves to make sure your new home in Dallas is ready for you with electricity, WIFI, running water and everything else.
These may seem trivial on paper, but these are moving blunders some of our previous customers have made up because they assumed it wasn't necessary or simply forgot it. Don't be like them.
A Final Word Before Moving
Born To Move offers flat rate prices, and our quote will be well within your moving budget. Whether you hire movers from Dallas to Chicago or movers from Chicago to Dallas, your cost will only depend on the relocating distance and the number of things you carry with you.
This is a great deal when compared to the other moving companies available in the country. We're not asking you to trust us blindly; we're asking you to have an open channel of communication with us, so you can see for yourself that you're dealing with the best moving company for your needs.
Our hourly rates include all other charges:
Labor & Equipment
Floor Protection
Wrapped Furniture
Tolls
Taxes
No Additional Fees
Fuel Charge
Safe Delivery
Guaranteed Price
Movers from Chicago to Dallas
Our Moving Company is fully licensed and insured!