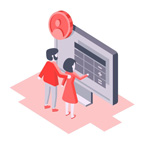 Online and On-site
Free Estimates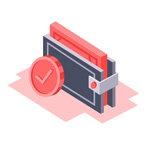 Affordable Rates
and Discounts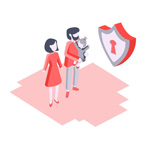 Fully Licensed
and Insured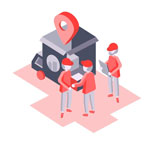 Professional Moving
Crew
Leaving the city of the Bean would make you Mr. Been in Chicago. Or Miss/Mrs. We know you're no Rowan Atkinson, but it's safe to assume that leaving the birthplace of house music and Chicago-style blues has got you feeling down. But if you are, in fact, excited about moving from Chicago to Denver, it's for a good reason! Denver, the Queen City, has a lot to offer, and none of its attractions will have you feeling blue.
So, what's on the agenda? Packing and moving, of course! That's why you're here – to help you on this cross-country, long-distance moving journey. So, let's get you started already; the mountains are calling!
Where to Begin?
Take a look at your house; the sheer number of items you want the movers to bring over to your new home in Denver. Are there too many? If you want to flail your hands in exasperation and cry, we won't stop you. But we will tell you, it's unnecessary. Be it a studio apartment or a 7-bedroom mansion, our expert moving company movers will help you pack.
But first, you've got to do what you've got to do.
Start with making an inventory and getting rid of everything you don't need. Marie Kondo, who? This will help you keep track, and moving fewer belongings will cost you less.
Next, organize them into categories to make packing in Chicago and unpacking in Denver an easy task.
Is your house in Denver ready for the move? Don't wait to get the renovations or paint job done until the last minute. You don't want to unpack in a house that smells of paint. And neither do our company movers, who would rather unpack in a clean and ready-to-move home in Denver.
Once your home in Denver is ready, it's time to give us a call to begin moving from Chicago to Denver. Preferably a week before the intended date.
Pick an off-season time while moving to Denver from Chicago. The relocation will go smoothly without having to deal with heavy tourist traffic. Finally, update any documents to your new address in Denver. Finally, spend time with loved ones, visit your favorite spots and have dinner at that Indian place you've been eyeing since it opened.
What we expect from you, as a customer, is to let us know every little detail. We're used to anxious relocators, and we appreciate your candor with information. This is solely because we want to provide services beyond your expectations. We want you to have a smooth move, and when you keep an open line of communication, it will help us prepare you and ourselves for the move.
Let the Movers Take Over
Moving to Denver from Chicago is the easy part; you've already done the hard work. Our company movers will show up at your doorstep with all the materials necessary for your relocation to Denver. Moving boxes, packing peanuts, tape, and everything to pack up your home. They will also disassemble any furniture that won't fit through the door and pack it with care, and tape.
Our company movers will then skillfully place the boxes in a moving truck and drive them down to Denver from Chicago. Once in Denver, the movers will bring in the boxes, unpack them as you like and reassemble the furniture too. For the price of a glass of water, our movers will also help you arrange the furniture as you see fit in your new Denver home.
Our Other Services
Born to Move has movers for hire in most major cities in the country, including Chicago and Denver. Whether you hire movers from Chicago to Denver or movers from Denver to Chicago, you will get the same benefits and for the same cost. Let's talk about the benefits first.
Storage
Our company has ties with some of the best storage facilities, and we're ready to provide them at low prices. These boxes are climate controlled and come in various sizes to fit all needs. Whatever curveball the weather has to throw at our movers from Chicago to Denver, your valuables will be safe and sound no matter what.
Hoisting Services
That furniture we couldn't disassemble will be hoisted to your new home without a scratch. We will need additional movers for this, so we would appreciate it if you could let us know beforehand of any large furniture you own. If our movers can't hoist it up, they will take apart a window if necessary to get it in.
Parking Permits
Parking is a huge issue when moving, especially in large cities like Denver. If your trucks need more than one parking spot but you don't have access to a loading dock, you may need to apply for a parking permit. It'll save you time to make sure we have a good spot for the move. Otherwise, we will have to park the truck wherever we can find space, which will delay the moving process.
We know this is additional work to get permits, and between all the heavy lifting you have to do, this can get overwhelming. So, all we ask from you is to let us know if we will need a permit at your current home or in Denver, and we can get it done.
Insurance
We include packing and unpacking services at no extra cost because we provide insurance. Born to Move is a fully licensed and insured company, so our prices include the corresponding benefits. This way, neither you nor our movers will have to backtrack and pass the buck around when your possessions are damaged.
Piano Moving
When looking for a piano moving company, it's important to see if they have experience with assignments like yours in their portfolio. The movers we use have worked in the industry for many years. Additionally, we have been moving pianos for the past six years, so we have plenty of experience in this field. During the transportation of your piano, our staff will provide a piano board, blankets, and shrink wrap to protect the instrument from damage.
Relocation of All Kinds
Be it movers from Denver to Chicago or the other way around, we don't just provide residential moving services. We also take pride in our expertise in commercial moving services. Once again, both for long-distance and local moving. Commercial moving typically requires relocating sensitive objects, be it computers or industrial equipment. Our movers have got you covered with everything.
Our Flat-Rate Prices
You may receive a free, no-obligation estimate of the price from our website in approximately two minutes by simply filling out some basic information. This includes your relocation details, how much stuff you have to move, and when. Our quotes include not only the tolls but also the labor of the movers, the packing supplies, the fuel, the taxes, and even placing the furniture.
We provide moving services at fixed costs, which are established based on the entire distance traveled, the total volume of your things, and the size of the truck required for the transfer.
Some services, such as transporting and hoisting pianos, need either the use of outside storage facilities or more manpower than is often required for moves of your size. These requirements are not usual, so we request that you let us know beforehand. These services, among others, will be charged separately, so make sure you have open communication with us.
A Final Word
Moving homes doesn't have to be scary. Every new leaf you turn in your life will lead you to better places. We learn as we go with new experiences, new lessons, and sometimes, new cities. Let us be the ones to take you there from Chicago. Explore our website for further details, and know that we're always available to consult and answer your queries. For a relaxed and stress-free moving experience to Denver, call us at Born to Move.
Our hourly rates include all other charges:
Labor & Equipment
Floor Protection
Wrapped Furniture
Tolls
Taxes
No Additional Fees
Fuel Charge
Safe Delivery
Guaranteed Price
Movers from Chicago to Denver
Our Moving Company is fully licensed and insured!