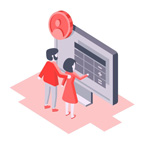 Online and On-site
Free Estimates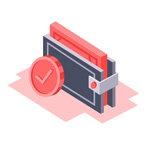 Affordable Rates
and Discounts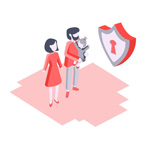 Fully Licensed
and Insured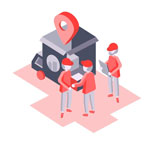 Professional Moving
Crew
Moving from Chicago to Los Angeles presents several pressing issues, not the least of which being moving day, everyone's nightmare. It's hard and frustrating to plan a move, pack up your belongings, and then wait for them to arrive at their destination in one piece.
That's where Born to Move comes in. If you work with our movers from Chicago to Los Angeles, moving day will go off without a hiccup. If anything, you shouldn't be thinking about moving day but rather the exciting new life that awaits you in your new location.
If relocating from Chicago to Los Angeles (LA) is on your list of priorities, we will do everything in our power to make it happen.
Moving from Chicago to Los Angeles
There is a great distance to go to get to Los Angeles from Chicago, Illinois. Even though the entire moving process may be hectic and exhausting, don't miss a chance to make it more relaxing by hiring our movers from Chicago to Los Angeles. We are a long-distance moving company based out of Chicago, Illinois, and we have been making our customers' lives easier and less stressful for the past decade. At Born To Move, we strive to deliver an excellent service tailored to each individual client.
Why You Should Hire Us
Our Chicago to Los Angeles movers are here to assist you with your relocation. Our Los Angeles movers will be there for you every step of the way, from initial planning to final delivery, during your long-distance move. Among the many options for moving firms, we think you should go with our movers for a few good reasons:
Our moving company provides packing and unpacking services for customers. Do away with this tedious task and let our movers pack your belongings instead. For your peace of mind, our movers exclusively utilize professional-grade packing materials.
If you need help taking apart and reassembling your furniture, Born To Move is the company to call in Los Angeles.
Our primary values are your security and comfort. When selecting vehicles, machinery, and containers for your goods, we adhere rigidly to quality and safety.
We can arrange for your things to be delivered at a time that is convenient to you because we are flexible.
Get in touch with us if you have any concerns, and we'll have a friendly and trainedsupport representativeanswer all your questions in great detail.
The Cost of Moving from Chicago to Los Angeles
The cost of moving is a natural concern. Calculating your bill based just on points A and B is challenging. The majority of movers from Los Angeles to Chicago use the following criteria to determine the final cost of a move:
Exact distance
Volume of stuff
Scope of additional services
Storage Options
There's always the chance that your new place in Los Angelesisn't quite ready for you to move in. We provide options for you to store things. You may rest easy knowing they are monitored, safe, and convenient. They are temperature and humidity controlled to safeguard your valuables. Our movers from Los Angeles to Chicago will assist you in transporting your belongings to the storage facility, where they will remain safe until your new Los Angelesapartment is ready for use.
Expert Packing Services
Packing and unpacking, arguably the most critical steps in the moving process, are sometimes neglected or overlooked due to the stress of the actual relocation itself. It's no secret that packing properly takes a lot of time, and if the item isn't packed securely, it may get damaged or lost in transit.
The Born To Move moving company offers flexible service and high-quality packing materials. If you need assistance deciding which option is ideal for you or setting up the logistics of the move, our movers are here to help. What sets us apart is that our movers genuinely feel responsible for solving your challenges. All our trained movers can execute not only moving services but also can pack and unpack, dismantle and assemble furniture, thereby making everything hassle-free for you.
Your belongings will be carefully packed and labeled so that upon arrival at your new home, you can quickly and easily locate everything you need. Wrapping artwork, furniture, or other fragile or expensive goods is another one of our specialties.
Dedicated Professional Team
When you choose Born to Move in Chicago, you'll have access to a team of trained experts that can assist you with a cross-country move. Our expertly skilled movers can safely transport all of your goods, no matter how big or heavy or delicate they may be. They know how to safely handle, wrap, and pack all your items so that they arrive at your new home in one piece.
Extraordinary Care for Detail
We've built our company on a foundation of providing unmatched service to our customers. We stand out from the competition because we don't skimp on quality to save money or time when it comes to packing.
We Assure the Safety of Your Belongings
If you handle the relocation to Los Angeles on your own, there is no way to guarantee the security of your valuables. So now you know why it's best always to hire expert movers. The movers we use are hardworking individuals that are ready to handle any situation that may arise. Careful attention will be paid when items are packed in specialized packing materials and placed into vehicles.
Fully Licensed and Insured
Moving presents multiple challenges and risks. When moving across the country, there is always the risk that your belongings will be lost, stolen, or damaged. No matter how cautious you are, an accident is always a possibility when driving long distances.
Your upcoming relocation will be a breeze for our team of movers because we have all it takes to get the job done, including the necessary licenses, certifications, insurance, training, and equipment. Whether you're moving across the nation or just across the block, Born To Move can make the transition easier for you and your family or staff. Our insurance policy will cover any items that get broken while moving.
Experienced Movers to Handle Delicate Items
Moving delicate and expensive goods such as pianos, antique furniture, and artwork can be a real pain. You would never dare risk damaging your prized piano by playing it outside when you're on your own. Only our qualified and experienced interstate piano movers at Born To Move can put your mind at ease, knowing that your precious valuables are being transported safely and securely. We take special care to prevent any damage to your piano or antiques throughout the relocation process.
Assistance with Loading and Unloading
If you need help in moving, our skilled movers from Chicago to Los Angeles will come to your place equipped with dollies, straps, tie-downs, and tools. If you'd like, our movers can also help with setting or rearranging your furniture. This effortless service will help you save both time and money.
If you want to make sure everything goes smoothly, hiring expert movers like the ones we offer at the Born To Move company to load or unload your belongings is a fantastic idea. Your items will arrive safely at their destination. Our Chicago movers will pack your home's belongings securely and stack them in the moving truck.
Reasonable Costs
To uphold our standard of excellence, we only use full-time, committed movers. Even so, we work hard to make sure that moving from Chicago to Los Angeles is reasonably priced. Call us today and get a breakdown of our prices as a quote. Our final prices will have no hidden fees. We do not charge extra for gas, miles, or tolls.
Our hourly rates include all other charges:
Labor & Equipment
Floor Protection
Wrapped Furniture
Tolls
Taxes
No Additional Fees
Fuel Charge
Safe Delivery
Guaranteed Price
Movers from Chicago to Los Angeles
Our Moving Company is fully licensed and insured!