| Size of the move | flat price range |
| --- | --- |
| studio | $3,900 - $4,500 |
| small 1 bedroom | $4,000 - $4,700 |
| large 1 bedroom | $4,200 - $5,200 |
| small 2 bedroom | $4,200 - $5,200 |
| large 2 bedroom | $4,700 - $5,600 |
| 3 bedroom apt | $4,900 - $5,900 |
| 2 bedroom townhouse/house | $5,200 - $6,100 |
| 3 bedroom townhouse/house | $5,500 - $6,500 |
| 4 bedroom townhouse/house | $6,500 - $7,500 |
| 5+ bedroom townhouse/house | starting from $7,000 |
delivery time range
next day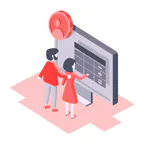 Online and On-site
Free Estimates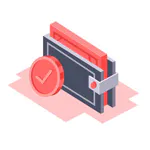 Affordable Rates
and Discounts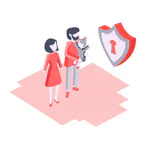 Fully Licensed
and Insured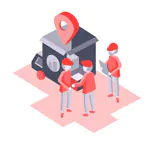 Professional Moving
Crew
Are you planning on relocating from one state to another, but you're confused about how to go about the long-distance relocation? We understand how challenging and exhausting long-distance moving can be, but the Born to Move moving company has made relocation easy and stress-free.
Born to Move is a fully licensed and insured white glove moving company that offers exceptional moving and storage services. Our services include storage, local and interstate transportation, packing, and long-distance moving. Our movers are skilled and are always prepared to deliver a satisfying service. We provide two-person competent drivers, and we make sure the same people that pick up your package will be the ones to get it delivered.
If you think it's high time you moved to Memphis from Chicago, either for office or residential relocation, we have you covered. We are one of the best moving firms with professional movers from Chicago to Memphis.
Moving from Chicago to Memphis
One of the reasons people move to Memphis is its low cost of living and low tax rate. So, if you're looking for a budget-friendly city to call home, Memphis is the best option for you. The movers at the Born to Move company help ease the hassle of relocations.
The driving distance from Chicago, IL, to Memphis is about 532 miles, and it usually takes around 8 hours. So, if you are considering moving from Chicago to Memphis, you will receive your belongings in two days. If you want your items delivered on the same day, there'll be an additional cost of $300 added to your bill.
Depending on your preference, our movers could move at night to avoid traffic and hasten your delivery. During this movement period, you don't have to worry about your belongings getting damaged. We have the best packaging materials to keep them in good condition. However, if you will be doing the packaging yourself, it's advisable that you make sure fragile items are well-packed to prevent anything from getting broken.
The moving process involves filling out a quotation form online. Then you can schedule your move after agreeing to the cost of the service.
Moving to Chicago from Memphis
We help with moves in both directions and have movers from Memphis to Chicago. If you're tired of Memphis city's lifestyle and you're considering exploring the city of Chicago, Born to Move movers have got you covered. Our movers from Memphis to Chicago are also competent and friendly and will ensure you have a pleasant moving experience.
Moving Services
Aside from just helping transport your property to your destinations while moving to Chicago from Memphis, we offer additional services to give you a hassle-free relocation.
Relocating is not just about conveying your belongings from one place to another; there's more to it than that. You start by wrapping, then packing, loading, unloading, and there's much more besides. This is what causes the major stress of moving, especially long-distance moving.
We understand how time-consuming and exhausting relocation can be, and this is why we offer services like disassembling, wrapping, loading, unloading, unwrapping, and assembling furniture. This speaks well of our uniqueness and professionalism as movers.
From Chicago to Memphis: Disassembling Furniture
This process is vital, and it requires professionalism. Some furniture can be huge and won't even fit through the door or into the truck. Furniture like that is built in such a way that it can be disassembled. You do not have to worry about this process, as we have capable movers who will take care of it for you.
Our movers are well-trained to disassemble large furniture like bed frames, closets, desk tables, and sofas so they can pass through the door and be well-packaged. The steps to carry out this process include:
The first thing we do is to take pictures of the furniture before dismantling it. This will be helpful while assembling it.
The next thing is unscrewing and removing knobs and cushions from sofas.
We also ensure that the screws, knobs, and other handy materials are safe in plastic bags.
Wrapping Before Moving
This process is necessary to prevent scratches to your furniture while moving. Born to Move movers ensure the right materials are used to wrap everything. One of the materials we use to protect your tables and closets during carriage is a thick furniture blanket.
You might wonder why we use blankets instead of tape or bubble wrap. We also use them, but they're not used directly on the furniture. Tape and bubble wrap accumulate moisture, and this damages wooden furniture. So, we use tape and bubble wrap after using the blankets.
Our Company's Packaging Services
We have the best movers that are trained on how to package furniture and all of your fragile items. Not only are they trained, but we also have the best materials to pack them in a safe place.
Our movers use good-quality boxes to help carry your items, and the ones that can't fit in boxes are wrapped.
Relocation to Memphis: Loading and Unloading
This is one demanding task that requires manpower. Fortunately, we have movers who are hefty and strong to lift large items into the truck. Furthermore, they're skilled in arranging your stuff into the truck to prevent damage. Our movers also help you unload your items from the truck into your new apartment or office.
Unwrapping upon Delivery to Memphis
We are not the kind of movers that would drop off your items and then leave. We finish what we start. Our movers know how to unwrap your furniture well without causing a scratch.
Before this, we ensure our movers have a placement plan to help arrange your furniture and other belongings to avoid confusion when arranging everything.
Assembling Furniture
This is where the pictures of the furniture, which we took before disassembling it, come in handy. The pictures are used to assemble the furniture parts. We have movers who are skilled enough to handle any furniture.
Extra Services from our Movers
Aside from the services provided above, the Born to Move company also offers some additional services.
We have the hoisting service, which involves passing your large items through the window. Some furniture or equipment can be too large to pass through the door and cannot be dismantled. We move these items by lifting them through a window. This service demands additional labor hence why there is an additional charge.
Another extra service we offer is the parking permit. Trucks are big enough to occupy at least two parking lots. So, we help you get parking permits in Chicago and Memphis if you do not have parking space in your house and area.
Moving Cost
Transparency and honesty are qualities of our Chicago movers. We offer a flat rate estimate for our moving services, which includes all your expenses and the prices of our service.
We charge you based on the type of apartment you are moving from. The prices for a single-bedroom apartment differ from that of two- and three-bedroom ones.
Other charges included in our flat rates are:
Labor & Equipment
Taxes
Gas
Miles
We maintain our initial cost estimate except for additional services.
Conclusion
Long-distance moving has been made a whole lot easier and faster. There are a lot of moving companies that can help you move your things from either Chicago to Memphis or Memphis to Chicago or any part of IL, but you will get the best service from the movers at the Born to Move company.
We are a licensed and insured moving company with swift delivery and professional movers. The delivery period differs based on the distance of your destination. We also offer many services aside from moving your items.
We have no hidden charges; instead, we provide a flat rate charge before you schedule your move. Call us right now!
Our hourly rates include all other charges:
Labor & Equipment
Floor Protection
Wrapped Furniture
Tolls
Taxes
No Additional Fees
Fuel Charge
Safe Delivery
Guaranteed Price
Movers from Chicago to Memphis
Our Moving Company is fully licensed and insured!