| Size of the move | flat price range |
| --- | --- |
| studio or less | $420 - $700 |
| small 1 bedroom | $420 - $700 |
| large 1 bedroom | $760 - $1140 |
| small 2 bedroom | $760 - $1140 |
| large 2 bedroom | $950 - $1330 |
| 3 bedroom apt | $1440 - $1920 |
| 2 bedroom townhouse/house | $1440 - $1920 |
| 3 bedroom townhouse/house | $1680 - $2400 |
| 4 bedroom townhouse/house | $1820 - $2400 |
| 5+ bedroom townhouse/house | up to $4080 |
delivery time range
3-12 hours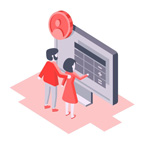 Online and On-site
Free Estimates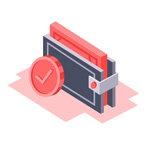 Affordable Rates
and Discounts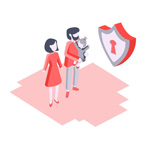 Fully Licensed
and Insured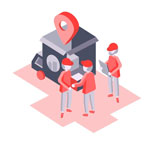 Professional Moving
Crew
Several difficulties arise while moving from Chicago to Milwaukee, and the anxiety can keep building till moving day. It is challenging and tiresome to organize a move, pack up your belongings, and then wait for them to arrive at their new place undamaged.
This is where our company, Born to Move, enters the picture. Hiring movers will guarantee a peaceful transition to Milwaukee on moving day. You should be concentrating on moving your joyful new life in your new home, not worrying about moving day.
We have a special place in our hearts for the cities of Chicago and Milwaukee. If moving to Milwaukee is high on your list of priorities, you can depend on us to go above and beyond.
Milwaukee to Chicago Moving
Between Chicago, IL, and Milwaukee, Wisconsin, there is a considerable distance. Hire our Chicago to Milwaukee movers to help make the moving process more comfortable, even if it's generally stressful and exhausting. Our movers from Chicago to Milwaukee have been easing the burden and making life easier for our customers for many years. We are a long-distance moving company located in Chicago, IL. At Born to Move, we work hard to deliver excellent service that is tailored to every client.
Reasons to Choose Our Moving Services
Our movers from Chicago to Milwaukee are here to assist you with every aspect of your move. Among the many moving companies you have at your choice, we think our movers should be your top pick for many good reasons.
Our packing and unpacking services are available to customers of our moving company. Rather than doing this laborious chore yourself, let expert movers pack your things. Our movers exclusively use premium packaging supplies for increased security.
Aid you by disassembling and reassembling your furniture.
Our company is fully licensed and insured.
Offer separate loading and unloading services.
Our biggest priorities are your comfort and safety. When selecting the equipment, vehicles, and containers for your belongings, our movers diligently adhere to standards of quality and safety.
Because we are adaptable, our movers can make arrangements for your items to be delivered at a time that works for you.
Get in touch with us if you have any concerns, and we'll send you a friendly and qualified support person who will fully answer any of your questions.
Express same day delivery
Does not matter for us how big or small the job is. We can still put you on our schedule.
Cost of Moving from Chicago to Milwaukee
Undoubtedly, moving will be expensive. It can be challenging to calculate your bill using just points A and B. The following factors are used by the majority of Milwaukee to Chicago movers to determine their final quote:
Exact mileage traveled
The number of items
Additional services used
Average price of $1,000
Chicago Complete Packaging Services
Packing and unpacking, probably the most crucial steps in the moving process, are sometimes disregarded or forgotten due to the stress of the actual relocation. It should go without saying that packing properly requires much time, and if the item isn't packed securely, it may be lost or damaged during transit.
Our movers from Chicago to Milwaukee offer adaptable service and high-quality packing materials. If you need assistance deciding which option is ideal for you or planning the logistics of the move, our movers are here to help. This is because our movers genuinely care about helping you solve your challenges, and we stand out.
All of our highly trained movers can provide you with excellent packing and unpacking in addition to moving services, making the procedure hassle-free for you.
Your belongings will be properly packed and labeled so that you can find everything you might need immediately when you reach your new home. Wrapping valuable or delicate objects like furniture, artwork, or other items is another one of our areas of expertise.
Born to Move: Fully Licensed and Insured
Your forthcoming relocation won't pose a problem for our moving team because we have everything we need to finish the job, including the necessary licenses, certifications, insurance, knowledge, and tools. Whether you're moving across the nation, down the hall, or around the world, Born to Move will make the transition easier for you and your family or team. Our insurance policy will cover any items damaged during the move.
Experienced Movers Who Can Handle Delicate Items
It can be quite difficult to move precious and delicate belongings like pianos, antique furniture, and works of art. You would never attempt to take the risk of playing your precious piano outside when you are by yourself. You can only have peace of mind knowing that your treasured belongings are being relocated securely and safely with the help of our experienced and expert interstate piano movers. While we are moving your piano or antiques, we take special care to prevent any damage.
Loading and Unloading Moving Support
If you want to make sure that everything goes smoothly when relocating from Chicago to Milwaukee, hiring our expert movers from Milwaukee to Chicago is the ideal option. Things will safely arrive at their destination. Our Chicago movers will carefully pack your belongings and load them into the moving truck.
Fair Prices
To maintain our high standards, we only hire full-time, committed movers, and we work hard to keep the price of your move from Chicago to Milwaukee as cheap as we can. Give us a call right away to get a free price estimate. Our final moving prices will not contain any additional costs. We don't charge extra for gas, miles, tolls, or other expenses.
Our hourly rates include all other charges:
Labor & Equipment
Floor Protection
Wrapped Furniture
Tolls
Taxes
No Additional Fees
Fuel Charge
Safe Delivery
Guaranteed Price
Movers from Chicago to Milwaukee
Our Moving Company is fully licensed and insured!