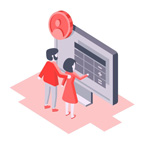 Online and On-site
Free Estimates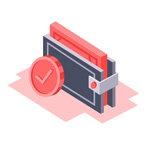 Affordable Rates
and Discounts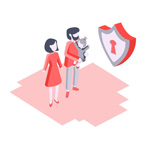 Fully Licensed
and Insured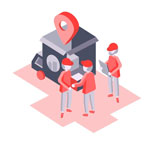 Professional Moving
Crew
Relocating of any kind needs much planning and is sometimes fraught with anxiety. If you're planning on moving from Chicago to New Jersey, Born To Move movers can handle all of the logistics for you. You can trust that our professional moving crew will handle your belongings with care at all times. Throughout its almost seven years in business, Born To Move has been a safe and insured moving company of choice for discerning customers.
We've put in the time and effort to learn what makes for a good moving experience from the time of the first quote to the actual moving day, and we're certain that we have it down to a science. Our movers from New Jersey to Chicago want to make sure you have all you need to arrange a seamless move, so they'll let you come up with a strategy that fits your budget, timeline, and other needs. Our flexible services have made us the preferred movers for customers both in Chicago and NJ.
Start with obtaining a free estimate from competent movers from Chicago to New Jersey
Check our prices online to see whether we stack up against other Chicago and NJ moving companies. An online calculator provides potential consumers with an instantaneous estimate of the total cost of their move from Chicago to New Jersey or back. In order to proceed, please complete the form online with the appropriate information:
Specify the kind of relocation you want to be carried out.
Describe entrances for both your starting and destination points.
The target date for when you'd like to start your move.
Type of services you are interested to obtain.
Fill out the form and hit "submit" to get your no-cost estimate. Also, skilled movers near me in Chicago from our company provide free, fast, and accurate on-site quotes. We will visit your location at a time that is most practical for you so that we can determine how many items you need packed and moved. It also aids our movers from New Jersey to Chicago in choosing the appropriate size truck for your smooth relocation and stress-free Chicago to NJ moving experience.
Born To Move company means moving to New Jersey with confidence
Whether you're just relocating across town or the nation, the process of moving needs a lot of hard work and a significant amount of time spent correctly on preparation activities. Experienced NJ and Chicago movers are on staff at our reputable moving business, and they are prepared to make your transfer to New Jersey a positive one from start to end. In order to deliver complete moving services, our fully licensed and insured movers possess the required traits of a competent employee. When you hire our trained movers from Chicago to New Jersey, you'll get the following perks at no extra cost:
Taking utmost care when packing clients' fragile items for relocation. Also, covering fragile objects, such as furniture, with blankets to prevent damage.
Delivering a customized relocation plan to each client that takes into account their specific needs and wishes.
Preparing bulky items for an upcoming move requires taking them apart and reassembling them after using the right set of tools.
When packing up a customer's belongings for an upcoming relocation, professional movers from New Jersey to Chicago can make use of a wide variety of complimentary packing supplies.
Offering moving to New Jersey guidance, free in-home estimates, and various forms of informative help upon request.
In addition to our other unique qualities, our Born to Move moving company serving both directions moves between Chicago and New Jersey is distinguished from rivals by our affordable rates and comprehensive menu of moving options. The ability to function well in a team setting is frequently cited as among the most important requirements for a successful job candidate. To successfully complete a move, you will need to multitask, or do several duties at once. Although this is an exciting and challenging procedure, our movers from New Jersey to Chicago are confident in our ability to succeed thanks to our keen organization, ability to trust and work with the other members of our team and coordinate the entire process of moving from New Jersey to Chicago.
Our expert movers are here to help you relocate to New Jersey
Our trained New Jersey employees and moving specialists provide a comprehensive variety of move services, maintaining moving in many places like Chicago and New Jersey in all directions with equal efficiency. They are made to accommodate even the pickiest clients:
Provide packing help and services. Our Born to Move movers provide dependable packing services, paying close attention to every detail and providing complimentary packaging supplies. Our specialists can safely pack and transport whatever number of goods the customer requests to New Jersey by making use of a wide variety of packing materials, including cardboard boxes of varying sizes. Movers from NJ to Chicago will also reserve moving boxes of varying sizes, taking into account the shape, size, and weight of each individual item. The movers will also assist you in loading the items into the moving truck.
A number of trucks. When relocating to New Jersey, our competent and experienced team members will get a truck from the locally-based moving company and drive it themselves, saving you the trouble and expense. Our movers in New Jersey have access to a fleet of trucks that can securely transport any number of your belongings, so they can choose the best option for you based on what you have to move.
Dismantling of furniture. When moving from Chicago to NJ, a common request for our full-service moving company is to transport furniture of varying sizes. Unless the pieces are enormous, there shouldn't be an issue. Before we can load the vehicle with bulky furniture, we dismantle it. We protect the furniture from even the slightest, nearly imperceptible scratches with soft covers. Our New Jersey movers will quickly reconstruct your dismantled bed once they have delivered all of your goods to your new home in New Jersey, so you won't have to spend your first night there sleeping on the floor.
Our movers from NJ to Chicago provide upfront prices to facilitate a quick and easy transfer. Our moving company doesn't charge extra for things like tolls or gas mileage. Customers just pay for the specific services they request and the labor of experienced movers. With our packing services and other optional moving services, you can be as hands-on or hands-off as you prefer during your big move to New Jersey. Don't wait to get in contact with our knowledgeable and friendly Born to Move movers to find out how much your New Jersey shift project will cost and to ask for our top movers' expert help. From requesting a free estimate to the final box being unloaded in your new home in New Jersey, our trained and experienced movers will handle it all for you.
When clients hire Born To Move movers, they know they can trust them with their most precious belongings. Whether you're a recent college grad moving into an apartment in New Jersey for the first time, a family moving into the house of dreams, or a business relocating to the heart of New Jersey, Born To Move moving company is here to make your move go as smoothly as possible!
Our hourly rates include all other charges:
Labor & Equipment
Floor Protection
Wrapped Furniture
Tolls
Taxes
No Additional Fees
Fuel Charge
Safe Delivery
Guaranteed Price
Movers from Chicago to New Jersey
Our Moving Company is fully licensed and insured!