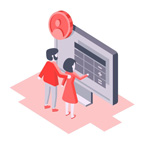 Online and On-site
Free Estimates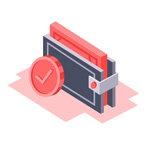 Affordable Rates
and Discounts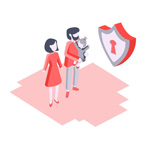 Fully Licensed
and Insured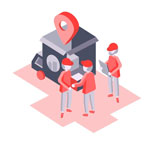 Professional Moving
Crew
Will you be leaving Chicago, IL for Ohio? Using Born to Move, you can rest easy knowing you won't have to worry about a thing throughout your relocation across the nation to Ohio. Our movers from Chicago to Ohio deliver all services necessary for an amazing and stress free moving experience.
Service for packing and moving in Chicago
Preparation is key while moving. Packing is a time-consuming process, and if you don't do it properly, unpacking will be a major headache. The experienced packers and movers at our company understand how much time is needed for the packing process. Whether you're hiring cross-country movers from Chicago to Ohio, you can count on our dependable packing services thanks to our extensive experience in the field.
Your items will be packed in Chicago securely by our movers. They will take apart bulky items of furniture and put them into boxes for shipping. We load up the moving truck with all of our belongings after the packing is underway, and then we settle in for the long drive to Ohio.
You're not done moving once you get to your new Ohio home
There are several reasons why you should choose Born to Move for packing services while moving to or from Chicago. One of the main ones is that we also unpack all of your stuff. Instead of just dumping them at your front door, we take the time to carefully unload them off the moving truck. If you need help moving, even if it's only to pack a few more pieces of furniture and you don't have the time to do it, Born to Move movers are here to help.
However, we do have a few requirements for you to fulfill before our movers can begin unloading your priceless possessions:
Make sure your house in Ohio is move-in ready.
When our movers arrive with your goods, we kindly ask that you be there to meet them.
Activate the essential services. You and our movers will have an easier time of it if the utilities are all working properly (that includes power, water, and the internet).
Do not worry about unpacking or reassembling your furniture since our movers from Chicago to Ohio will do it for you. The movers, however, cannot just abandon a grand piano in the midst of the living room. Moving the final destination in advance is helpful for both the mover and the person being moved.
Movers from Ohio to Chicago will care of all your needs
We can accommodate your long-term or short-term storage needs in either Chicago, IL, or Ohio. Low-cost service that provides sturdy containers to store your belongings while you're away on an extended business trip, at a condo, or in the midst of an office or apartment renovation is something you'll be grateful for. You may also keep your possessions with us temporarily if you are a student or an employee moving back home or moving to Ohio for a brief internship. We'll get your stuff from your house or apartment and store it till you return from Ohio. Our warehouses are always in immaculate condition because of our state-of-the-art security systems and temperature and humidity controls. Whether you need to store office equipment, files from years past, personal items, or even soft and cabinet furniture, we have the perfect solution for you: climate-controlled storage boxes.
Finding parking for our moving trucks is a major difficulty for our movers from Ohio to Chicago every time we finish a transfer process. Parking permits are something to consider if you don't have a loading dock and require more than one parking area for the trucks. This will not only ensure that we have an appropriate spot when we come but will also save you time. It goes without saying that we need parking permits in Ohio if we're going to park two lanes down and then carry your boxes up. While we would love to help, we know that you have a mountain of other responsibilities that keep you moving. You'll need to plan ahead to acquire the parking permits, and there's a high probability that this will take some time.
Please let us know if you ever feel like you just don't have enough time to get everything done. You should notify our movers as soon as you realize they will have more work to perform since your new house is not moving truck friendly. We can take care of getting parking permits for you, however, this service will cost you extra.
The city will not give out parking permits at random. Is it more worthwhile for you to pay our movers to get permission on your behalf, or to invest the time and effort to acquire it yourself? It's totally up to you.
Business relocation and moving assistance
Don't waste your time looking elsewhere if you're a company owner in need of a new location. Anywhere in Illinois or beyond, our company can assist you to migrate your business, even from Ohio to Chicago and back again. Our transfer plan is reliable and will help your company succeed in its new location. We can also help you move your office off the clock if that is more convenient for you.
After a long day at the Chicago office, the movers may immediately begin their job for you at your house. We can tailor a plan to meet the demands of any company looking for overnight storage or moving assistance. If you're concerned about the cost of moving during the night, know that it won't be any more than moving during the day. Don't stress if you have a lot of heavy office stuff that has to be moved. Born to Move has expert office movers that can handle anything.
The equipment and supplies necessary to relocate your company are brought in by our office packers and movers. Our Chicago business movers will take every measure to protect your things, whether they're in transit or already set up in their new location, so you can rest easy if you have any sensitive machinery or other equipment. Our Chicago movers can handle any kind of relocation, including warehouse moves to Ohio. We are also equipped to manage the commercial moving requirements of your office relocation. Price will be based on the volume of goods being moved and the time invested in the job.
Put your trust in our skilled moving crew
When it comes to moving from Chicago to Ohio, you can trust Born to Move, a company that is not only qualified but also completely certified and insured. All of the main cities in the United States are serviced by our company of professional movers. This implies that moving from Chicago, IL to Ohio is as easy as moving inside Ohio. Call us a week before your move to get an estimate, and keep in mind that we don't add on for things like tolls, gas, or rest breaks. So, use Born to Move to make your relocation from Chicago to Ohio simple.
Our hourly rates include all other charges:
Labor & Equipment
Floor Protection
Wrapped Furniture
Tolls
Taxes
No Additional Fees
Fuel Charge
Safe Delivery
Guaranteed Price
Movers from Chicago to Ohio
Our Moving Company is fully licensed and insured!