| Size of the move | flat price range |
| --- | --- |
| studio | $4,800 - $5,200 |
| small 1 bedroom | $5,000 - $5,500 |
| large 1 bedroom | $5,000 - $6,000 |
| small 2 bedroom | $5,000 - $6,000 |
| large 2 bedroom | $5,500 - $6,500 |
| 3 bedroom apt | $6,000 - $7,000 |
| 2 bedroom townhouse/house | $6,000 - $7,000 |
| 3 bedroom townhouse/house | $6,000 - $7,500 |
| 4 bedroom townhouse/house | $6,500 - $8,500 |
| 5+ bedroom townhouse/house | starting from $7,500 |
delivery time range
2 days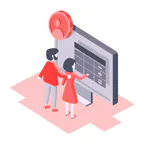 Online and On-site
Free Estimates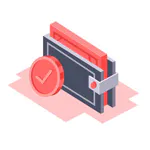 Affordable Rates
and Discounts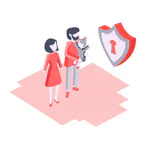 Fully Licensed
and Insured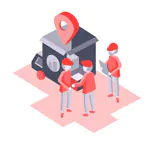 Professional Moving
Crew
Looking for tips on how to move from Chicago to Philadelphia? Here's a step-by-step guide on relocation preparation and what to expect during the move. Also, as a potential mover, you'll learn who can help you move — aside from friends and relatives.
Chicago vs. Philly
Chicago, Illinois, is a city that is located on the shores of Lake Michigan. It attracts visitors and movers alike — both for its picturesque landscapes and economic opportunity. The city seems to have it all — financial institutions, colleges, remarkable nightlife, and rich theater culture. It also serves as a background for many movies — The Matrix, Home Alone, and The Dark Knight, among many other movies. Chicago was the inspiration for the fictional Gotham City. Unfortunately, both places share a high crime rate. Therefore, some choose to leave this busy city. Besides, living costs are relatively high there, while job opportunities don't look as appealing as before. With so many popular moving destinations, some people head straight to Pennsylvania. Philadelphia, PA, offers promising job prospects, and the cost of living there is lower than in Chicago. Philadelphia is also a busy city, but still, it's a lot more laid-back than Chicago. Its proximity to New York City and Washington DC is another advantage of Philly in the eyes of potential movers. What else is attractive there besides lower rental prices and workplaces? Surely, it's the art and culture:
The Philadelphia Orchestra is among the best in the whole country
The Rodin Museum boasts an impressive collection of work by Auguste Rodin
Edgar Allan Poe's home is a historical place of attraction
Independence Hall and Liberty Bell – these attributes of independence charm visitors and history lovers
The climate of Philadelphia isn't much warmer than in Chicago. There are snowfalls and rainfalls in winter. The climate of Philadelphia has all four seasons. Unlike Chicago, Philadelphia doesn't have a picturesque lake nearby. Instead, the Delaware and Schuylkill rivers run through the city center. If you're going to miss deep waters and open spaces, take a ride to the ocean. To get to the oceanside, you'll have to cross New Jersey state — an excellent weekend adventure and yet another mover experience — even for a few hours.
What to Expect When Moving
Moving from Chicago to Philadelphia doesn't seem like such a big task — it takes about 13 hours by car or 2 hours by plane. Even so, there's a list of things to deal with when moving into a new state:
The taxes can differ from Illinois;
Your driver's license needs to be updated;
Health insurance will have to be updated as well;
It's also important for movers to register to be able to vote — online or in a local election office.
Whether solo moving or with a family, there'll be possessions to move. Even though movers can travel in a car stuffed with belongings, it's not the safest way to move. If there's a big family, it's better to seek assistance. Moving companies know everything about relocation. To avoid stress during the move, book a professional moving company. It's easier to delegate the moving process to the professionals.
Safe Relocation with Born to Move
Born to Move is a moving company that has been helping to move from Chicago to Philadelphia for years, as well as movers from Philadelphia to Chicago. Our moving company is fully licensed and has insurance. It possesses trucks of different sizes, fully equipped, and in perfect technical condition. The drivers and packers have all the required skills, and they can assist movers in many ways. First of all, it's some help during the packing:
Wrapping and protecting furniture;
Disassembling and assembling furniture;
Unpacking and unwrapping after the delivery;
Protecting the floors;
Hoisting furniture;
Helping movers pack what is not ready yet.
Born to Move moving company also offers storage options — sometimes, Chicago to Philadelphia movers need a place to store their possessions. Our warehouses are equipped with modern control systems so that any items will be safe.
Additional Services
We understand that Chicago to Philadelphia movers may want to transfer not just furniture but works of art – or even musical instruments, such as a piano. The good news is that the professionals at Born to Move know how to deal with such items. We even have a special service called White Glove moving. It was developed for movers who want to be sure their items are treated with extra care. Ordering this service, you'll get packers with 4+ years of experience, as well as special equipment. As you can see, any mover with any requirements will easily transfer their stuff to Philadelphia. If you're wondering if we have any restrictions for movers — we do. Because of the various laws and regulations from state to state, we may refuse to transport weapons, food in glass jars, and drugs prescribed for immediate use. When moving to Philadelphia, please, check your stuff to see if it includes any of the items mentioned. Besides, we are cautious with lighter fluid, fireworks, compressed air containers, chemicals, and gasoline. Sometimes we can refuse to take plants. Safety when moving is our top priority, and as a licensed company, we cherish our reputation among movers. Therefore, no restricted items will be transported by us.
Price Policy
Movers from Chicago to Philadelphia can rely on us regarding moving rates. Relocation is not cheap — and we aim to make our services as affordable as possible without sacrificing quality. This is achieved due to the hourly rates we apply for the work. Depending on the size of moving items, the following are included:
Manpower;
Truck;
Tape;
Shrinkwrap;
Blankets;
Floor protection;
Gas;
Tolls;
Insurance.
After an estimate has been put together for the job, you'll get a flat price — and it is fixed. We do not include hidden costs for gas, distance, or tolls, even though the routes to Philadelphia have some. Our materials to pack your items are free, too.Average price for the move from Chicago to Philly is $5,000 We have different offers for movers from Chicago to Philadelphia and from Philadelphia to Chicago since we do both destinations. If you have a business, contact us regarding commercial moving.
How to Contact Us
Once you decide you are moving to Philadelphia, visit our website. There you have two options:
Find our phone number in the upper part of the website – and make a call. You can book a free estimation on-site or online. After that, you'll share your plans and what kind of help you'd like to have from our crew. We'll give you the prices, and that's it – just choose the date and obtain a parking permit for our truck.
Find the Book a Move button near the phone number – there; you'll be able to fill in certain information yourself. However, the next steps are the same — you're to get a free estimation and discuss all the details regarding the move to Philadelphia.
Look through our blog for movers — we post essential tips on packing and preparing furniture for the move. We always recommend packing as early as possible. We also insist that you'd take the following with you:
Artwork that is valuable to you;
Personal documents and all the sensitive data;
Cash and cards;
Family photo albums;
Jewelry & watches.
Moving may seem like a mess, but following the rule will be a stress-free experience. One day you're going to leave Chicago and its Michigan Lake to explore Philadelphia, and we hope that you will truly appreciate the city. And yet, even if your expectations are not met in a new place, returning is not a crime — give us a call, and we'll move you back in no time. Our hourly rates include all other charges:
Labor & Equipment
Floor Protection
Wrapped Furniture
Tolls
Taxes
No Additional Fees
Fuel Charge
Safe Delivery
Guaranteed Price
Movers from Chicago to Philadelphia
Our Moving Company is fully licensed and insured!