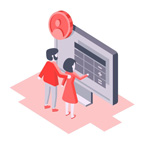 Online and On-site
Free Estimates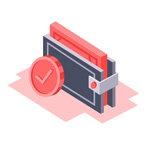 Affordable Rates
and Discounts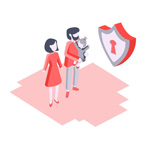 Fully Licensed
and Insured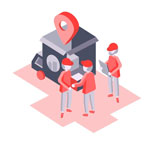 Professional Moving
Crew
Is Phoenix, AZ, in your future plans for a move? Or, do you think you might return to Chicago at some point? When you need help relocating, our locally-based moving company is ready to provide you with expert assistance from the greatest movers in the business. Our movers from Chicago to Phoenix are well-equipped to handle any type of relocation, no matter how complex, and will see you through the entire procedure with efficiency and professionalism.
Our full service moving company employees are aware of how difficult it is to pick a reliable moving company from the many that operate in the area. You can check our Born to Move movers' track record of satisfied customers to ensure that you will be pleased with the service you receive from us. Have a look at the references and the evaluations that past clients have provided.
Our movers from Chicago to Phoenix have the experience and dedication to make your relocation a success
A bad choice in a moving service may add more stress to an already trying time. Once you know what to look for, it's easy to do the necessary company research and make informed judgments that are suited to your needs for your particular relocation from Chicago to Phoenix, AZ. Furthermore, our facility's skilled group of movers may stand out as a key differentiator for our business. The following features make our movers from Phoenix to Chicago stand out:
Ability to interact with clients and coworkers effectively.
Being able to work effectively with a big number of other movers.
Facilitating peaceful resolutions.
Enthusiasm for expanding one's horizons and gaining knowledge.
Accountability and trustworthiness.
Our fully licensed and insured moving company provides comprehensive, reasonably priced relocation help to customers moving from Chicago to Phoenix, AZ, or anywhere else in the United States. We provide white-glove services, which means that our movers will handle all the heavy lifting while you sit back and enjoy the ride.
In addition to carefully packing all of your precious belongings for the impending road trip, our professional moving service in Chicago also offers free quotes. For a more accurate assessment of how much time and effort will be required to pack and transport a customer's belongings from Chicago to Phoenix, AZ, we offer free in-home estimates at their convenience. Moving trucks come in a wide range of sizes, so it's important to do some research before making a reservation. Also, we provide a handy online calculator should you need one. The following details are required in order to calculate your moving prices when completing the form:
Describe the kind of service you anticipate getting.
A target date for packing and moving.
Starting and final points.
Both the old and the new home/entryway apartment types.
Our movers from Phoenix to Chicago serve both directions and offer up-front prices to ensure a smooth and swift transfer. Our moving company doesn't charge extra for things like tolls or gas mileage. Customers only fork out cash for the specific packing and moving help they opt for.
The stages of moving from Chicago to Phoenix
Get in contact with our movers from Chicago to Phoenix to learn more about the cost associated with the specific moving services you're interested in. We advise potential customers to get in touch with our specialists in advance no matter whether they need us to handle a local or cross country move.
Our skilled movers will carefully pack all of your belongings to ensure that not even the tiniest of scratches can be seen in the process of transporting them to your new home. Our customers may schedule an appointment with us at a time that is most convenient for them, and our movers will show up on time with complimentary packing supplies and all the equipment and tools they'll need to get the job done. The movers, a professional moving crew working efficiently together to reduce your moving-day stress as much as possible, will get the task done in the allotted time. Our movers from Phoenix to Chicago will take care of all the packing, and they have boxes of all sizes and weight capacities to safely transport your belongings. The movers will dismantle and blanket-wrap any major pieces of furniture you need to be moved.
Our movers should load the truck as quickly as possible once all the items have been packed and prepped. When our movers from Chicago to Phoenix arrive at your new home, they will unpack all of your belongings and reinstall your furniture with great care. Our customers in Chicago and Phoenix are encouraged to ask our seasoned movers for help in understanding the logistics of the moving at any point during the process.
Why Born To Move moving company is a decent solution for your move from Chicago to Phoenix
What compels consumers to seek out professional movers? Due to the abundance of local moving providers, most people avoid doing their relocation on their own and instead hire experts. When relocating from Chicago to Phoenix, going back and forth, what are the most important factors to consider when deciding whether or not to use our top experts:
Relief from all anxiety. Our Phoenix, AZ, and nationwide network of experienced, fully licensed and insured movers are the backbone of our successful moving business. It means that you may relax a bit more at ease during the whole procedure. The movers have been instructed in the right techniques for packing fragile items, loading a truck, and driving to a new place. If a mover is licensed to do the job, they also have to have insurance to protect your things.
Comprehensive service options. Relocating necessitates attention to many details and the completion of many activities. That's why a reliable moving company should offer comprehensive moving packages that meet every customer's requirements. Packing your things is one of the most taxing and time-consuming parts of moving. While you relax and take it easy, our moving company's packing service will send in experts to your home to pack all of your belongings in a safe and effective manner. No need to go out of your way to find boxes, tape, and other packing essentials.
Created personal move strategy. There are a number of things that must be done before packing up and hitting the road. If the movers want to keep things from getting out of hand when it comes time to organize the move for the customer, they need to create a move plan after thinking over every detail.
The cost of a professional cross country move is significantly lower than the expense of a move that the householder undertakes on their own. Maintaining a do-it-yourself approach to the move might cause you to spend more money than you had anticipated. However, the greatest movers always know just how much packing material and other necessities are needed to keep the move running smoothly and quickly. What's more, we provide transparent pricing, so our customers in Chicago and Phoenix know precisely what they're paying for.
Our hourly rates include all other charges:
Labor & Equipment
Floor Protection
Wrapped Furniture
Tolls
Taxes
No Additional Fees
Fuel Charge
Safe Delivery
Guaranteed Price
Movers from Chicago to Phoenix
Our Moving Company is fully licensed and insured!