| Size of the move | flat price range |
| --- | --- |
| studio | $3,000 - $3,700 |
| small 1 bedroom | $3,200 - $3,900 |
| large 1 bedroom | $3,600 - $4,000 |
| small 2 bedroom | $3,600 - $4,000 |
| large 2 bedroom | $4,000 - $5,000 |
| 3 bedroom apt | $4,500 - $5,500 |
| 2 bedroom townhouse/house | $4,500 - $5,500 |
| 3 bedroom townhouse/house | $5,000 - $6,000 |
| 4 bedroom townhouse/house | $6,000 - $7,000 |
| 5+ bedroom townhouse/house | starting from $7,000 |
delivery time range
next day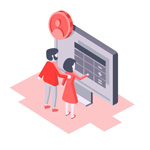 Online and On-site
Free Estimates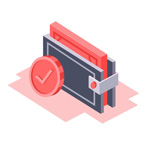 Affordable Rates
and Discounts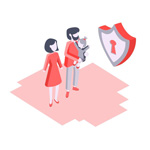 Fully Licensed
and Insured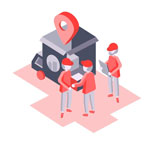 Professional Moving
Crew
Relocating to a new home is no easy endeavor, but it is possible to do it without undue stress. Finding movers from Chicago to Pittsburgh can be time and money-consuming. But professional movers are easy to come by in Chicago, so residents there need not fret. If you need movers, go no further than Born To Move. In Chicago, no one can beat our low rates for local and long-distance moves. We'll handle the relocation of your stuff so you can focus on more pressing matters.
It is not by chance that our Pittsburgh moving company stands out from the rest. Because of the hard work of our movers and dedication to customer satisfaction, relocating with us is a breeze. You should hire our movers from Chicago to Pittsburgh to manage your relocation because of our skilled crew, our modern moving vehicles, and our unmatched services. Lots of exciting things are in store for you.
Moving experts at Born To Move have made a name for themselves in the packing and shipping industry. Our moving company is the ideal option for moving to and from Pittsburgh since we offer a secure and cost-effective method of transporting items across large distances. Use the professional packing services of Born To Move to transport your belongings across the county with peace of mind. Born To Move is your one-stop shop for moving and shipping needs, whether you're transporting fragile antiques, delicate artwork, bulky electronics, heavy furniture, or a wide variety of other items.
Born To Move moving experts for stress-free Chicago to Pittsburgh move
Are you considering making the move from Pittsburgh to Chicago? Put your trust in Born To Move Chicago to Pittsburgh movers to ensure a smooth relocation. In business for almost 8 years, we take great satisfaction in exceeding the expectations of our customers all the way from door to door with our skilled long-distance movers. Whether you're heading east for new adventures, to be closer to family, or for a new job, our highly-trained and experienced movers can handle all of your moving and storage needs efficiently and affordably.
Born To Move is a professional moving company that has everything you need for stress-free shifting, no matter how big or little your home is. Our track record of success speaks for itself when it comes to moving any distance.
We'll appoint a professional moving consultant to your Chicago-to-Pittsburgh transfer before we get started packing. This personable, well-trained professional will be available to assist your family at every step of the move, from answering concerns to adjusting to sudden changes. If you choose us as your cross-country movers, you won't have to worry about a thing. Born to Move is a certified, professional moving company. Do you feel like you're bringing too much with you? There is no need to be hesitant. Our Chicago to Pittsburgh movers have become better every year, and now we have a foolproof procedure for stress-free moves, a competent and dependable staff, and the ability to handle any problem that may arise. Let our trained movers help you with your move from Chicago to Pittsburgh!
The best Chicago to Pittsburgh movers
When it comes to moving companies to handle your moving from Chicago to Pittsburgh, we are your best choice. Due to our excellent service, we come highly recommended by the community. Whatever your needs, we tailor a moving strategy to fit your specific situation, including your budget, timeframe, and other preferences. The cost of our moving help is reasonable as well. Only our company in Pittsburgh can offer you first-quality services at such reasonable prices.
Professional movers from Pittsburgh to Chicago responsibilities extend much beyond merely transporting clients' belongings from one location to another. It is important to our attitude to provide as much assistance as possible. We have developed our own unique movement algorithm and expanded our offerings to accommodate your needs.
At the scheduled time, our experienced moving team will arrive to pack all of your belongings. The things will be loaded carefully so that nothing breaks during transit. As a courtesy to our moving staff, our movers ask that you reserve a parking spot for a truck in advance. You may rely on the following throughout your relocation to Pittsburgh:
Our fully licensed and insured moving company offers expert drivers and movers.
Transport vehicles of all sizes that are both clean and well-equipped.
Taking apart and putting together furniture.
We'll be using our own packaging materials to wrap your goods.
Carefully packing everything, paying special attention to the sensitive goods.
In case you need a place to keep things overnight or for a whole month, we can accommodate you.
Guaranteed arrival at its final destination.
Coverage and low prices.
Moreover, our movers assist with unpacking and unwrapping your belongings as well as putting together furniture after delivery, so our customers don't have to worry about a thing when we go. With decades of expertise under our belts, Born To Move movers have mastered the art of continually exceeding customer expectations, and we kick things off by providing tailor-made moving plans. Simply work with your assigned move coordinator to decide which of our numerous storage and moving services between Pittsburgh to Chicago is right for you.
Moving from Chicago to Pittsburgh requires advanced planning
If you put in the time and effort to prepare, moving will be a breeze. However, what exactly does it mean to be well-prepared? Here are several important tips from Born To Move experienced movers:
Proper timing is crucial. Winters are brutal in both Pittsburgh and Chicago. Time your move so that you don't have to leave during the winter. The process of relocation will be greatly simplified. On the other hand, if you give your moving company plenty of notice, they can likely arrange things more efficiently. Also, you'll have plenty of time to get things ready and packed up.
Geographic context is also important. You may be anxious to relocate because of an improved employment outlook. Or perhaps you are up against a hard deadline. But don't settle for just any old location to reside in; pick one that suits your needs. We recommend looking into short-term options if a permanent move is an absolute need. Few people get lucky the first time they look for a house. Before making a permanent decision, explore the area. Think about which way of life is better for you. Do you prefer the city or the suburbs? Maybe you'll find a section of Pittsburgh that brings back fond memories of home. How wonderful would it be to have a home there!
Before making the move to Pittsburgh, it's a good idea to familiarize yourself with the local area. You need not be a Yinzer to be aware of it. Today, any information may be quickly and effortlessly accessed online. Use other sites to learn about Pittsburgh, in the same manner, you're using a search engine to find the top moving companies. Make use of the state-of-the-art technology available today and take a few virtual excursions around town. Visit the location in person if you have the opportunity to do so. You can learn whatever you want to know about Pittsburgh from friends who live there. Learning as much as possible in advance will make things much simpler later on.
Contact our helpful long-distance movers at Born To Move right now to find out how we can assist you with your upcoming move from Chiago to Pittsburgh. Get your free in-home moving estimate by calling us now or filling out our quick online form.
Our hourly rates include all other charges:
Labor & Equipment
Floor Protection
Wrapped Furniture
Tolls
Taxes
No Additional Fees
Fuel Charge
Safe Delivery
Guaranteed Price
Movers from Chicago to Pittsburgh
Our Moving Company is fully licensed and insured!