| Size of the move | flat price range |
| --- | --- |
| studio | $3,700 - $4,200 |
| small 1 bedroom | $3,700 - $4,200 |
| large 1 bedroom | $4,000 - $5,000 |
| small 2 bedroom | $4,000 - $5,000 |
| large 2 bedroom | $4,500 - $5,200 |
| 3 bedroom apt | $4,800 - $5,500 |
| 2 bedroom townhouse/house | $4,800 - $5,500 |
| 3 bedroom townhouse/house | $5,500 - $6,500 |
| 4 bedroom townhouse/house | $6,500 - $7,500 |
| 5+ bedroom townhouse/house | starting from $7,000 |
delivery time range
next day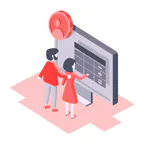 Online and On-site
Free Estimates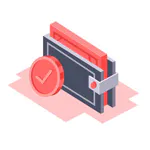 Affordable Rates
and Discounts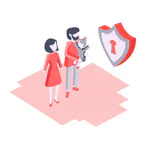 Fully Licensed
and Insured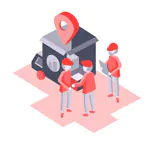 Professional Moving
Crew
Washington, DC, is calling your name, and you're all set to answer. While you're still in Chicago, let our moving company assist in this interstate move. Let's get packing!
What We Do in Our Moving Company
Long-distance moving and dealing with long-distance movers can be very draining. Moving in itself can be stressful, but not with Born to Move. The movers from our moving company will come prepared with boxes and packing materials to protect your belongings. All you have to do is have them organized to be packed. When you hire our professional movers from Chicago to Washington, DC, they will pack up your entire home. The fragile china will be wrapped with extra care, and the gym equipment will be packed to keep other stuff safe. Our movers will also disassemble any furniture for easy long distance moving. If you think organizing your fridge and stacking those two extra cans of beer is impressive, you haven't seen our movers in action. All your possessions will be packed expertly into as few boxes as possible. They will then be loaded into a moving truck and transported to Washington, DC. Our team will then assist you in unloading and arranging the boxes in your new home in Washington, DC. Born to Move movers will even organize your furniture if you let them know where to put it. It does help if you sketch out your preferences for where you want everything to be before our movers get to Washington, DC. You can guide the movers from the get-go and have the unloading and unpacking done as soon as possible. We also provide great, climate-controlled boxes for storage. In order to protect your fragile items, you may want to store them in a container that regulates the internal environment. The high-quality moving storage boxes provided by our firm will ensure that your furniture and other household things make it safely to your new home in Washington DC.
Not Your Average Movers
When you hire our moving company, you'll have access to expert movers from Chicago to DC in every aspect of long distance moving process. We have your back when you're moving from Chicago to Washington, DC.
Residential
Whether you're moving a three-bedroom apartment in Chicago or a five-bedroom home in Washington, DC, the professionals at Born to Move can handle it. We're aware that a house will include fragile items of varying degrees of importance, and we've come prepared to deal with that. Our moving team has been performing residential moves for so long that it has become second nature to them.
What Must You Do?
Be sure to plan ahead of time and document your needs in your moving folder. On the day you plan to move out of your Chicago home, you should also arrange to have the utilities turned off.
Create a detailed inventory of your belongings. Your items are safe in our storage containers and cartons, but you should still keep track of them. Before you call our movers from Chicago to Washington DC make an inventory on paper or using a mobile app. Having peace of mind that your possessions have made it to your new home in Washington is priceless. Make sure everything is counted with our professional movers.
Label your boxes to segregate their contents. A simple 'Kitchen' and 'Bathroom' will do the trick but try to be a little more specific. 'Kitchen-Cutlery' and 'Bathroom-Toiletries' might do you more good while unpacking. We will only place them in their respective rooms and unpack them in Washington DC; you have to organize them as you like. If you want to be a little more thorough, take pictures of your boxes and get the extra visual aids.
Finally, a week before the intended moving date, give us a call. Let us know if you need our Chicago to Washington DC movers, how much stuff you need moving, and when. We will provide a cost estimate, and you'll know that we don't charge extra for tolls, fuel surcharges, labor hours, or miles.
Hints From the Pros
You've obviously made some preparations for the transfer, but have you thought of everything? Create a moving checklist that includes subscriptions, medical records, and other services that need to be updated once you arrive in Washington DC. Cancel subscriptions for magazines you no longer read. If you're renting a house or an apartment in Chicago, you should check your contract to see if you need to give notice before the lease ends. Check the notice period required by your landlord.
The Basis of Our Pricing
The prices provided by our fully insured and licensed company don't involve any hidden fees. Our movers from Chicago to DC will pack, stack, unpack, and set up your furniture at your new house because we provide insurance against any damages. The cost of moving is based only on the total distance traveled (in this case, between Chicago and Washington, DC) and the number of items being transported. You will be charged extra if you request additional services like storage boxes, hoisting services, or our more niche services like piano moving. The average cost to move from Chicago to Washington DC WIll be $5,500 total. Delivery will be executed in 3 days. For this reason, we request you to give us all the details of your possessions, so we can plan this move on our end to make it as smooth as possible for you. We can provide you with a cost estimate. Please voice all your concerns, so the prices you see are transparent.
Same Great Moving Service as Always
As a parting shot, know that our company's flat rates are affordable and that our estimate will fall well within your moving budget. Your moving costs will be the same when you employ movers from Chicago to Washington, DC.all that matters is the distance you're covering and how much stuff you have to move. This is an excellent offer compared to other moving companies who provide same moving service. We don't expect you to take our word for it; instead, we want you to feel free to ask us questions and share your concerns so that you can choose if we're the right movers for you. Our hourly rates include all other charges:
Labor & Equipment
Floor Protection
Wrapped Furniture
Tolls
Taxes
No Additional Fees
Fuel Charge
Safe Delivery
Guaranteed Price
Movers from Chicago to Washington DC
Our Moving Company is fully licensed and insured!