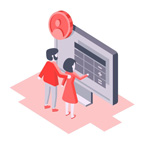 Online and On-site
Free Estimates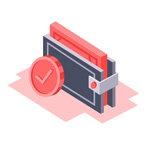 Affordable Rates
and Discounts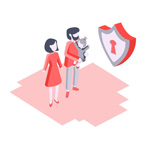 Fully Licensed
and Insured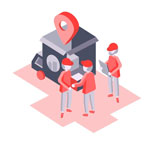 Professional Moving
Crew
Movers from Los Angeles to Atlanta
Moving away from Los Angeles? Born to Move will assist you in your long-distance move to Atlanta. Have you said your goodbyes to LA yet?
Moving and Packing Solutions in Los Angeles
Moving requires a lot of preparation. It takes a lot of time to pack things up, and if you don't do it right, unpacking will be a nightmare.
Our company's professional packers and movers are well aware of how much time is required for packing. Our expertise in packaging means that we can provide you with reliable packing services whether you hire movers from Los Angeles to Atlanta or movers from Atlanta to Los Angeles for your relocation.
Our movers will wrap your belongings in safe packing materials. They will disassemble large furniture and pack it up in boxes for easy transportation. Once the packing is underway, the boxes are stacked into the moving truck, and we buckle down for the long journey to Atlanta.
Moving Doesn't End at Your Atlanta Doorstep
If you're moving to or from Los Angeles, there are several good reasons to choose Born to Move packing services. One of the primary ones is that we unpack your belongings as well. We don't just unload them from the moving truck and drop them off at your doorstep. Even if it's just to pack a few more pieces of furniture and you don't have time to do so, Born to Move movers are here to assist you.
We do, however, request certain criteria to be met on your end before our movers start unloading your valuable belongings.
Please be available to receive our movers when we arrive in Atlanta with your belongings;
Have your home ready for the move-in beforehand;
Get the utilities up and running. Having functional facilities, electricity, water, and the internet will make everything easier for you and our movers;
Prepare a floor plan for your furniture. Our movers will unpack and reassemble your furniture so you won't have to DIY. However, our movers can't just leave a grand piano in the middle of the living room. It would massively help both moving parties if you knew where you wanted it to go in the first place.
Our Company Offers Storage
Whether you need to store items in Los Angeles LA, or Atlanta for an extended period of time or just temporarily, we can help. If you are going on a long work trip, renting a condo, or renovating your office or apartment, storage boxes that will safely and securely keep your furniture and personal things are a service you will appreciate.
If you're a student or an employee moving back home or moving to Atlanta for a short internship, you can store your belongings temporarily with us too. We will retrieve your belongings from your home or dorm, and you can fetch them as and when you come back from Atlanta. Modern security systems and climate and humidity controls keep our warehouses in pristine condition. Long-term storage of workplace supplies, archived papers, personal objects, and soft and cabinet furniture is a breeze with us and our climate-controlled storage boxes.
Price for Permits to Park
Every time we complete a relocation, our movers from Los Angeles to Atlanta and movers from Atlanta to Los Angeles are harshly greeted with the significant challenge of locating a parking spot for our moving vehicles. If you don't have a loading dock and need more than one parking spot for the trucks, you might want to look into getting parking permits. This not only saves you time but also assures you that we will have a space that is suitable when we arrive.
Obviously, we can't just park anywhere and bring your boxes from two lanes down, so obtaining parking permits in Atlanta is an absolute requirement. But we also understand that you have a moving truckload full of duties that eat away at your time. You will need to go well ahead of time and get the parking permits, and there's a good chance that this will take some time.
So, if you find yourself thinking you don't have enough time to do it all, let us know. As soon as you notice your new home is not moving truck friendly, let our movers know they have extra work to do. We can handle the purchase of parking permits, but this comes at an additional cost to you.
The city is not going to hand out parking permits willy-nilly for free. Do you want to spend money and time to get your hands on the permit or simply pay our movers to do it for you? It is entirely your call.
Los Angeles LA and Atlanta Hoisting Services
Hand-hoisting is a dangerous practice that should only be performed by trained professionals. If the furniture you need to bring in or take out is too big to fit through the door, you can always use a window or a balcony. However, keep in mind that if you want to lift something safely, you'll need at least three people.
We want your furniture to be safe, so an extra set of hands needs to be hired in advance. Please let us know when you call us about any large furniture that you suspect will not fit through your home door or that cannot be disassembled.
Relocation Services for Commercial Moving
Don't bother searching somewhere else if you're a business owner in need of a new place to set up shop. Our company can help with moving from Atlanta to Los Angeles and moving from Los Angeles to Atlanta, Georgia, and relocate your commercial space anywhere in the state or beyond. Your business can rely on the relocating strategy that our organization provides. Additionally, if you need us to relocate your workplace after hours, between the hours 5PM to 6AM, we can do that too!
The movers can get to work for you as soon as you get home from work, saving you time and effort. Any business that needs off-hours storage or moving services may count on us to come up with a custom solution. If you're wondering how much moving at night will cost, it won't be any more than moving during the day.
Moving Heavy Equipment
There's no need to worry if you have bulky office gear or equipment that needs to be relocated. Our office movers at Born to Move are more than capable of taking care of it. Our office packers and movers come prepared with everything they'll need to move your business. If there is any industrial or other equipment that needs special care during transport, rest assured that our Los Angeles commercial movers will take the necessary precautions to ensure the security of your belongings both in transit and once they are installed in their new digs.
Our movers are capable of handling any type of relocation in Los Angeles, including warehouse relocations to Atlanta. We can handle the business moving portion of your office relocation as well. The price will be determined by the number of items to be relocated as well as the number of hours of labor required.
Final Word
Born to Move is a fully licensed and insured company that is highly equipped for all your moving needs. Our company has movers available at your service in most major cities in the country. This means moving from Los Angeles to Atlanta, Georgia, will be just as simple as moving from Atlanta to Los Angeles.
So, reach out to us at least a week ahead of the moving date from Los Angeles, get a cost estimate, and remember that we don't charge extra for tolls, fuel, or pit stops! So, move to Atlanta without hassle with Born to Move.
Our hourly rates include all other charges:
Labor & Equipment
Floor Protection
Wrapped Furniture
Tolls
Taxes
No Additional Fees
Fuel Charge
Safe Delivery
Guaranteed Price
Movers from Los Angeles to Atlanta
Our Moving Company is fully licensed and insured!