| Size of the move | flat price range |
| --- | --- |
| studio | $4,800 - $5,200 |
| small 1 bedroom | $5,000 - $5,500 |
| large 1 bedroom | $5,000 - $6,000 |
| small 2 bedroom | $5,000 - $6,000 |
| large 2 bedroom | $5,500 - $6,500 |
| 3 bedroom apt | $6,000 - $7,000 |
| 2 bedroom townhouse/house | $6,000 - $7,000 |
| 3 bedroom townhouse/house | $6,000 - $7,500 |
| 4 bedroom townhouse/house | $6,500 - $8,500 |
| 5+ bedroom townhouse/house | 5+ bedroom townhouse/house |
delivery time range
2-3 days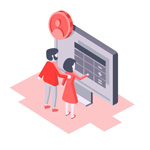 Online and On-site
Free Estimates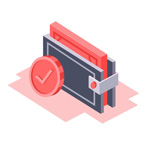 Affordable Rates
and Discounts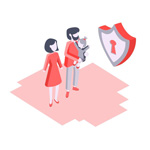 Fully Licensed
and Insured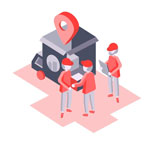 Professional Moving
Crew
Wondering why Los Angeles residents moving to Texas? Texas has lots of great job opportunities plus smaller taxes and a better work environment. There are only a few reasons why our customers decide to move to Texas. Some people want to be closer to their families or escape the big city life in Los Angeles. Others want to raise their children in a safer environment with less crime and better schools. Some people want to start their own businesses or find new jobs in Texas because there are more employment possibilities than California.
Moving from Los Angeles to Austin can be a very stressful experience. You are going to drive about 24 hours straight.That's why you may need professional moving help. Born To Move movers from LA to Austin and we are ready to satisfy all of your moving needs.
Our company offers high-quality interstate moving services at acceptable prices. We've been in operation for more than 7 years and have helped hundreds of customers move from Los Angeles to Austin or vice versa.
Our movers are trained professionals who know how to pack, load and unload your belongings safely and efficiently. They will also make sure that they disassemble and assemble any furniture, if needed before the move begins.
Our trucks are modern, clean, and well-maintained so you can rest assured that your belongings will arrive safely at their destination without any damage or loss during transit. If you want to know more about our services, just pick up the phone and dial our number, or click here to fill out our form online.
Tips for hiring Movers from LA to Austin
When picking a long-distance moving company from LA to Austin, you have to figure out how you will transport your belongings. Movers from Los Angeles to Austin require some research first, and when you are researching for the movers you need to make sure that they have a good reputation as well as a license and insurance to operate interstate. The following tips will help you find a reliable moving company:
Check the licenses and insurance coverage of your movers.
Read customer reviews before hiring movers.
Ask for an estimate from multiple movers.
Make sure all furniture is covered with shrink wrap or packed in boxes.
Don't let movers pack fragile items without wrapping them up properly.
Make sure all items are labeled with their item number.
When you are done with the research and pick out movers it's unlikely, but in some cases, your stuff may get destination spot damaged. This is why you need insurance for your items, and our moving company will provide you full value protection or a $.60 per pound replacement value for your possessions. When you need a moving company that will fulfill all of your requirements, do not hesitate to reach out to us and we will give you the best moving insurance for your relocation to Austin, TX.
Los Angeles to Texas moving flat prices
Our moving company is one of the best in Los Angeles, California. We have been in business for many years, and we have thousands of satisfied customers who have already moved with us. Our customers who moved interstate to Austin, Texas, were pleased with our service. The movers from LA to Austin have to have not only valuable insurance but they also have to have a sterling reputation. That's why our moving company has provided exceptional moving service for over seven years, and we have thousands of grateful and happy customers. Online reviews are available for everyone to peruse. Many of our moving customers moved interstate saying good words about our company. You can also get a referral from our previous customers by your personal request.
When you move on a long distance, usually moving companies will provide you with their exact flat price for your move; this is how movers from Austin to Los Angeles moving both directions. Our moving price starts from $12,000, including all of the expenses such as gas, tolls, miles, transportation, and any other fees involved in moving from Los Angeles to Texas.
Our company delivers moving services that are affordable and reliable. Make sure to get a quote from us before making any decisions regarding your move. If you need help with relocating from Los Angeles to Texas, then we can share valuable tips on how to make a project and organize your relocation.
There are many reasons why people opt for our service for their next move. We offer professional packing services at an affordable price so that all of your belongings are safely packed for transportation during the move. You can also ask about our packing supplies if you want to pack yourself but don't have enough time or resources to do so beforehand. If you need assistance packing your belongings, our experienced movers from Los Angeles to Austin will pack them cautiously and guarantee they arrive in good condition when they reach their destination in Texas.
How our team of skilled movers works
Movers from Los Angeles to Texas never hire any third-party help for your relocation to Lone Star State. In this case, we will make sure that your personal stuff will arrive without any damage to the final spot because we are providing a dedicated truck for your move, and our team has been working for us for years. We also make sure that all of your belongings will be safe and protected during the transportation; we will wrap all of your furniture, including TVs, TV stands, beds, etc. We will disassemble any furniture needed to be disassembled and reassembled at the new place. Our moving team will bring tools, shrink wrap, moving pads, and all the packing materials to organize everything for your long distance relocation to Austin.
But why are people from Los Angeles moving to Texas? Austin, TX, is a great place to live, and a lot of tech companies are thinking the same. A lot of them are moving to Austin because there they hope to get new opportunities. It's a new Silicon Valley, and there're lots of work opportunities in the area. Plus, when you're looking to move to a new state, you always consider great housing, local laws, and the weather. The weather in Texas in summer is 110° Fahrenheit.
It's no secret that Austin is one of the fastest-growing cities in the country. People from all over are moving to Austin for its strong economy, low cost of living, and high quality of life. In general, there are several reasons why our customers decide to move to Texas:
Better work environment. In Texas, there is less bureaucracy and fewer regulations for businesses. This means that it's easier for small businesses to get started in Texas than in California. Plus, there is less red tape when starting a business or hiring new people.
Lower taxes on both individuals and businesses. The state income tax rate in California is 9% while it's only 6% in Texas (with some exceptions). Even with local taxes added, the difference can be significant, especially for high earners who pay a higher state income tax rate in California (13%).
Job opportunities. There are more job opportunities in Texas than in California; this includes tech jobs, construction jobs, and other areas where skilled workers are needed most right now — especially if you have experience in those fields!
If you decide to hire movers from Los Angeles to Texas at Born To Move, please reach out to our moving team and will help you to relocate smoothly and stress-free.
Movers from Los Angeles to Austin
Our Moving Company is fully licensed and insured!