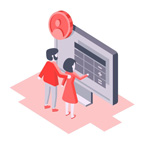 Online and On-site
Free Estimates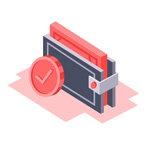 Affordable Rates
and Discounts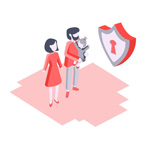 Fully Licensed
and Insured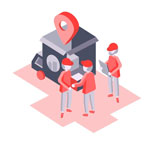 Professional Moving
Crew
Moving from Los Angeles to Colorado can be both challenging and rewarding. Understandably, Colorado city will captivate you with its stunning panoramas of the Rocky Mountains, pleasant year-round climate and thriving business community.
It's vital to use moving services for a hassle-free relocation experience. If you're in search of trustable movers from Los Angeles to Colorado at an affordable price, the Born To Move company is the best option.
Whether you're moving to Colorado for employment or just because you want to try living somewhere different, the Born To Move company has a lot of packing and moving services to offer at a reasonable cost that will make you happy and content with your whole Los Angeles to Colorado moving process.
The Leading Los Angeles to Colorado Moving Company
Although the prospect of moving from Los Angeles to Colorado is thrilling, the effort required to pull it off can be daunting. But don't worry; the Born To Move company is here to assist you!
We are one of the leading movers from Los Angeles to Colorado in the country, and we can make your interstate move more exciting and less stressful than you could imagine. You can rely on our company for every phase of the moving process, beginning with packing and ending with unloading from storage.
Our movers have years of experience and have helped hundreds of residents and business owners with all their Los Angeles to Colorado moving needs.
To maintain our reputation as one of the top long-distance moving companies, we require all our movers to maintain the same level of expertise and dedication to customer care.
Exceptional Care for Your Colorado Move
If you're considering a long-distance move, you must hire a moving company that offers furniture protection for your valuable belongings. While most moving firms should have no trouble delivering smaller things, heavier, bulkier items like furniture can be more of a difficulty.
It's easy to scratch and damage your furniture without the right tools, preparation, and equipment. Thankfully, the Born To Move company provides furniture protection for your Los Angeles to Colorado move, which includes using the correct packing materials and machinery to transport your furniture without the risk of harm.
Furniture Disassembly and Assembly
A legitimate Los Angeles moving service will always include the disassembly and reassembly of your furniture. Beds and other large pieces of furniture often need to be disassembled before they can be moved securely, but don't worry; our movers will put everything back together for you when they move your items from Los Angeles to Colorado. Let our movers handle everything!
Storage Options in Los Angeles
By choosing our storage services, you can rest assured that your possessions, even valuable antiques, will be kept in a secure environment. Everything you own can be stored easily, moved, and packed away. We have facilities around the United States to meet your temporary or permanent storage needs. Your items will be safe in our climate-controlled storage facilities, which also have top-in-class security features.
Expert Packing and Unpacking Services
No one enjoys the process of packing for a long-distance move from Los Angeles to Colorado. You'll need to pack up and move pretty much every single object in your house or office. If you're looking for professional packers and movers, look no further than Born To Move. Our team of trained movers knows exactly what it takes to provide a positive packing and moving experience for every one of our clients. If you need help packing fragile items when moving to Colorado, give us a call, and our movers will take care of everything.
Likewise, if you need assistance moving your furniture from one room to another, our movers can do it efficiently. Born To Move provides comprehensive packing services for all your belongings. Whatever the value, fragility, or number of your belongings is, our movers will know how to pack and unpack them safely and securely. Hire our expert packers to ensure that your belongings arrive at your new Colorado home in one piece.
Our moving crew offers first-rate packing services and comes to your home to pack everything, so you don't have to lift a finger. To ensure that you have no trouble locating any of your belongings in your Colorado home, our movers can do the following:
Pack your things carefully and label all of your boxes;
Wrap artwork, furniture, or other fragile or expensive goods;
Assist in Unpacking.
Loading and Unloading Services
Have you rented a moving truck and want to drive it yourself while moving from Los Angeles to Colorado, but you will still need the services of professional movers to assist you with loading and unloading?
When it comes to loading and unloading, Born To Move is here to help. There are a lot of details to take care of when moving to a new place; instead of worrying about the big stuff, why don't you kick back and let our movers handle it? Hire our movers from Colorado to Los Angeles if you need help loading or unloading the vehicle.
Our trained movers are here to help you every step of the way. Our incredible crew of movers has undergone extensive training and possesses a high degree of expertise; they will load and unload securely and efficiently.
Moving Insurance
You can trust that Born To Move will take as much care in moving your valuables as you do because our movers understand how important they are to you. Although we take great pride in our proven track record, we are well aware that accidents can and do happen. That's why we offer a thorough moving insurance plan to all our customers who are relocating from Los Angeles to Colorado.
If any of your belongings are lost or broken during your Colorado relocation, you will be compensated according to our coverage.
If you need movers from Colorado to Los Angeles, please contact us today for a free moving quote. The final price will not include any hidden costs. We do not add any extra cost to the base moving price to Colorado, such as mileage, tolls, or gas.
Our hourly rates include all other charges:
Labor & Equipment
Floor Protection
Wrapped Furniture
Tolls
Taxes
No Additional Fees
Fuel Charge
Safe Delivery
Guaranteed Price
Movers from Los Angeles to Colorado
Our Moving Company is fully licensed and insured!