| Size of the move | flat price range |
| --- | --- |
| studio | $1,500 - $1,800 |
| small 1 bedroom | $1,800 - $2,200 |
| large 1 bedroom | $2,200 - $2,600 |
| small 2 bedroom | $2,200 - $2,800 |
| large 2 bedroom | $2,800 - $3,000 |
| 3 bedroom apt | $3,000 - $4,000 |
| 2 bedroom townhouse/house | $3,000 - $4,000 |
| 3 bedroom townhouse/house | $3,500 - $4,500 |
| 4 bedroom townhouse/house | $4,000 - $6,000 |
| 5+ bedroom townhouse/house | starting from $5,000 |
delivery time range
next day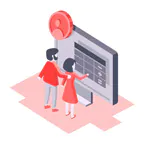 Online and On-site
Free Estimates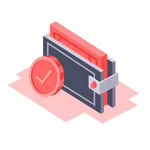 Affordable Rates
and Discounts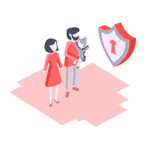 Fully Licensed
and Insured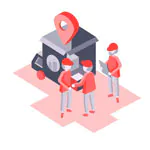 Professional Moving
Crew
The four-hour drive from Los Angeles to Las Vegas can be easy, especially along I-15 and with the prospect of the bright Las Vegas Strip waiting for you. But what if you decide that moving from Los Angeles to Las Vegas is the next step in your life?
Considering the logistics attached to such a task, it can be stressful for someone who's not a mover. You're essentially relocating your entire life somewhere new. The good news is, for those who want to avoid any of the potential issues associated with moving, the Born to Move moving company can help with your transition to Las Vegas.
Whether you decide to be your own mover or get one of the best movers from LA to Las Vegas, this will be a good guide to determining what you need so you can plan everything properly.
Moving from Los Angeles to Las Vegas? Here's What You Should Consider
Whether you're going to be relocating from Los Angeles or Las Vegas, you will need to address the following prior to the moving day. Here's a glimpse of what it takes to be a mover:
Las Vegas homes tend to be bigger. So, if you're moving from LA, if the square footage will be bigger, you might want to get more stuff.
You're your own mover, so you might as well start organizing at this point. Having a fairly precise description of the move size will also help you through the other steps you need to go through before moving.
A professional mover will always have various packing supplies like boxes, wrapping materials, tape, and other things that you'll need to secure items for moving. You'll want to have enough (and a little extra!) for everything and not too much that you end up wasting money.
Depending on what needs to be packed and/or wrapped, the price can be a bit high here. Like a good mover, perhaps you can improvise by using clothes and other appropriate materials as a cushion.
As for the vehicle that you'll use to get to Los Angeles or Las Vegas, a good mover will know how to select the perfect size. This will keep things from moving while in transit.
The cost of doing everything on your own is your labor. As your own pro-bono mover, assess how much time you need to accomplish the task. Determine, too, if there are things you'll need help with, whether it's driving to Las Vegas or picking up moving supplies from the store. If you have a company to delegate responsibilities to, things will get a lot easier.
If your Las Vegas or Los Angeles abode is not yet ready, identify a location where you, the mover, can temporarily store your belongings. You should also think about this if there are items that won't fit in your home. Compare the cost of a storage unit in various places to get a good deal.
These are just a general description of what you'll need to do even before you get behind the wheel on your way to Los Angeles or Las Vegas. But with the Born to Move Moving Company, you'll get access to one of the best movers from Los Angeles to Las Vegas. You'd be free from these concerns!
Benefits of hiring our Moving Company
Moving is a daunting task, especially if it's to a different state. So, whether you're moving to Los Angeles or Las Vegas, know that every mover who will help you is highly trained and highly experienced. But how are we better than any other moving company?
We're Fully-Licensed and Fully-Insured
This isn't some underground deal where the mover is some shady movers from Craigslist. Because we're licensed, it means that we can actually fulfill the jobs expected of a qualified mover. And because we're insured, our company can reimburse you for any damage to your items while they're in our care.
This means each mover under our employ has a financial incentive to protect your items as you move to Las Vegas from Los Angeles or the other way around.
We Have a Meticulous and Proven Damage Protection Process
Every mover at the Born to Move moving company is trained to handle your items in a particular way. In our years of building our reputation in the moving industry, we've become experts at protecting your belongings at every step of the process. Our mover will:
Disassemble furniture to prepare it for wrapping;
Select the right wrapping material for your furniture;
Meticulously wrap each piece to cushion it from bumps and scratches;
Pack and label boxes using loose-fill packaging or any appropriate alternative;
Carefully pack the items in the truck the mover brought to minimize moving while on the road;
Unload each box and furniture piece inside your new place in Los Angeles or Las Vegas;
Unpack the boxes and unwrap each furniture part, checking to verify that there's no damage;
Reassemble the furniture for our moving team to place it where you want.
We Have Affordable Moving Rates
Our movers from Los Angeles to Las Vegas don't work on an hourly basis when moving out of LA. For long-distance moving, you'll get a fixed price when you call up for a quote. This will already include the full package! Gas, tolls, miles, and mover fees are not charged as extras.
This will allow you to arrange financial matters related to moving more easily. Should you want us to bring packing materials, we can provide them cheaply! Just give us a clear picture of your move size, and we'll do the estimation for you. Once you give us a full list of the inventory, we can provide you with a Flat Price for your Move to Las Vegas. On average, our Customers pay $3500 to move a 1 bedroom apartment to Las Vegas. Please use our online calculator to submit your list of items and get an accurate quote. Delivery to LV will happen on the same day or next day depending on your preference.
We're Experts in Moving Long-Distance
Even though getting from Los Angeles to Las Vegas is hard if you're not a mover, it's very easy for us. Our customers are highly satisfied with our services because of the great reviews on online platforms! Check them out!
With our experience moving between even greater distances, we know every challenge that every long-distance mover may face. For example, Las Vegas is hotter than Los Angeles. This means addressing the temperature difference to prevent excessive humidity and heat from ruining valuable paintings. Movers also have to switch a few wet T-shirts when unloading in Las Vegas.
Ready for Las Vegas Living? Our Moving Company Will Help Make It Your Reality!
Moving to Las Vegas brings you the thrill and excitement that the city is so famous for. But with the beautiful homes just far enough from the strip, you can also have a quiet family life.
Let a Born To Move Moving company from Los Angeles to Las Vegas help you with this dream! Your free quote is available on demand. We'll help make your first day living in Las Vegas a dream come true as we take care of all your moving concerns.
Movers from Los Angeles to Las Vegas
Our Moving Company is fully licensed and insured!