| Size of the move | flat price range |
| --- | --- |
| studio | $5,200 - $5,700 |
| small 1 bedroom | $5,400 - $6,200 |
| large 1 bedroom | $5,500 - $6,400 |
| small 2 bedroom | $5,800 - $6,800 |
| large 2 bedroom | $5,900 - $6,900 |
| 3 bedroom apt | $7,000 - $8,000 |
| 2 bedroom townhouse/house | $7,000 - $8,000 |
| 3 bedroom townhouse/house | $7,500 - $8,500 |
| 4 bedroom townhouse/house | $8,500 - $9,500 |
| 5+ bedroom townhouse/house | starting from $8,800 |
delivery time range
2-3 days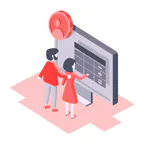 Online and On-site
Free Estimates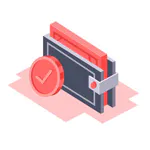 Affordable Rates
and Discounts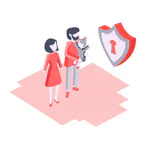 Fully Licensed
and Insured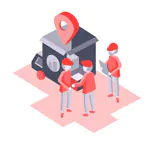 Professional Moving
Crew
Separated by nearly 2,000 miles and at least 27 straight hours of driving, driving between Los Angeles and St. Louis is challenging. But if you're going to be moving with the entire family, it may be downright impossible without professional help.
With Born to Move's movers from St. Louis to Los Angeles, you don't have to deal with issues related to your move. Keep reading and explore the possibilities of moving long-distance with a fully-insured and fully-licensed company.
Movers from St. Louis to Los Angeles from Born to Move: The Smart Choice
Long-distance moving poses a lot of challenges that non-professional movers may not be equipped to face. This is especially true when the relocation distance is thousands of miles, like with St Louis and Los Angeles. Before and during the moving process, DIY-ers may encounter the following:
Planning Difficulties. Long before your moving date to St. Louis, you have to make sure that every last detail is set. Unfortunately, many DIY movers don't know what to include in the planning stage.
Materials Sourcing Issues. You'll have to rent a vehicle and any special equipment needed to make moving easier. But how do you know you're getting the right one for your moving needs to St. Louis? And are you getting a good price?
Labor Shortage. It's not always an issue of whether there are other fellow DIY movers willing to help out. It's also important that they have the skills to do things right.
Sadly, many non-professional movers don't realize the potential obstacles until it's too late. That's why you shouldn't leave things up to chance, especially when moving long distances.
As a moving company with a good reputation in LA, St Louis, and everywhere else in the country, we know what it takes to deliver customer satisfaction every time. The cost of even the slightest error from your hired movers can lead to expensive delays later on.
So, if you want moving between Los Angeles and St. Louis to go smoothly, go with Born to Move. Here are some reasons you'll love working with our movers:
Long Distance Moving Expertise
Moving within St. Louis or Los Angeles is relatively easy. You're already familiar with the area, allowing you to feel more empowered to do it yourself instead of hiring professional movers.
But, like most people, you're probably not that familiar with the I-40 and I-44. You probably never had to make sure your stuff doesn't get damaged by the weather while in the fast lane. How about trying to address last-minute changes beyond your control while also accounting for a truck full of items?
The longer the distance, the more things can go wrong with moving. But with our army of capable movers doing the heavy lifting for you, getting everything to St Louis safely is a breeze. We'll make the right moves for you so everything happens as efficiently as possible.
Cost Affordability
Getting highly-rated movers is never out of reach with Born To Move. Despite the excellent credentials of our company, our moving rates are still very competitive.
If you need long-distance movers to help you get to Los Angeles or St. Louis, we will charge a fixed price instead of an hourly one. This already includes the following:
Moving truck selected based on your move size
Two movers (more may be assigned, depending on your budget)
Fuel charges
Toll
Miles
Equipment usage
Other miscellaneous fees
We want to make it easy for you to prepare financially for moving to St. Louis from Los Angeles or the other way around. That's why we made our rates predictable and affordable.
Company Commitment to Excellence
Our movers aren't just going to bring your stuff from Los Angeles to St. Louis. At Born to Move, we care deeply about getting your precious belongings to you with zero damage.
And to minimize the odds that something unwanted will happen while in transit, we follow a strict moving process that involves:
Carefully disassembling and wrapping each furniture part
Loading them (along with your other boxes) into the truck
Unloading everything in your St. Louis abode
Unwrapping each part, ensuring that nothing got damaged
Reassembling your furniture
For our professional movers, every item is valuable. Rest assured that we'll provide the utmost care and not rush the job.
Moving from LA to St Louis? Here's What We Can Do for You
Our company understands that the moving services clients require may change based on certain factors like move size and budget. And to help you get the best combination of value and service for the price you pay, we offer the following options:
Los Angeles Packing Services
Especially true if you booked our movers to St. Louis at the last minute, you probably don't have enough time to take care of pre-moving essentials like packing. Don't worry. We'll help you pack everything (clothes, kitchenware, and everything else!) on the day itself. We can make sure that:
Every item is fully-protected in each box
All boxes are optimized for quick moving
There's sufficient structural support, so nothing gets damaged
All we ask is that you tell us in advance of your move to St. Louis. This ensures that we can provide ample time to do the job right. If needed, we can also bring packing materials with us for an affordable cost.
St. Louis Residential Moving
Want a new beginning outside of Los Angeles? Our talented movers are here to make the transition as easy as possible.
Following our strict moving process, your decor, furniture, and other items will be left unscathed by the roads from Los Angeles to St. Louis. We also accept bookings from St. Louis to Los Angeles. Whether it's a small apartment or a prestigious mansion, our team always performs and delivers.
Moving Between Commercial Spaces
To do our jobs efficiently, Born to Move uses a lot of equipment. That's why our movers truly understand the value of capital investment in a company.
Our team will handle each electronic or delicate piece of equipment carefully, ensuring that they're in their original condition when they get to their location. We'll also try our best to work around your operating hours, helping keep productivity up the entire time.
And so that the staff can return to business as usual right away, we'll arrange all furniture and equipment based on your preferred interior design. If you need commercial storage, our team will also provide you with a custom plan as well.
Moving and Storage
If your place in St. Louis or Los Angeles isn't ready yet, consider using one of our high-tech storage facilities. Each storage unit is temperature and humidity-controlled, ensuring that your items are protected against unfavorable weather conditions.
Our rates for monthly storage start at $150. But if you need a shorter-term rental, please feel free to inquire about that as well.
Moving Is Easy with Our Movers from Los Angeles to St. Louis
Moving long distance doesn't need to rob you of your precious time and energy. With Born to Move, your relocation to St Louis from Los Angeles (or the other way around!) will go as smoothly as possible.
Join our long list of happy clients. Fill out our form on the site or call (617) 903-2609 to inquire, get a quote, or book your St Louis move today!
Our hourly rates include all other charges:
Labor & Equipment
Floor Protection
Wrapped Furniture
Tolls
Taxes
No Additional Fees
Fuel Charge
Safe Delivery
Guaranteed Price
Movers from Los Angeles to St. Louis
Our Moving Company is fully licensed and insured!