| Size of the move | flat price range |
| --- | --- |
| studio | $4,800 - $5,200 |
| small 1 bedroom | $5,000 - $5,500 |
| large 1 bedroom | $5,000 - $6,000 |
| small 2 bedroom | $5,000 - $6,000 |
| large 2 bedroom | $5,500 - $6,500 |
| 3 bedroom apt | $6,000 - $7,000 |
| 2 bedroom townhouse/house | $6,000 - $7,000 |
| 3 bedroom townhouse/house | $6,000 - $7,500 |
| 4 bedroom townhouse/house | $6,500 - $8,500 |
| 5+ bedroom townhouse/house | starting from $7,500 |
delivery time range
2-3 days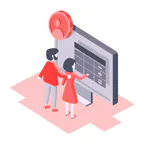 Online and On-site
Free Estimates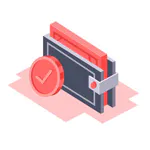 Affordable Rates
and Discounts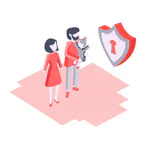 Fully Licensed
and Insured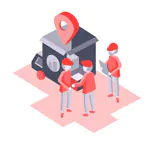 Professional Moving
Crew
Moving to Wyoming or Los Angeles likely means you've done some investigation on the top local moving companies to ensure a smooth relocation. Whether you're a seasoned pro or a total newbie, moving on your own is always a little bit of an adventure. In contrast, our movers from Los Angeles to Wyoming at our bonded and insured moving company provide comprehensive services at reasonable prices. The greatest professionals on a professional team can handle moves of any complexity, whether they're local or long distance, quickly and easily while keeping their work area clean and tidy.
Finding a truly professional moving provider
It is highly recommended that you choose someone with several years of expertise in the field while moving to Wyoming or Los Angeles. All this should go hand in hand with the proficiency of Born to Move movers and the positive reputation the company enjoys among its clients. We have found that the following characteristics are common among reputable moving companies.
Considered on a case-by-case basis
During a move, our Los Angeles movers may experience both foreseen and unforeseen challenges; as a result, tailoring our approach to each customer is essential, whether they are relocating from Los Angeles to Wyoming.
Born to Move company offers a wide variety of moving and storage options
Our movers from Wyoming to Los Angeles and seasoned coordinators agree that a top-tier supplier of relocation services should be able to provide a laundry list of services to ease the stress of moving anywhere in the world. Typically, the services are provided by a team of skilled movers that work together to ensure a smooth move to Wyoming or Los Angeles.
Pricing estimates are provided free of charge
All rates should be openly listed, and reputable moving firms always provide free estimates to potential consumers. Los Angeles movers are available anytime, so feel free to call and ask for free quotes whenever you're ready to start your move's budget.
Discreetly low rates that aren't out of reach
A reputable fully licensed, and insured moving company should provide relocation services at affordable prices, with no surprises. Individuals moving within the same state or locally are often paid on an hourly basis, whereas those moving to a different state or over vast distances are typically given a final quotation depending on the relocation services they chose and the number of things to be packed and carried.
Our Wyoming-based moving company is proud to announce that our supplier boasts all of the aforementioned qualities, as do our expert movers in the Los Angeles area. Thus, we are able to supply our clients with comprehensive services that can accommodate even the most specialized needs of those visiting Wyoming or Los Angeles.
Why should you use a reputable and experienced moving company?
If this is your first time using a professional moving service, our movers and experts in Los Angeles and Wyoming want to make sure you know why it's in your best interest to work with us:
The rates are significantly reduced. If you try to relocate to Wyoming or anyplace else in the United States on your own, you can find yourself spending more money than you need to cover all of the expenses involved. Our expert movers in Wyoming, on the other hand, have extensive knowledge of what equipment and materials they will need to successfully complete a move. Furthermore, our full-service moving company always gives customers straightforward costs regardless of how they choose to get the final cost, so you know exactly what you're paying for.
Multiple jobs are being finished at once. Many of the responsibilities involved in moving your residence ready for a move to Wyoming or Los Angeles may be handed off to professional movers in my area. Our expert movers provide dependable packing services, including the use of free packing materials and the ability to properly pack your items to prevent damage during transit as well as the ability to disassemble any furniture that has to be taken apart. They need to exercise extreme caution, therefore they bring a broad variety of tools and equipment to the task of dismantling and reassembling heavy, fragile furniture. Skilled movers from Los Angeles to Wyoming routinely use blankets as an extra precaution while transporting furniture.
The transport of your items will occur without incident. Working with a moving agency that provides professional assistance from expert movers is highly recommended if you want to prevent the hassle of your important belongings being lost or seriously damaged during shipment. Professional movers work for move businesses because they know how to carefully transport fragile objects like televisions, computers, and stereos, as well as bulky pieces of furniture and other household goods. As previously said, they are also capable of moving any type of furniture.
The movers will also take care to safeguard your valuables by employing high-quality packing materials and state-of-the-art gear. This will prevent any harm from coming to your stuff. You may rest easy while moving that if anything gets broken during the move to Wyoming or anywhere else, you'll have a number of insurance policies to choose from. Consequently, you may be certain that there is nothing to worry about.
There is so much to look forward to when moving to a new location that the transition can feel like a whirlwind, whether you're moving from Wyoming to Los Angeles or somewhere else completely. Even though there may be a lot to think about, one of the most crucial stages in having a good move is knowing what to expect from the relocation company. This is one of the most vital things you can do to ensure a successful transfer. In Los Angeles, our qualified and highly experienced movers will ensure a smooth transition to your moving home.
Where do I even begin when looking for professional movers like Born to Move?
The first step in any transfer to LA is for our skilled and experienced movers to provide a free estimate of the overall cost of the move. All prices must be clearly displayed, per the policy. This is done with the understanding that moving is a multi-step procedure. Our moving company provides free quotes for movers from Wyoming to Los Angeles via two convenient methods: an on-site estimate and a convenient online calculator. You can do either of these. If you choose the second option, you'll have to provide the following details on a form:
Our movers offer a wide range of services, and we detail them all below.
Relocation scheduled date.
Destination (LA, Wyoming, or any other area in the US).
When you're done with the form, an immediate computation will calculate how much it will cost to relocate to Wyoming based on the information you provided. Please remember that the total value of your forthcoming move may also be affected by the number of things our expert movers need to pack.
It was also advised that you may contact our professional movers as the main plan. In order to do an inventory count, our expert service will send movers to your place at your earliest convenience. The quantity of items to be packed and moved may then be estimated, and a moving truck of a suitable size can be reserved for your move.
Our hourly rates include all other charges:
Labor & Equipment
Floor Protection
Wrapped Furniture
Tolls
Taxes
No Additional Fees
Fuel Charge
Safe Delivery
Guaranteed Price
Movers from Los Angeles to Wyoming
Our Moving Company is fully licensed and insured!