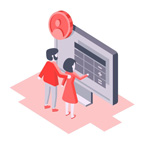 Online and On-site
Free Estimates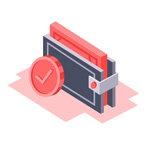 Affordable Rates
and Discounts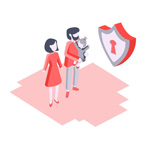 Fully Licensed
and Insured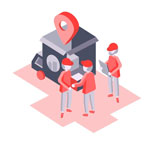 Professional Moving
Crew
The East Coast is a great place with lots of beautiful cities and landscapes. The same goes for the variety of climates — you can experience a really snowy winter in Maine, but be prepared to sunbathe in Florida.
Of course, you can take a short vacation in any of these places, but long-term relocations can become a real mess — all your things won't just transport themselves. If you're moving, you have two options — start a stressful and time-consuming relocation, or call movers to help. The second option is not as extraordinary as you might think. For example, the Born to Move company provides a service for a reasonable price in addition to a specified schedule. Let's use the example of moving from Maine to Florida to show you how everything works.
A Moving Company: A Useful Relocation Tool
There are a lot of companies that provide services that most people do themselves. For example, cleaning or food delivery from grocery stores. Nowadays, there is no need to waste time — there are people whose job is to do such routine chores.
It is true of moving too. If you are planning a relocation, you do not need to move things on your own. Even a short trip to another part of the city has the potential to become a mess. When you hire movers from Maine to Florida, there will be no problems at all. They are experienced specialists who know everything about fast and quality moving. Movers also have various instruments to protect the cargo and transport it in the most productive way possible. And these services don't cost that much — prices start from $140. As a bonus: there's no extra charge for gas, tolls, or miles.
The Born to Move company has been operating on the market since 2013. During this time, our movers gained a good reputation along with lots of positive reviews. The services are also guaranteed by various licenses and insurance policies.
As you can see, the moving service is a good option to make your relocation easier with no high costs, not just in Maine or Florida but across the whole country.
Services: A Whole Relocation Complex
Movers from Maine to Florida don't just deal with transporting things from one place to another. They offer a complex of various services that the company can provide to its customers.
Basic moving includes traditional relocation. Movers use specialized trucks with large loading capacities. You can get all your things packed up in just a couple of such vehicles.
The other important part of moving is the safety of the cargo. Movers wrap all your belongings with a protective film. Special materials guarantee protection from physical impact. Even a ride across the East Coast will be no problem.
Some things are just too wide and heavy to be loaded into trucks. For example, specific pieces of furniture like sofas, beds, and wardrobes can be quite difficult to transport. In that case, movers will disassemble these pieces to create an effective transportation schedule. After getting to the finish point of your journey in Florida, the movers will reassemble everything.
There are also some additional services you can acquire for a move from Maine to Florida — White Glove Moving and storage. The first one is about the total protection of extremely fragile things like antiques. With the second, you can keep your things in storage for a specified period of time.
Moving Schedule: No Time for Trouble
Below you can see a regular schedule for clients who want to relocate from Maine to Florida.
The same goes for the opposite direction from Florida to Maine.
First, the client creates a moving order. During the conversation with our manager, basic information about moving is specified: time, date, cost, services, etc. Be sure to voice everything you need our movers from Florida to Maine will try their best to help you
Then, the journey starts. The movers wrap things with protective wrap, disassemble large objects and load everything in moving boxes. The boxes will be placed in moving trucks. At the end of this stage, the movers start driving to the destination point (Florida or Maine)
During the trip, the movers will store your belongings if necessary. Then, when the time comes, they will start moving
At the final destination point in Maine or Florida movers, will unload, unwrap and assemble everything. The only thing you will need to do is to enjoy your new home!
Conclusion
We hope this information about movers from Florida to Maine was helpful. Be honest with yourself and seek new opportunities in new frontiers. The Born to Move company will help you every step of the way.
Our hourly rates include all other charges:
Labor & Equipment
Floor Protection
Wrapped Furniture
Tolls
Taxes
No Additional Fees
Fuel Charge
Safe Delivery
Guaranteed Price
Movers from Maine to Florida
Our Moving Company is fully licensed and insured!