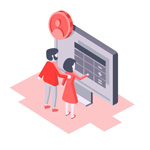 Online and On-site
Free Estimates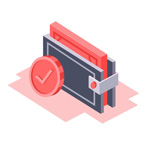 Affordable Rates
and Discounts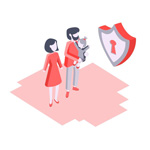 Fully Licensed
and Insured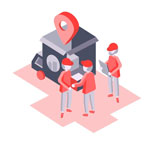 Professional Moving
Crew
The end result of hiring movers is a stress-free relocation, and with the right movers from Chicago to Naperville, you can rest assured that your move will be done quickly and safely. Professional movers are experienced in the moving business and have specialized tools and techniques to ensure your belongings are packed up securely, transported safely and delivered on time. They also possess valuable knowledge of the local area which can help to find shortcuts or avoid traffic jams for an efficient move. With movers from Chicago to Naperville providing insured services, you have peace of mind knowing that all your items are protected should any damage occur during transit. So if you're looking for a smooth relocation process, consider enlisting the genuine moving pros from Born To Move moving company guaranteeing fair price and superb quality.
Why is it better to hire reliable and trustworthy Chicago to Naperville moving company?
Professional and insured moving company not only saves you time and effort but also provides crew members who are well-trained and experienced, which helps guarantee that your personal belongings are handled with the utmost care. We have highlighted a few crucial aspects of why hiring a team of professional movers from Chicago to Naperville is more cost-efficient way than performing a DIY move:
Less work. Hiring professional movers in Chicago, IL means they will handle the actual transportation element, including locating parking, loading their truck, and delivering everything to your destination. This is true even if you do not splurge for packing or unpacking options.
Higher productivity. Unless you are yourself a skilled expert, you just do not have the same level of experience or knowledge as a moving business that has years of industry experience. They are quite effective and are familiar with the appropriate methods for lifting and moving items, which will help the relocation from Chicago, IL to Naperville process go much more quickly. What could take you four to five hours, a crew of two people can finish in just two hours.
Increased expertise. If you are working with a professional moving company, the movers are likely to have a wealth of knowledge on all aspects of Chicago, IL to Naperville relocation process. They will be aware of the best roads to use, any road closures, difficult parking circumstances, how to manage a huge truck, the best method to stack your boxes, how to navigate tiny passageways and sharp curves, and a great deal more. They will be able to help you move your belongings more efficiently. They relocate nearly every day, so if you have any queries regarding the procedure, they will be able to provide you with an answer.
Additional services are something that the majority of moving firms provide for their customers. There is a natural increase in cost associated with them, but in exchange, you may pay for options such as packing and unpacking, storage, and even packing supplies.
By using the assistance of our safe and insured moving company in Naperville that offers a comprehensive range of alternatives for a good price, you may prevent unforeseen complications, such as the destruction of your belongings due to incompetent packing or an accident involving a truck or a car. If you hire experienced movers from Naperville to Chicago, you will not have to worry about being hurt or straining your back during the move as you would if you tried to do it yourself.
Stress-free Chicago to Naperville move ensured by experience and knowledge of skilled movers
When you rely on the assistance of proficient moving coordinators that provide all necessary options for transfer, whether from Chicago, IL to Naperville or from Naperville to Chicago, you can be assured that your belongings will be treated with quality and care. When it comes to packaging goods and putting in place am advanced inventory system, the majority of relocation providers make use of the most recent technological and business breakthroughs.
You will not have to worry about any headaches or problems throughout the transfer, which is the most crucial benefit. There is no need to entice friends and relatives with pizza, and there is no need to worry about breaking your fragile belongings while moving. Moving is a difficult and highly demanding procedure that should not be done by one person alone if at all possible. If you hire movers from Naperville to Chicago operating at our Born to Move moving company who provides cost-efficient and hassle-free Naperville to Chicago moving, your chances of having a move go well will be increased.
Our hourly rates include all other charges:
Labor & Equipment
Floor Protection
Wrapped Furniture
Tolls
Taxes
No Additional Fees
Fuel Charge
Safe Delivery
Guaranteed Price
Naperville Movers
Our Moving Company is fully licensed and insured!