Imagine a place where community charm meets small-town tranquility– a place that offers a unique blend of close-knit community and the perks of modern living. Welcome to North Andover, Massachusetts, a hidden gem nestled in the heart of Essex County. With a population of over 30,000, this picturesque town has captivated residents and visitors alike with rich history, natural beauty, and an abundance of local coffee shops and parks. If you're considering a local move to North Andover, Born to Move can help!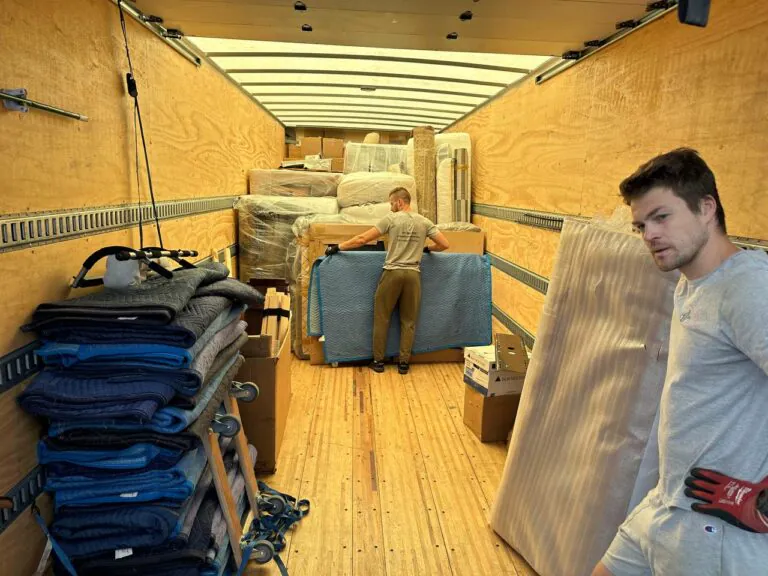 Why Choose Us
If you're seeking a trustworthy and experienced local moving company in North Andover, look no further than Born to Move. With a stellar 7-year track record and a multitude of satisfied customers, we have garnered thousands of glowing reviews that speak to our commitment to excellence. Our team of highly skilled professionals is dedicated to ensuring a smooth and stress-free moving experience for every client. From meticulous planning to efficient execution, we prioritize the utmost care and attention to detail in handling your belongings. When you choose Born to Move, you can be confident that every detail of your move is taken care of, allowing you to concentrate on mapping out your new journey to North Andover!
Licensed and Insured Movers North Andover
Hiring a professional moving company is of utmost importance for a seamless and secure moving experience; tasks and stress can quickly pile up if you attempt the moving process on your own. As a licensed and insured moving company, you can rest assured that Born to Move has met all industry standards and regulations, providing essential protection and ensuring that any damages or losses incurred during the moving process are covered. Our goal is your peace of mind!
How We Work
No matter the distance of your move, be it a short hop down the street or a cross-town adventure, the process of moving can be overwhelming. Born to Move understands the intricacies involved and has perfected a meticulous and streamlined process to simplify your experience. With our reliable and well-coordinated team, you can trust us to handle every aspect of your move from start to finish:
24 hours before moving day, we'll send you an email with an estimated arrival time, usually around 9 AM or 1-3 PM. On moving day, we'll call you 30 minutes before we arrive to let you know we're on our way.
Our experienced and well-trained North Andover movers will arrive at your residence and take every precaution to protect your belongings, from the smallest knick knacks to the largest furniture. We disassemble beds and bed frames, protect mattresses with mattress bags, securely wrap furniture with moving blankets, padding, and shrinkwrap, and take the time to strategically place boxes and heavier items in the truck, strapping them down to prevent any shifting during transit.
Once everything is safely loaded into the truck, we'll drive to your destination.
When we arrive at your new home, our team will begin unloading your belongings and reassembling your furniture with great care. We'll work closely with you to place everything exactly where you want it, ensuring that your new space feels like home from day one. At your request, we will also utilize floor runners to protect your carpet or hardwood.
After we finish the job, we will tidy up the space and collect payment, signing the necessary paperwork to confirm the move's completion. We offer multiple payment options including check, credit/debit, or cash.
Congratulations! Your move will be complete!
What Services We Provide: Local, Long Distance, and Piano Movers
Born to Move offers a comprehensive range of services to cater to diverse moving needs. We specialize in local, long distance, and piano moving services. Whether you are relocating within your North Andover neighborhood or embarking on a cross-country move, our dedicated team of professionals is equipped to handle all aspects of the process, ensuring a smooth and efficient transition. Additionally, we have the expertise and specialized equipment required to handle the delicate and unique requirements of piano moving, guaranteeing the safe transportation of your prized instrument. Whatever your moving requirements may be, you can trust Born to Move to get the job done!
How Much Does it Cost to Move Locally?
We understand that local moves come in all shapes and sizes, and that's why our hourly billing system offers a tailored approach.
Starting at $140 for two movers, $190 for three movers
And $240 for four movers, our rates cover every aspect of your move—from the moving truck and fuel to packing supplies and essential tools
With Born to Move, you can rest assured that our pricing is transparent and fair, ensuring no surprises or hidden fees!
Ready to experience a seamless move to or from North Andover, MA? Contact Born to Move today for a free quote!
Our hourly rates include all other charges:
Labor & Equipment
Floor Protection
Wrapped Furniture
Tolls
Taxes
No Additional Fees
Fuel Charge
Safe Delivery
Guaranteed Price
North Andover Movers Local Movers
Our Moving Company is fully licensed and insured!