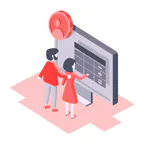 Online and On-site
Free Estimates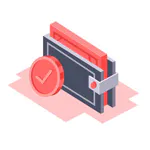 Affordable Rates
and Discounts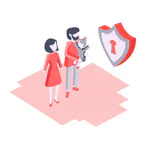 Fully Licensed
and Insured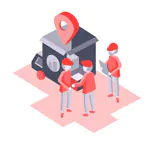 Professional Moving
Crew
Like most people, after a long day, you probably just want to lie down and relax. We're pretty sure you'll feel the same after a long day of moving to or from Los Angeles, California. But getting to your new place isn't the end of the moving process. You still have all these boxes to unpack.
In the same way, moving actually starts with packing. Many DIY movers consider this the most tiring part because it's so hard to plan. Before moving, you'll still need a lot of items in the house. And because you can't finish packing everything yet, you're forced to cram the night before moving.
Here's where Born to Move's packers and movers come to the rescue. You don't have to concern yourself with these issues when you prepare for your move to or from Los Angeles. With a full packing service from a fully licensed and insured company like ours, you have everything taken care of already.
Los Angeles Full Packing Services: Great for All Your Packing and Moving Needs
No matter what the surrounding conditions may be for your LA move, the packing will always be a huge obstacle. The task of packing isn't as simple as putting your things inside boxes. Like with moving, there's also a lot of planning involved. You'll have to think about the following:
what kind of items you have
how many of them are ready for packing
what materials you need
how you're going to start with packing
when you will start doing it
We understand that there are so many factors preventing you from doing a great job. For any reason you believe you need our movers and packers for your move to or from Los Angeles CA, Born to Move is here.
Moving to a Residential Los Angeles Location
DIY movers in LA and the rest of California usually experience a lot of stress, even weeks before their moving day. This is especially true if you don't have people helping you out.
If you don't want to deal with how time-consuming this part of Los Angeles moving can be, our expert packers can have all your things ready for loading in the truck. On the day itself, you're free to leave everything as is for our packers to organize.
Services for Commercial Moving
Are you moving your office or your business to a high-traffic location in LA? Our expert packers can help make it happen. Born to Move's top movers and packers can take care of everything from customized furniture to big equipment to fragile displays.
With our help, you can focus on bringing in more money to your business. Our packers will make sure that on the next business day, even the most sensitive electronics will still be in top condition.
Packing Materials Available Too
Our packers and movers will happily do the job using the materials that you provide. But if you're not sure how much of each material our packers will need, our company can provide these for a reasonable price.
All we need to know is your move size. Feel free to tell us any other information that you think is relevant. From there, we'll estimate how much of our materials our packers will need on your move to or from Los Angeles. The movers assigned to you will bring these on the day itself.
Moving and Packing: A Highly Recommended Combo of Services
We're always happy to accommodate customized requests whenever possible. But for your convenience when moving to or from Los Angeles, we strongly recommend hiring our packers in addition to our moving services.
By doing so, you're guaranteed excellent services throughout. More importantly, there's no downtime since we coordinate all moving activities. For you, this means getting everything moved to your place in Los Angeles as quickly as possible with no effort on your part.
Packing and Moving Company Expertise for Los Angeles Moving from Born to Move
Each packing service we've discussed here requires meticulous planning and flawless execution. Because of how big a part a full packing service plays in the success of your moving, you shouldn't chance it with an untested moving company.
Born to Move is a packing and moving company that can reliably deliver top-notch services. If you want to guarantee your satisfaction, hiring our movers and packers is the safest bet there is.
Packers and Movers with Experience and Expertise
Anyone who's ever hired our movers knows just how serious we are about ensuring that your stuff doesn't get damaged. That's why when moving, we employ a meticulous process that involves disassembling and wrapping furniture parts, loading and unloading everything in the moving truck, then unwrapping and reassembling everything afterward.
Rest assured that our packers will practice the same level of care in handling your items for your Los Angeles move. As part of our packers' services, we will:
determine which items go together in boxes
make sure that each box is light enough for efficient transportation to or from the truck
reinforce each box to ensure it can withstand the pressures of road bumps and other potential causes of damage
protect fragile items with wrapping paper and bubble wrap
label everything to ensure quick and organized unpacking
Our goal is to make you feel at home once you get to or from your location in Los Angeles. This way, you can relax and prepare yourself for other tasks that you may have.
Company Transparency
As part of promoting excellence, Born to Move will always give you all the information you need. This helps set realistic expectations from our movers based on your budget and the services you want.
We'll be clear about inclusions and exclusions concerning your Los Angeles move. This principle of transparency applies to all services we offer, including packing.
Moving and Packing at an Affordable Cost
If it's a long-distance move, our movers are available at a fixed cost. Meanwhile, we charge an hourly rate for shorter moves. No matter what the distance, the rate will always already include the following:
fuel charges
toll;
miles
truck usage
floor protection
labor of movers
timely delivery
The price for our movers to pack is the same as your hourly charge. Please reach out to get an estimate of how long the packing will take.
Packers and Movers in Los Angeles, CA, Are Ready to Go When You Are! Contact Us Today
Let us help make your relocation to or from Los Angeles as hassle-free as possible. Our packers can efficiently prepare your boxes for moving, ensuring that they're protected from damage while in transit.
So, once you've finalized your move date, book our Los Angeles movers and packers. Fill out our form or call (617) 903-2609 to get a cost estimate.
Packers and Movers in Los Angeles CA
Our Moving Company is fully licensed and insured!