| Size of the move | flat price range |
| --- | --- |
| studio | $4,800 - $5,200 |
| small 1 bedroom | $5,000 - $5,500 |
| large 1 bedroom | $5,000 - $6,000 |
| small 2 bedroom | $5,000 - $6,000 |
| large 2 bedroom | $5,500 - $6,500 |
| 3 bedroom apt | $6,000 - $7,000 |
| 2 bedroom townhouse/house | $6,000 - $7,000 |
| 3 bedroom townhouse/house | $6,000 - $7,500 |
| 4 bedroom townhouse/house | $6,500 - $8,500 |
| 5+ bedroom townhouse/house | starting from $7,500 |
delivery time range
2-3 days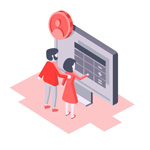 Online and On-site
Free Estimates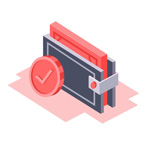 Affordable Rates
and Discounts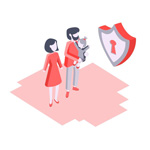 Fully Licensed
and Insured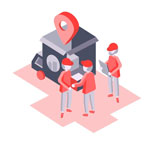 Professional Moving
Crew
Do you want to leave Los Angeles and settle down in Oregon permanently? If you need assistance interstate moving from Los Angeles to the state of Oregon, our moving company is here to help. Our movers from Los Angeles to Oregon make it simple for you to move from California to Pacific Northwest. We've been in the business of interstate moving for quite some time, and Oregon is on one of our regular moving routes Let our moving company prove to you how simple the moving process can be. We hire our most qualified movers from Los Angeles to Oregon, so your belongings are in good hands. Our professional moving company is fully licensed and insured. We can help you with any aspect of your move, from planning to packing and furniture disassembling to transportation and unpacking. We're here for you, so don't hesitate to contact our moving company whenever it's most convenient. You can count on us to help in any way we can. When you contact us, a moving consultant will be assigned to answer all your questions and give you the necessary information and quotes.
Why the idea of moving from Los Angeles to Oregon is so attractive
You are not the only one contemplating a move from Golden State to the Northwest. Studies have found that one out of every five people living in Oregon had a California birthplace. If so many residents of California are moving to Oregon, what is it about the Beaver State that has people from the Golden State so curious? Oregon is a desirable place to live due to its robust economy, plenty of outdoor recreation opportunities, variety of exciting dining and entertainment options, stunning natural beauty, and lower-than-average cost of living.
Silicon Valley may be in California, but Oregon is also home to its own tech hub, known as Silicon Forest. The cluster of innovative businesses that call the greater Portland region home are known together as Silicon Forest. More than 25 technology companies follow the lead of Intel, Comcast, Textronix, and IBM in this region. Nearly twenty thousand people in Oregon have jobs with Intel. Beaverton is also the site of Nike's multimillion-dollar international headquarters. This state is booming economically and is one of the fastest growing in the country because of these large corporations that have produced many new employment opportunities.
Although Californians enjoy year-round pleasant weather and sunlight, there is no real seasonal shift. But Oregon offers a varied environment, with scorching summers and cold winters for its citizens to enjoy. Oregon has a lovely climate year-round, despite the fact that its residents may be exchanging some of the state's famously sunny days for cloudier, wetter ones.
How to find movers from Los Angeles to Oregon
If you're planning a move from Los Angeles to Oregon, the first thing to do is pick a moving date. The next step is to select a reliable moving company from Los Angeles to Oregon. The quality of service and availability for long-distance moves varies widely across movers. This is why selecting a reliable moving service like Born To Move is crucial. Our expert movers from Los Angeles to Oregon going both directions have the experience and expertise to make even the longest moving a breeze. If you've already decided on a moving company, then you can start getting things ready to go. Born To Move provides packing services and unpacking to ease your transition. With all that has to be done during a move, Born To Move LA to Oregon movers are here to make things as easy as possible.
Our skilled movers will carefully pack your valuable possessions for the upcoming move and provide you with free quotations on our moving services. We provide no-cost, in-home estimates so that customers may have a better idea of how much time and energy will be involved in packing and moving their possessions from Los Angeles to Oregon. It's crucial to do some homework before booking a moving truck because there is a large selection of sizes available. Please include the following information so that we may accurately quote your moving costs:
Please explain the level of moving service you expect to receive.
The time limit for finishing up packing and relocating.
Locations of departure and arrival.
If you're moving from Los Angeles to Oregon, you can count on our movers to provide you with upfront pricing and excellent long distance moving service. Customers pay only for the services they use, such as packaging and moving. Call us today for a free estimate, and we'll do everything possible to get you moving in the right direction.
Moving from Los Angeles to Oregon: what to expect
If you're curious about the flat price of our Los Angeles to Oregon moving services, don't hesitate to get in touch with us.
Our moving company guarantees that not even the slightest damage will be visible on your possessions after our expert movers from Los Angeles to Oregon have transported them to your new residence. When customers arrange an appointment with us, we arrive on time with packing materials and all the necessary equipment and tools for the work. The movers are professionals that will get the job done quickly and efficiently as a team to minimize the amount of stress you feel on a moving day. Our trained movers offer full-service packing and carry a wide variety of boxes to ensure the safe shipping of your possessions. Big furniture items will be disassembled and wrapped in blankets by the movers.
As soon as everything is packed and ready to go, our movers should load the truck and drive. Our movers will carefully unpack your goods and reassemble your furniture once they reach your new location in Oregon. Customers in Los Angeles and Oregon are welcome to consult with our manager anytime for assistance in comprehending the logistics. Hiring professional movers to transport your belongings will save you a lot of money compared to DIY moving. Moving everything yourself to Oregon might cost more money. In any case, the best movers from Los Angeles to Oregon know how much packing supplies and other needs are required to keep the move operating smoothly and fast. Additionally, our flat prices are completely up-front, so our clients are aware of exactly what they are spending. Here is our prices below:
One bedroom – from $6500;
Two bedroom – from $7500;
Three Bedroom – from $8000.
Delivery to state of Oregon will take two business days. It's a 14 hours drive, so we usually deliver your items in 2 days.
Everything is included in a flat price that we provide, no additional charges.
Movers from Los Angeles to Oregon
Our Moving Company is fully licensed and insured!