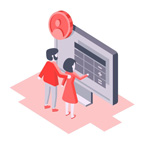 Online and On-site
Free Estimates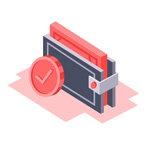 Affordable Rates
and Discounts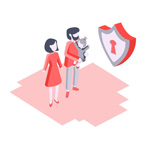 Fully Licensed
and Insured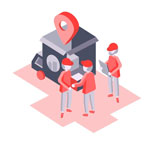 Professional Moving
Crew
Politics is probably the first thing that comes to mind when you think about Washington DC; there are a lot of people who think this way. If you're planning to relocate from LA to Washington DC, it is worth noting that the nation's capital is so much more than politics.
There are numerous historical monuments, museums, and attractions in Washington DC, many of which are open and easily accessible to the general public. Washington DC is home to various sports, games, parks, shows, attractions, and a wide variety of restaurants. It is understandable why more and more individuals are beginning to entertain the thoughts of a possible relocation to the nation's capital.
Hence, if you're considering moving to Washington DC from LA, you won't be leaving much fun and excitement behind because you will experience a whole new atmosphere. Why? Both cities are well-known for their distinctive features on a global scale. Even though both LA and DC are large cities, they are both unique in their own ways.
However, many people are becoming aware of the various ways in which DC outperforms LA, which motivates them to relocate. Also, if you're one of those movers from Los Angeles to Washington DC, you'll need the services of a reputable moving company, and this is where Born to Move comes into play.
Long Distance Moving from Los Angeles to Washington DC
One of the top interstate moving firms operating in Los Angeles is Born to Move. We are an excellent choice for your next move, whether short or long distance. There are several reasons for that:
We possess quality and experienced crew members who understand the intricacies of their job requirements and ensure that your belongings are handled with utmost care while moving. Our delivery is always on time because our years of experience have helped us discover faster and alternate routes to move your belongings from Washington DC to Los Angeles and from Los Angeles to Washington DC.
We are one of the most effective and efficient moving companies offering a variety of moving services across the United States and neighboring cities. We have established a good rapport with over 4,000 movers since 2015. We have delivered over 3,70 packages in just over 2,000 working days. We are a fully licensed and insured moving company that provides the best moving services that suit your needs. We carry out long-distance and local moving services and many other services you may require when moving from Los Angeles to Washington DC.
By using our services at Born to Move, you can stop worrying about how to pack, ship, and even store your items because we can take care of all of those tasks for you. We can assure you that we will only provide you with top-notch services after dealing with movers from thousands of homes and offices both locally and across state lines.
Born to Move Services in Los Angeles and Washington DC
A relocation from Los Angeles to Washington DC will not be easy if you don't employ the services of professional movers. If you're fully aware of the bustling life and traffic congestion in Washington DC, you will understand that there is so much to gain by simply sitting back and relaxing while you trust us to engage your moving demands expertly.
You can expect us to provide movers from Washington DC to Los Angeles with the following:
Cross-country and long distance moving solutions.
Custom packing and packaging services.
Affordable price to movers with no extra charges for tolls and gas fees.
We store and move high-value items, such as pianos, furniture, and antiques.
Furniture disassembling during moving and reassembling after moving.
Long-term/overnight storage.
Quick-response support team.
Cost of Hiring Movers from Los Angeles to Washington DC
With the high number of movers in Los Angeles, getting a full-service mover that offers packing assistance, possesses its own moving vans and supplies will cost more compared to when you're relocating alone. However, the moving industry draws a lot of swindlers, particularly in places like LA and DC, where there are so many annual movers to choose from. When all your possessions are loaded onto the truck, a moving company might initially give you one quote and afterward give you another.
It happens more frequently than you might imagine, using the "holding your goods hostage" tactic. It's crucial that you work with reputable, professional, and transparently priced movers and packers who are well-known in the industry. Our prices at Born to Move are unbeatable, and unlike many other movers, we do not charge extra for gas, miles, tolls, etc., to and from Los Angeles.
Viable Ways to Enhance Your Relocation with Movers in NYC
Below are some of the important factors to put in place if you want a smooth and direct moving operation from Washington DC to Los Angeles and from Los Angeles to Washington DC.
Start Early with the Disassembling
We help you disassemble your belongings to move out of LA smoothly. In the months leading up to the move, try to declutter one room per week of unnecessary items, and give us a call to help pack and load your properties.
Order Packing
Movers can start planning their packing after getting rid of everything they don't need. At the same time you can hand this task over to a reputable company. Experienced professionals will pack your things for you if you select a full-service, experienced mover like Born to Move.
Let Our Movers Mark Each Box Distinctly
We ensure that our movers clearly mark what is inside each box. We use special boxes that hold them appropriately and safely. Born to Move also helps you sort each item and prepare them for moving both your big and delicate items.
Access Insurance
Liability insurance is an essential requirement for any company offering moving services. However, it is only centered on covering lost or damaged properties by paying you a certain amount per property. A greater level of insurance coverage for your possessions is provided by a third-party insurance company that is connected to our movers. Mind you, avoid purchasing premium insurance from movers in Los Angeles because they are not insurance providers.
Look up the Movers' Licenses
A DC or LA state license is a requirement for all movers. Also, the handling of cross-country moving calls for specialized licenses. Verifying that the moving company you select has the required permits is an essential step in preventing fraud. Born to Move has the necessary permits.
Get a Cost Estimate
Knowing your final cost before moving day will help you manage your spending more effectively. Professional and reliable movers will provide you a free estimate of their charges before the big day. This way, there won't be any unforeseen price fluctuations.
Final Words
A relocation from Los Angeles to Washington DC requires a lot of work on the part of individuals and the moving company. It is possible to ask different people how one specifically plans and hires movers from one country to another. The truth is, you don't have to waste your time doing this. Let us take care of it for you instead because moving is easier and less stressful when you have Born to Move, the top LA movers, on your side. We make sure that our services are straightforward and fun and we also work with some of the best movers from Washington DC to Los Angeles.
Our hourly rates include all other charges:
Labor & Equipment
Floor Protection
Wrapped Furniture
Tolls
Taxes
No Additional Fees
Fuel Charge
Safe Delivery
Guaranteed Price
Movers from Los Angeles to Washington DC
Our Moving Company is fully licensed and insured!