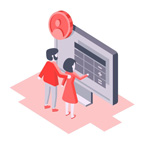 Online and On-site
Free Estimates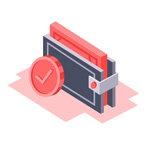 Affordable Rates
and Discounts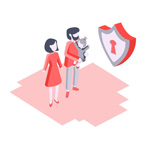 Fully Licensed
and Insured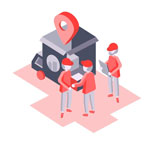 Professional Moving
Crew
Leaving New Haven, known for Yale University and many other beautiful attractions, can be difficult. When you decide to relocate your entire home to Raleigh from New Haven, CT, you cannot rely on your college friends or family to help you with shipping. How are you going to accomplish everything in such a short period?
Fortunately, Born To Move is here to save the day. We are an award-winning long-distance moving company in New Haven County. Let's examine how Born To Move will ensure that your moving process on the way from or to New Haven, CT, is hassle-free.
Quicker Move
Our fully licensed Raleigh movers have the experience and training necessary to complete your relocation promptly and effectively. It would take much longer if you attempted to carry stuff alone for your move. Using our New Haven, CT, moving services, you can have your belongings packed and loaded to your new location in several hours.
Exceptional Customer Service
One of our core values is to offer unrivaled service to our customers. Our emphasis on exceptional packing services, rather than just time or cost, differentiates us from other New Haven moving companies. We accommodate a wide range of relocation requirements with our flexible packing options.
Professionally Dedicated Crew
With Born to Move, you'll have access to a team of qualified cross-state movers who have undergone background checks. Our professional movers have undergone extensive training to handle every kind of household item ranging from large, heavy items to smaller, more delicate ones. They are well-versed in how to lift, wrap, and pack each item so that it arrives safely at your new home.
Safety of Your Items
During a long-distance move, it isn't easy to guarantee the security of your items. Our professional movers are efficient and always equipped with the right tools to tackle any issue that may happen. Your items will be carefully packed with special packing materials and loaded into our moving trucks with care.
Moving Insurance Coverage
We want to reassure you that every aspect of our moving and storage service, including all our vehicles, is completely licensed and insured. This coverage protects every item you own, so you can rest easy knowing your household goods are secured.
Is It Worthwhile to Hire a Licensed Moving and Storage Company?
Verifying a business is licensed before hiring is critical to avoid scams and unethical movers is critical. Do some background check of a moving company you have in mind. The United States Department of Transportation requires all professional state long-distance moving companies to have a license number.
The state is in charge of firms that only transport clients within the same state. As a result, moving companies are required to hold a state license. Since most people relocate inside a state, the majority of the local moving company exclusively operate locally.
How Will My Things Be Safely Transported from Raleigh to New Haven?
Our movers arrive at your location on the scheduled day and begin the job immediately by laying down protective coverings for your floors. If your stairs are the main route through your home, we'll put a carpet shield on them. We place a second rug runner made of neoprene in the area where we will be working the most. We also cover the door jambs to avoid chipped doors.
We wrap every piece of furniture inside your home with our packing supplies, so they are secure when being transported. Everything will be removed from the cushioned truck, brought into the allocated place, unwrapped, and arranged where you want it, which reduces the potential damage.
Get a Free Quote from Us Today for Your Next Move
As with everything else, we can help you figure out how much our moving and storage services from or to New Haven will cost. Considering the quality of the work that will be done, our moving services are pretty economical. In addition, our previous customers have given us positive feedback on our services.
Get free estimates according to your move size from us and verify it with your own eyes. Then, you won't have to be concerned about hidden fees or prepare for extra charges when working with us.
Moving to another city or town with us is simple. Phone us right away to contact our sales team and get all the answers for your Raleigh to New Haven, CT, move.
Our hourly rates include all other charges:
Labor & Equipment
Floor Protection
Wrapped Furniture
Tolls
Taxes
No Additional Fees
Fuel Charge
Safe Delivery
Guaranteed Price
Movers from New Haven to Raleigh
Our Moving Company is fully licensed and insured!