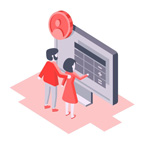 Online and On-site
Free Estimates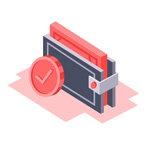 Affordable Rates
and Discounts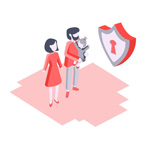 Fully Licensed
and Insured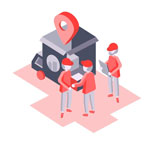 Professional Moving
Crew
Partner with the World Class Malden Movers for your Relocation
If you plan to relocate to or from Malden MA, you first need to decide how you will manage to move. You need to pay attention to several factors while moving from one place to another. Due to arrangements and planning, you may feel stressed. But you do not need to worry about managing things on your own, as we are reliable and professional Malden Movers and provide you with the best-in-class relocation services.
We guarantee a hassle-free move with our years of experience in residential and commercial moving projects. Our well-trained team manages everything from start to end. So, you do not need to plan anything. Schedule your move with us and focus on your enjoyable travel. If you are ready to move to Malden for better opportunities, we are your best partner.
Moving with Born to Move
Moving is an exciting experience, but it is not without its challenges. If you're making a cross-country or cross-state move, you're undoubtedly eager for it to be finished. You may wonder if you can handle it all on your own. Some people wonder if they need to use a moving company.
In the end, the decision is yours to make; however, there are six significant benefits to working with professional movers.
It Saves Time
Moving on your own can be a time-consuming and frustrating experience that adds a great deal of extra time and stress to your schedule. Efficient and professional Malden movers arrive with all the equipment so that you don't have to spend hours searching for boxes or figuring out how to transport large items from point A to point B.
Experts Do the Heavy Lifting
If you hire professional local movers, you won't have to do a thing. Those who suffer from back problems, limb injuries, or are pregnant may appreciate them not having to do any of the heavy lifts. Once you've moved, you don't want to worry about whether your existing injury will flare up again. Instead of adding to your current stress, look at it as a gift to your future self.
It Saves Money
Everything about moving and storage costs money. Professional local movers can help you save money by only taking as long as is necessary to complete each job and by offering discounts and the best prices to customers who are moving many items. Malden movers also provide other services, which include:
Packing supplies;
Storage facilities;
A professional crew to handle delicate and large objects.
Prevent Damage and Loss
If you don't take care when packing by yourself, you could cause scratches on your walls, doors, and other surfaces.
Malden movers provide great service and ensure that your furniture, especially large pieces like dining tables and dressers, remains intact during transit. Whether you have hardwood, carpet, or laminate flooring, our professional movers know how to protect it from harm during the moving process.
Speedier Packing and Unpacking
Many people who are moving on their own attempt to pack everything in advance or even while they are still living at their current location. The longer you wait to pack, the more time there is for something to go wrong during your relocation. Hiring long distance movers allows you to pack fast and efficiently so that all you have to do on the moving day is load your boxes into the truck and drive away.
They Offer Customizable Services
Licensed Malden movers offer their clients a wide range of options. We can accommodate your needs and budget, allowing you more flexibility than you might have expected. Our services include the loading, transportation, and unloading of your possessions. Additional charges will be based on the weight of your belongings once they've arrived at their ultimate destination. You won't have to stress about hidden fees, and you might even be surprised with how low the final cost is.
Why Choose Our Malden Moving Company?
As an experienced moving company, we are aware of the current market trends. We know how to make your moving experience stress-free and pleasant. We do not hire day-to-day laborers and have a well-trained team to ensure you have the best moving services in Malden.
We ensure to deliver your belongings without any damage. It's up to your preference whether you need complete relocation service or need help with packaging or transportation. You can trust us when searching for Malden movers near me to help you throughout the process and save you from emotional strain, fatigue, and anxiety during your move.
Licensed and Insured Company
We have a highly professional and trained team to make your moving experience completely safe and pleasant. Our team helps you with the entire moving project, from packing services to loading your essential luggage and offloading.
Well-Trained and Experienced Team
We have a highly professional and trained team to make your moving experience completely safe and pleasant. Our team helps you with the entire moving project, from packaging to loading your essential luggage and offloading.
Flexible and Affordable Rates
Born to Move company offers flexible and affordable rates without any hidden costs. Our policies are transparent with prices that you can easily afford. You can book our services for $120 per hour for two members and a spacious truck. In addition, it includes all charges like packing materials, fuel, tape, shrink wrap, and toll taxes.
Free Online and On-Site Estimates
We offer both online and on-site estimates to discuss your moving costs for residential and commercial relocation projects. Hence, you can make necessary arrangements and book services within your budget.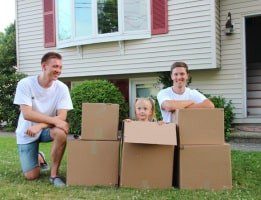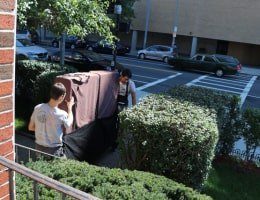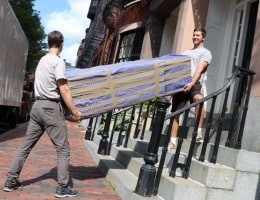 Born to Move moving services
We do packing, loading, and unloading anything, even larger items. Our moving and storage crew has many years of experience in this industry.
Your long-distance move can be made seamless by hiring the best Malden professional packers and movers, who are trained to handle both large and delicate things with the greatest care and precision. GPS tracking is also available. We know how to make moving across the state as easy as possible.
You may need to store some of your items while you're relocating, such as:
When you buy a new house, and you can't just move in immediately;
While downsizing, you have items like a table that you wish to keep but not enough storage space;
A long-distance move means that you'll need some extra time to pack and unpack your stuff;
You need to keep your belongings somewhere.
How does our Moving Process work?
Booking the Malden Movers is convenient and straightforward. You do not need to go through the lengthy process. Simply follow these two simple steps.
Fill in the form on our website and get a free estimate.
After estimation, you can schedule our moving service at your desired date and time.
Call us now to book Malden Movers and make your move pleasant.
Affordable hourly rates for local moving in Malden
2 MOVERS & TRUCK /hr
3 MOVERS & TRUCK /hr
4 MOVERS & TRUCK /hr
$120
$170
$220
All rates include: One Moving Truck, Tape, Shrink Wrap, Blankets, Floor Protection, Gas, Tolls, Insurance.
Our hourly rates include all other charges:
Labor & Equipment
Floor Protection
Wrapped Furniture
Tolls
Taxes
No Additional Fees
Fuel Charge
Safe Delivery
Guaranteed Price
Malden Movers
Our Moving Company is fully licensed and insured!