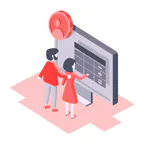 Online and On-site
Free Estimates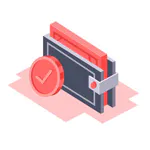 Affordable Rates
and Discounts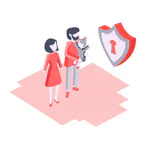 Fully Licensed
and Insured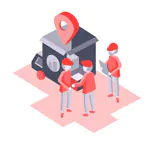 Professional Moving
Crew
Having one of the best Los Angeles movers on your side may well make your long-distance move a lot less stressful. Born To Move is a cross country moving company that began as a dream to provide exceptional packing, storing, and interstate moving service quality. No matter the distance, our mover's top priority is to make moving from your old place to your new one as smooth and hassle-free as possible. To achieve this vision, we have assembled a team of Los Angeles's finest movers and are committed to raising the bar for the moving industry. Get in touch with us today if you're interested in a more convenient method of out of state moving.
A Few Facts About Los Angeles
You may be moving long distance interstate from Los Angeles, CA, but being familiar with the area will help you adjust to your new home. About four million people call Los Angeles, California, home. Quite frankly, it's on par with (and even surpasses) the standards of many global capital cities. In comparison to other US cities of a similar size, Los Angeles' median home price of roughly $637,000 is not the highest. But the average income of a family is below the national average. These are just some of the reasons that so many people are relocating from Los Angeles and starting a new life out of state.
What Sets Born To Move Apart as a Leading Los Angeles-Based Long-Distance Moving Company?
From the beginning to the end of your long-distance relocation, our Los Angeles movers will be there to assist you. From the planning stages through to the transportation of your things to your new home, you can rely on our interstate movers for:
Fixed date and time assurance,
A single, transparent price with no hidden fees,
Moving specialists,
Proficient, well-trained movers,
Modern, cutting-edge moving tools.
We're proud to be among Los Angeles' many long-distance moving companies, and our movers work hard to provide the best service possible. There will be constant, open dialogue between you and our interstate movers. For our movers, the most important element of the out of state moving process is establishing a connection with the customer and learning their wants and needs. Long distance moving requires the careful planning and coordination of many moving parts.
If the long distance moving company doesn't take the time to learn about what you require, you can't expect a seamless out of state moving service. In addition, you need assurance that the interstate mover is trustworthy and will not take advantage of you. Learning more about us will show you that we are a reputable business in the moving industry. Hiring our best Los Angeles movers to handle your out of state move means you can relax knowing everything is being handled by professionals.
Long-Distance Moving Made Simple
When it comes to long distance moving from Los Angeles, CA, our cross country movers treat every customer like family and give every interstate relocation our full attention. Among long distance movers in CA, we are the ones that will carefully consider your individual needs and provide you with a personalized moving strategy. Our cross-country moving company offers flat-rate pricing, high-quality packing supplies, and any additional moving service you may need anywhere in the greater Los Angeles area. Our interstate movers will cooperate with you to find a way to move that meets all your needs.
Born To Move Provides Every Service Imaginable
You can get whatever moving service you need when you choose the top long distance movers in Los Angeles, CA has to provide. Our cross-country movers also provide the following services beyond long distance moving.
Local moves – Low costs and a stress-free moving experience within Los Angeles, CA;
Storage services – If you are renovating, downsizing, or in the process of transitioning, our long-term or temporary storage options will help;
Long distance relocation – With our cross-country experience and equipment, we can help in moving your house or company cross country in the most effective way possible;
Packing services – Our trained movers will ensure that your possessions are well-protected;
House moves – A more efficient relocation experience that allows you to spend more time relaxing in your new surroundings;
Commercial moves – Commercial long distance and local moving services that prioritize efficiency and safety;
Cross country office moves – A collection of services aimed at ensuring a successful cross country office relocation.
Our cross country movers' mission is to ensure that our customers have a stress-free long distance relocation. If you need assistance with something not listed here but crucial to your long distance move, please get in touch with us.
Our movers will work with you to find the optimal option, and we'll even give you some moving advice. One look at our costs will also convince you that we are among the best long distance movers in Los Angeles. Our price structure comes with no hidden fees, which shows our commitment to providing excellent value to our clients. We do not charge extra for gas, miles, or tolls.
Let Our Relocation Coordinators Tailor Your Long Distance Move
Our CA movers can also customize your interstate moving experience. Hiring top-tier long distance movers in Los Angeles gives you the freedom to modify your out of state move to fit your specific requirements. Our movers will ensure everything happens smoothly. You'll be able to "tweak" the plan as you see fit. It's crucial to have access to all the information you need for your interstate move, and having a reliable source is priceless.
Our long distance movers are among the best in the business. You will be given guidance from truly professional movers and helpful hints that might reduce the financial burden of long distance relocating. Alternatively, they'll improve the experience so that it's more satisfactory, easy, and pleasant.
Moving Insurance
Watching your precious belongings get loaded by movers into the truck as it pulls out of the driveway is an unforgettable experience. At that precise moment, you are worried about their protection and safety. You'll be anxiously awaiting their cross country return and wondering if they will be intact.
There are a lot of challenges and dangers that come with long distance moving. The possibility of loss or damage to personal property is always present during a cross country relocation. There is always the chance of an accident happening when moving interstate, no matter how careful you are. That is why we are a fully licensed and insured long distance moving company that offers complete insurance protection for your belongings.
Storage Solutions
Sometimes you're not quite ready to pack up and relocate everything you own. Whether you are downsizing, moving cross country temporarily, or just need a place to store your belongings until you are ready, a storage unit can help.
When you choose Born To Move's Los Angeles storage service, you can rest easy knowing that your belongings are being packed with care and kept in a secure facility that is monitored around the clock. We'll store your things securely for as long as you need, be it a week, a month, or a year, and make them available to you whenever you're ready.
All your storage questions and needs can be answered by consulting us today!
Packing and Unpacking Services
Packing and unpacking your belongings for a long distance move is a time-consuming hassle that may be better spent on other activities. Whether you spend all day at the office, all day taking care of the kids, or you're just too darn busy to pack, we get it.
Allow our movers to take care of the entire process, from packing to unpacking, for you. Your valuables are in good hands withour long distance movers, who will pack, store, and unpack all of your belongings in preparation for the move.
Our cross country moving company will take care of everything, from packaging to labeling to personal protective equipment and furniture covers, so you can kick back and enjoy your exciting new home without worry.
Loading and Unloading Services
Are home renovations on the horizon? Do you have items that need to be relocated to a different room or a storage unit? At Born To Move, our movers provide expert loading and unloading assistance right on your doorstep. Our trained CA movers will arrive at your location with the necessary equipment, including dollies, straps, tie-downs, and tools, at your request. Our movers can even assist with staging or rearranging your furniture so that everything is just as you like it. You'll save time and money with this hassle-free service.
Contact Us Today and See What It's Like to Work with a Top-Tier Long Distance Moving Company
Those who have finally decided to leave Los Angeles, CA proper, can rest easy knowing that all they have to do is make contact with a top-tier long distance moving company in the area. Get in touch with Born To Move today for a free moving quote and let our movers assist you in making your long distance move a smooth experience!
Our hourly rates include all other charges:
Labor & Equipment
Floor Protection
Wrapped Furniture
Tolls
Taxes
No Additional Fees
Fuel Charge
Safe Delivery
Guaranteed Price
Los Angeles long-distance movers
Our Moving Company is fully licensed and insured!