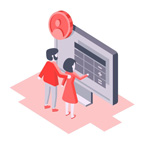 Online and On-site
Free Estimates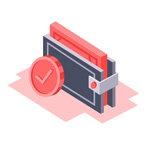 Affordable Rates
and Discounts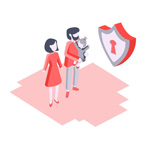 Fully Licensed
and Insured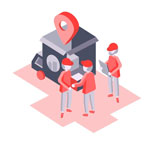 Professional Moving
Crew
Movers from Chicago to New York
It's not easy to uproot your life and migrate to New York City (NYC), but with the help of the appropriate moving company, you can minimize the chaos. For instance, Chicago to New York movers from Born To Move can support you during each phase of the moving process, from packing/loading to unloading/unpacking. Despite your concerns, your impending relocation from The City That Works to New York City is an exciting period in your life. Your new employment will take you to a new city, and you'll want to settle there as soon as possible. Damage to your stuff or a late delivery time at the end of a hard day at work is two things you definitely don't want to happen when shipping household goods. Chicago to New York (NYC) movers can assist you in every step of the relocation process, guaranteeing the safe arrival of your possessions without risk of loss or damage.
Where are my belongings at?
Can't wait any longer and want to relocate to New York from Chicago? Make sure that your valuables are in safe hands throughout the move from Chicago to New York. You need a business that is both experienced and competent so that you can devote your time and energy to other areas of the relocation. Over the last seven years, Born To Move movers has served society as a trusted provider of professional moving services. We are expert movers with experience in both short and long-distance relocations.
In preparation for moving to New York City, our moving pros will assist you in packing and stowing your possessions in secure moving trucks. As there is no such thing as a simple relocation, you can be certain that our movers will do all in their power to maintain order.
Professional movers can assist you in relocating from The City That Works to The Big Apple. If you hire movers to transport your stuff from Chicago to New York, it should take roughly two days to complete the trip. Although most businesses can only offer you a rough idea of when you may expect your furniture to arrive in New York, our genuine moving company can provide you with an accurate prediction.
Not knowing where your stuff is or when it will arrive is quite stressful. However, if you hire us to transport you from The Windy City to New York City, this will never happen. So that you know when to expect your things to arrive in New York, we will give you an accurate arrival time. In order to keep track of your whereabouts at all times, our moving company will give you a real GPS location of the truck. To alleviate one concern, consider using professional movers to transport your belongings from Chicago to The Big Apple.
How much you can expect to pay when moving from Chicago to New York?
The cost of relocating from Chicago to New York is affected by many variables. A little over two hundred and fifty kilometers separate these two cities. We advise using a reliable moving company if you value your items' security throughout transport. How much you have to move will determine how much it would cost to move from The Windy City to New York.
Our services to transport your goods securely from Chicago to The City That Never Sleeps (Manhattan, Long Island, Brooklyn, or the Bronx) cost roughly $5,500 for a studio apartment.
Moving from Chicago to Manhattan, a three-bedroom home will cost between $6,500 and $7,500.
You should expect to pay roughly $6,000 for a modest studio to a spacious one-bedroom.
What exactly is included in this flat price?
If you are concerned about hidden fees associated with your relocation to New York, you can rest certain that they are not part of the quoted price. In other words, all of our services are priced similarly. When you choose one of the top moving companies to transfer you from The Windy City to New York, you won't have to worry about any hidden fees. In addition, experienced movers from Born To Move will never overcharge you for anything, whether you're moving from Chicago to New York. In Chicago, we'll take inventory of our belongings before beginning to pack a truck.
If you want to avoid all the headaches associated with relocating, hiring movers to help you make the trip from City of Big Shoulders to New York is the way to go. You can trust your belongings with our highly trained expert movers regarding residential or commercial relocations. While moving is never fun, our expert movers will handle all the details so you can relax and take it all in. Our moving trucks are the finest in The White City, and they come with everything you could possibly need for a trouble-free transfer.
Our certified relocation specialists in The Windy City are standing by to assist you with your New York relocation. You may stop your search for a Chicago to New York (NYC) moving company right now since Born To Move offers the unrivaled and cost-effective solutions. Since we started for business in 2016, we have provided Chicago with reasonably priced transportation services. Our first priority is to give our customers the best service possible while protecting their possessions. We've helped hundreds of happy families relocate throughout North America, and we'd love to add you to that list.
How do movers from Chicago to New York work?
Moving from City of Big Shoulders to New York is a major life change. There are several things to think about, including travel time, meteorological features, road conditions, and the availability of moving firms. To go from Chicago to New York City quickly and easily, it is advisable to engage experienced movers.
Aside from New York (NYC) and Los Angeles, The White City is the biggest metropolis in the Midwest. It is one of the most populous cities in the United States, with an estimated population of 2.7 million. In terms of both its reputation and its history, New York City is among the top destinations for those looking to relocate. The city's vastness and abundance of things to do have earned it the nickname "The Big Apple."
Hiring professional movers to take care of all your packing and moving requirements for a reasonable fee is an excellent option if you're relocating from Chicago, Illinois, to New York City.
Packers and movers will show up at your door, having traveled from Chicago. All of your furniture is safe in our hands. Just letting you know that the guys here will not be able to help you pack unless you specifically ask for their help. However, movers will dismantle your bed and reassemble it in your new home in New York, so you won't have to lift a finger. We will deliver the boxes to the designated rooms for those who want to pack their belongings. We'll do it only to make your interstate relocation to New York easier. No one else will be picked up en route to New York City (NYC). This is crucial information since the contents of the truck are never combined.
Relocating from City of Big Shoulders to New York City will not involve any bouncing around between trucks. On the trip to New York, we will just be transporting your personal items. If you're looking for a free online quotation from the best Chicago to New York (NYC) movers, don't wait to call or email us.
We also won't mind if you ever reverse your decision and return to Chicago from New York. Sure, as one of the top NYC to Chicago movers, Born to Move can do it, and you can see for yourself why previous clients keep coming back to us.
Movers from Chicago to New York
Our Moving Company is fully licensed and insured!